Community Engagement
Initiatives at Stores
MUJI stores aim to become the platforms for local residents to interact and communicate with each other.To this end, we are holding events such as exhibitions and talk shows by local-based experts, or workshops by in-store specialty sales staff. At stores that serve as the hub of each region, the "Open MUJI" event space has been set up. In this way, we not only provide customers with pleasant shopping environment, but also contribute to the development of each region as a platform rooted in the local community.
Examples of Events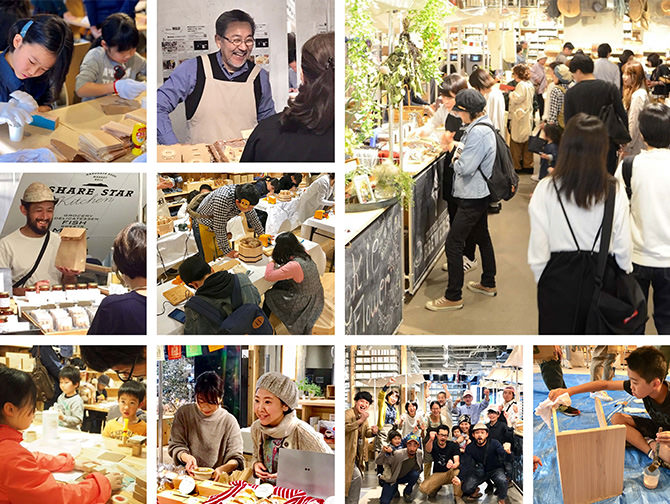 Community Markets to Connect People and Communities
At MUJI stores, we seek to interact more deeply with the local community and play a vital role in connecting the community, people, and goods through our nationwide network of stores.
Based on the concept of "connecting people, connecting community," the Community Markets were held, on a non-regular basis, on MUJI stores across Japan; these are limited time markets developed and operated together with people from the local community. In FY2022, a total of 73 markets were held at in-store or nearby spaces of MUJI stores, primarily large-scale stores. We invite stalls from multiple organizations working in the local area, featured the sale of food and local specialties, events and workshops.
"Walking Together" project to promote health with local community
MUJI has launched a series of events called "Walking Together," which aims to encourage people to think about health and at the same time learn about the charm of their local communities. At the moment, we have only just started in a few shops and locations, but we will continue to organize these kinds of events in MUJI stores not only in Japan, but also in other countries and regions worldwide.
ATELIER MUJI GINZA
ATELIER MUJI GINZA, located on the 6th floor of MUJI GINZA, is MUJI's first multi-purpose facility of design and culture. It continues to convey the essence of MUJI under the slogan, "A workshop that goes back to the basics of life and finds hints for moving forward into the future." It consists of five spaces: 2 "Galleries" for the exhibitions featuring craftwork and design; a "Salon" where people can talk over delicious coffee or drinks; a "Library" accommodating books related to design and arts as well as rare old books from the past; and a "Lounge" for events and workshops. It aims to become a place for communication which cultivate the thinking of design through events and exhibitions.
Our aim is to create a place where people can take a rest, drink, read old books, and, of course, have conversations about design and life through hands-on exhibitions and talk events.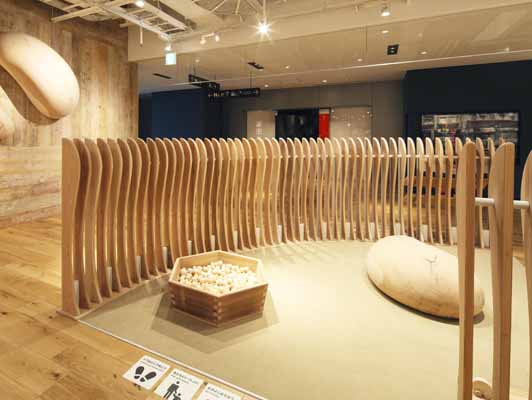 Mokuiku* Play Area for Children
*Mokuiku is a new Japanese term which means "teaching about woods through wooden toys".
With the hope that the children discover the beauty of wood, we opened the first all-made-of-wood play area (Mokuiku Play Area) in Yurakucho store (Closed in December 2018) in Tokyo in September 2012. The project was supported by the Tokyo Toy Museum operated by NPO Japan Good Toy Association.
In April 2013, we signed the "Wood Start Declaration" with the Museum to further support Mokuiku action plans. As of today our Mokuiku Play Area is installed in more than 50 stores in Japan. In 2014 it won the 8th Kids Design Award for Sensitive & Creative Design.
Hubs for Solving Local Issues
MUJIcom Hikarigaoka Yurinoki Shoutengai
In December 2018, MUJIcom Hikarigaoka Yurinoki Shoutengai oepened in Hikarigaoka Park Town in Tokyo's Itabashi Ward, under the theme of "community, communication, and commodity."
Hikarigaoka Park Town is located at the heart of Hikarigaoka Park, where the cityscape and residential buildings are arranged around Hikarigaoka Park, a place that offers convenience, a nice living environment, and easy access to the city center. A diverse range of communities and people's lifestyles can be found here, including lush greenery, parks, shopping malls, assembly halls, schools, nurseries, and local festivals.
MUJI believes that "providing a place to live" and "interaction in daily life" would then lead to the revitalization of the housing complex community, and, even before the opening, we held meetings with our staff and housing complex residents to chat and invite them to participate in workshops for store development and created opportunities for residents to connect with each other.
Inside the store, we offer a common space where people can take a break while shopping, a shared kitchen that can be used free of charge, and other facilities that are readily available to local residents in their daily lives.
We also hold events at the store to explore food sharing, taking advantage of the unique relationship between the apartment complex and the store. We have begun to think of this place as a place where community can be connected through food.
We aim to be a rooted in the local community where greetings and casual conversations are naturally born, to truly serve the daily life of our customers.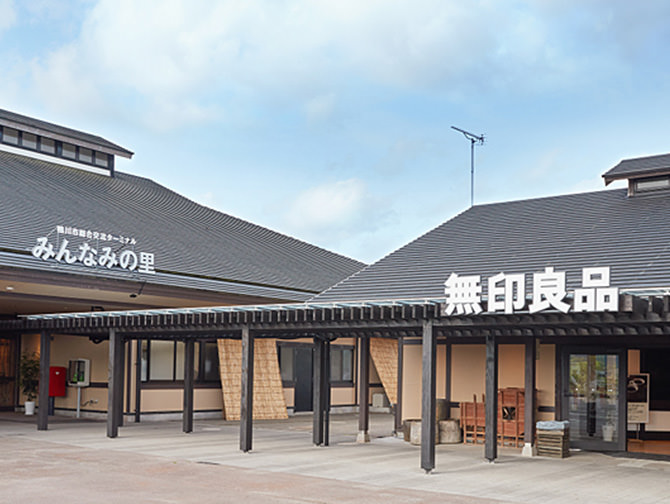 Sato-no-MUJI Minnami-no-Sato
Since its opening in March 1999, "Minnami-no-Sato" in Kamogawa City, Chiba Prefecture, has been identified as a widely active base for urban and rural exchange through agricultural experiences and the dissemination of local information. In April 2018, Ryohin Keikaku was certified by Kamogawa City as the designated manager and reopened it as "Sato-no-MUJI Minnami-no-Sato."
In addition to agricultural products and local products that producers sell directly to the public, this facility will house "MUJI," which provides products and services needed by the community; "Café&Meal MUJI," which offers a menu using local ingredients; and a "Development Studio," which provides places to develop processed products using local resources.
At the Development Studio, we work with producers and other related organizations and businesses to promote research, development, and branding of processed products to further promote the use of local resources for the sixth industrialization. It will develop and introduce new local specialty products that utilize local resources and promote some tourist attraction spots of Kamogawa that have not been noticed until now.
Sato-no-MUJI Minnami-no-Sato hopes to create connections and exchanges with residents and producers, and to further become a base for solving local issues. With the concept of "gathering," it aims to become a facility that will be useful to many people's lives as a part of the community's lifestyle infrastructure.