Commitments to the Circular Economy
Raw Material Procurement
Since we use various materials from all over the world for our products, we consider reducing our impact on the natural environment, its living beings, and the society as our crucial issue and responsibility.
We consider materials that have ethical significance in consideration of the influence on the global environment, animal welfare, the producers, and the society as "eco-friendly materials." By increasing the procurement of such materials, we will contribute to the creation of a resource recycling, ecological and sustainable society.
Moreover, we are aware of the impact our business activities have on the ecosystems and will work together with producers, local authorities, and communities to minimize such effects and to protect the environment. We will continue to procure materials responsibly by considering the situation of the people who use our products and the people who make them, and the way we interact with nature.
Natural Materials
Plant-Based Materials
Cotton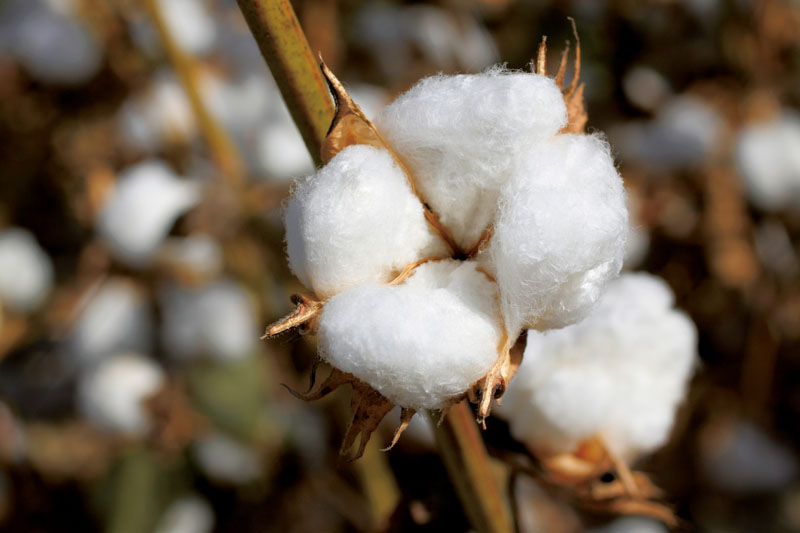 We use organic cotton, certified cotton* and recycled cotton for our products.
Cotton is one of the few plants that can be harvested in arid zone and desert climate which is unsuitable for agriculture. Only those which have grown from seeds without genetic modifications that could affect the ecosystem and have been planted in healthy soil where chemical pesticides and chemical fertilizers have not been used for at least three years, can be called as organic cotton. To promote its production, we started donating organic cotton seeds since 2021. Our aim is to help more people enjoy the value of this scarce material by making contribution to its sustainable production and not just consuming it.
Recycled cotton is made from fabric scraps generated during the clothing production process and fabric products which do not meet the standards. After being sorted and grinded, they are broken down into cotton fibers, and regenerated as materials by being blended with virgin cotton. The natural appearance is its characteristic.
*Certified for sustainable cotton under an international standard regarding the production area's natural and working environment.
Linen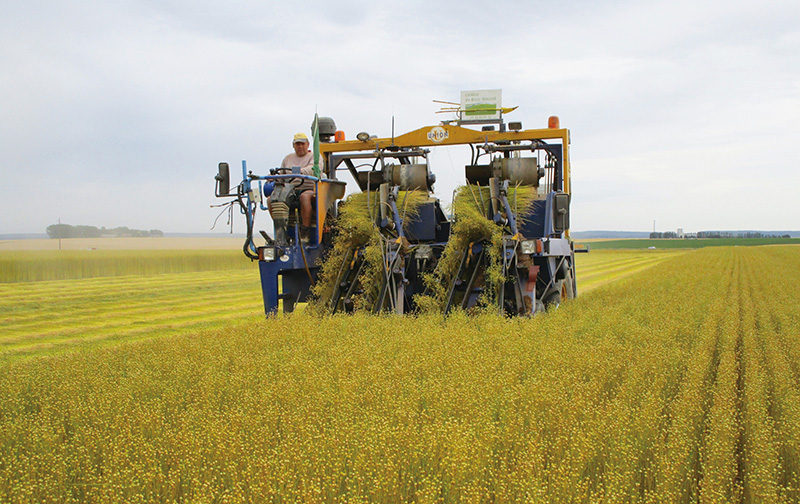 Linen is made from flax, a plant with low environmental impact in terms that it can be cultivated with small amounts of pesticides, fertilizers, and water. In addition to its fibers, the entire flax plant can be used effectively without waste, from its seeds as linseed oil to its stems and roots as building and agricultural materials. Other benefits include its rapid growth and efficient absorption of CO2.
Hemp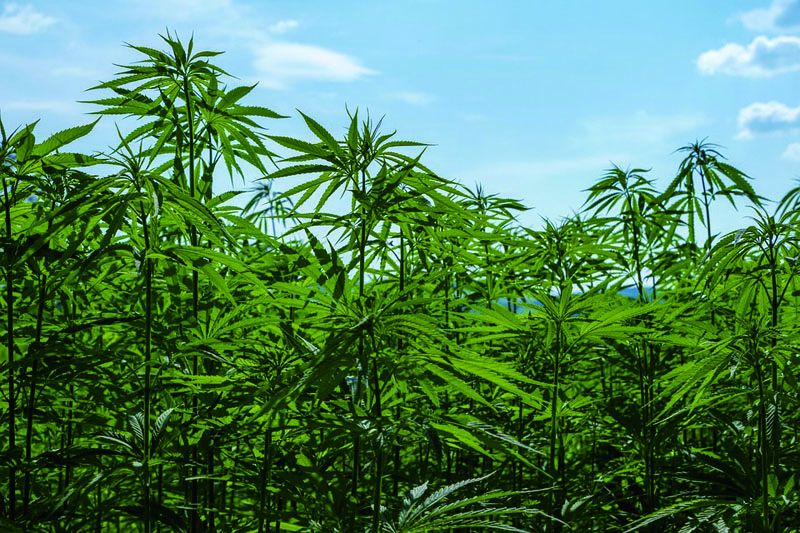 Hemp is said to be the world's oldest cultivated crop, and its fibers have been used in Japan since ancient times for clothes, religious ropes, and straps for sandals. Its seeds are said to be the easiest protein to digest and have been used for food and cosmetic oil. Hemp stems are used for construction materials and automobile interior parts.
In addition, hemp is a plant that grows tall rapidly, nearly 3 meters in 3 months, and therefore absorbs CO2 efficiently. It can also be cultivated using very little fertilizer and water and requires almost no pesticides due to its resistance to pests and diseases. Therefore, it can be considered as a material with low environmental impact.
As a fabric, it absorbs and releases moisture well, is breathable and dries quickly, and is also very durable. It is also highly regarded for its natural antibacterial properties and UV blocking effect. The appearance is refreshing, and the texture softens as being worn.
Jute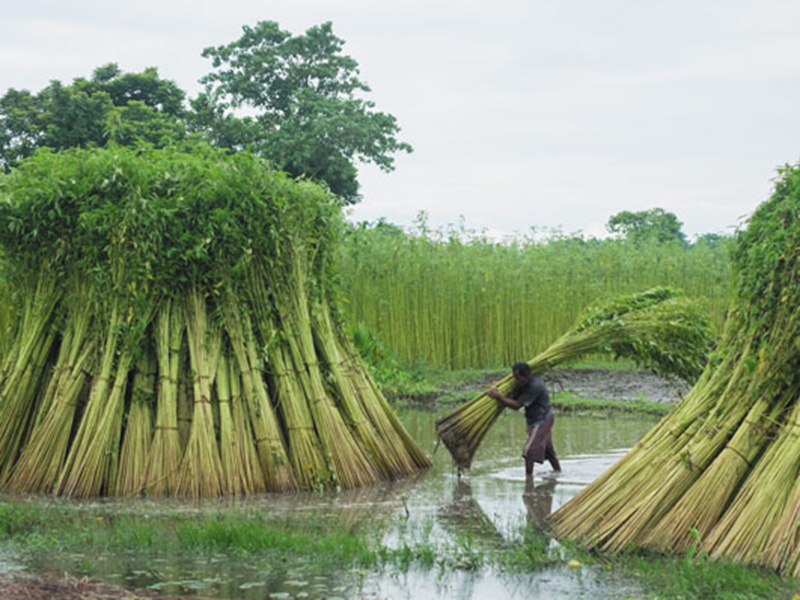 Jute has long been used for grain sacks, rugs and other items that make use of its high durability. Cultivated mainly in hot, humid wetlands in the tropics and subtropics that are unsuitable for agriculture, jute grows rapidly and absorbs CO2 efficiently. It can also be considered as having a low environmental impact since it can be cultivated using very little fertilizer and water and requires almost no pesticides due to its resistance to pests and diseases.
Kapok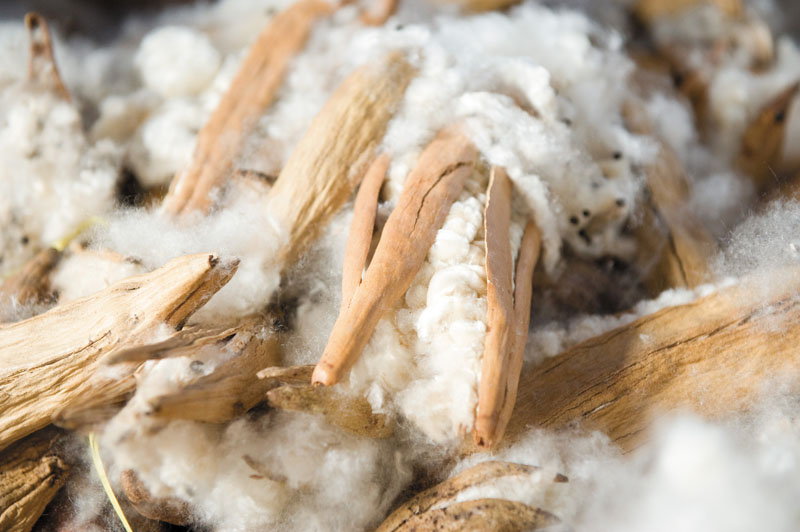 Kapok is a plant fiber made from the seed pods of the kapok tree. It was used as stuffing materials for pillows, stuffed toys, and life jackets, when petroleum-derived synthetic fibers such as polyester was not yet used. Main production areas are Indonesia, Thailand, and India. Kapok trees require almost no pesticides, fertilizers, or watering, and absorb a large volume of CO2 as they grow over 70 years to great heights. Because it is not necessary to cut down the tree to harvest the seed pods, kapok is attracting attention as a material with very low environmental impact.
Kapok's noteworthy characteristic is its weight and natural effect. The hollow center of the kapok fiber makes kapok the world's lightest natural fiber. It only has one eighth of the weight of cotton. Kapok fabric also keeps the wearer comfortable by absorbing moisture for warmth when the weather is cold and releasing it when the weather is hot.
Timber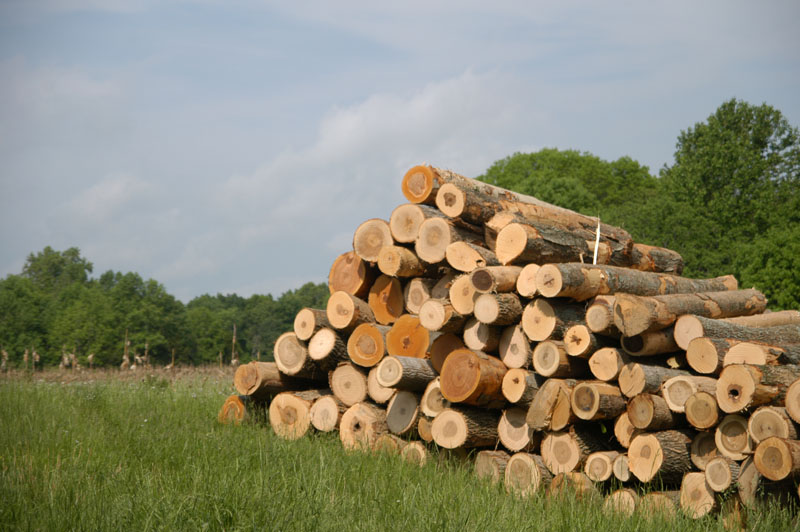 We adhere to the Clean Wood Act and relevant environmental regulations in all countries and regions where we operate to ensure legal logging for our wooden and paper products*. We also conduct self-assessments for wood material due diligence and collect certificates such as FSC and PEFC and other official documents from the public sector, as well as purchase and transportation records, to prevent the use of illegally logged wood.
*Excluding 100% recycled paper and cardboard products.
Animal Fibers
From the perspective of animal welfare, we have established a supplier procurement policy.
Down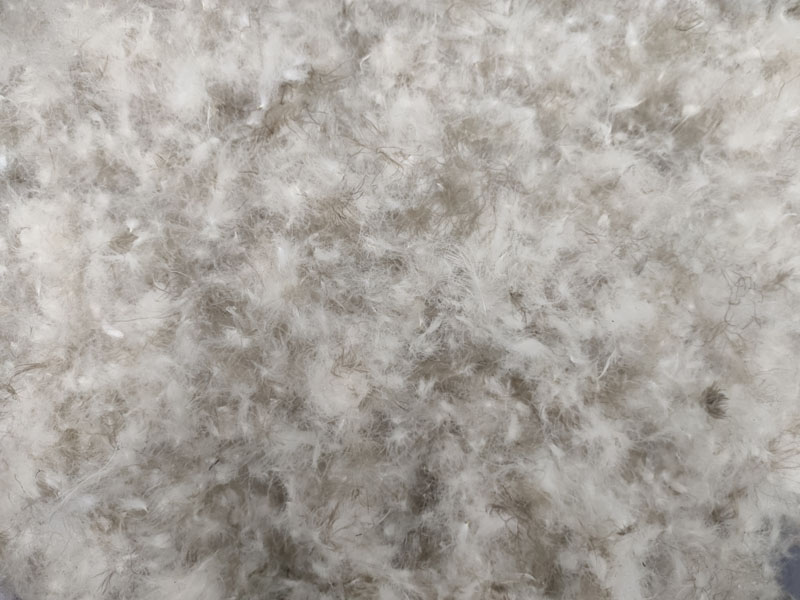 For our down, we only use feathers that have been rigorously screened and certified by a third-party organization to ensure that the Five Freedoms of Animal Welfare* are respected in the breeding environment, and that the birds have not been force-fed or live plucked. In selecting materials, we consider not just their functionality, but also the people who use them, the people who make them and the approaches of interacting with nature.
*The five freedoms of animal welfare are as follows: (1) freedom from hunger and thirst; (2) freedom from fear and distress; (3) freedom from discomfort; (4) freedom from pain, injury, or disease; and (5) freedom to express normal behavior (source: Ministry of Agriculture, Forestry and Fisheries, "Livestock breeding management with consideration of animal welfare")
Wool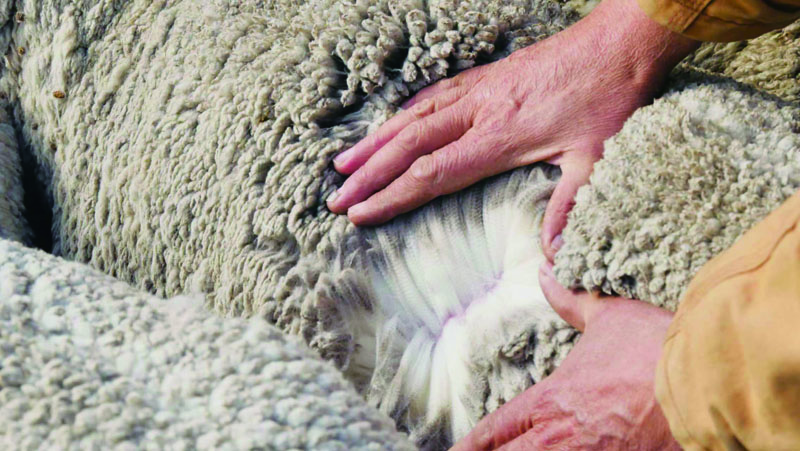 We procure wool made with consideration for animal welfare, and recycled wool.
There are various methods of making wool according to regional difference, but we stick to the gentle breeding method that treats sheep in a natural manner and use non-mulesed wool for our products*. Non-mulesed wool refers to wool from sheep that have not undergone mulesing, which is a special technique of cutting off sheep skin and meat to prevent the infestation of maggots. It is a method that is generally performed for sheep raised in a particularly hot climate.
Recycled wool, which is important in terms of waste management and resource recycling, is made by shredding wool products that have been disposed of or collected for this purpose and then spinning the fabric back into yarn. Benefits of recycled wool include its deep hue from the mixture of multiple colors and its rustic texture.
*Excluding recycled wool products.
Regenerated Cellulose Fibers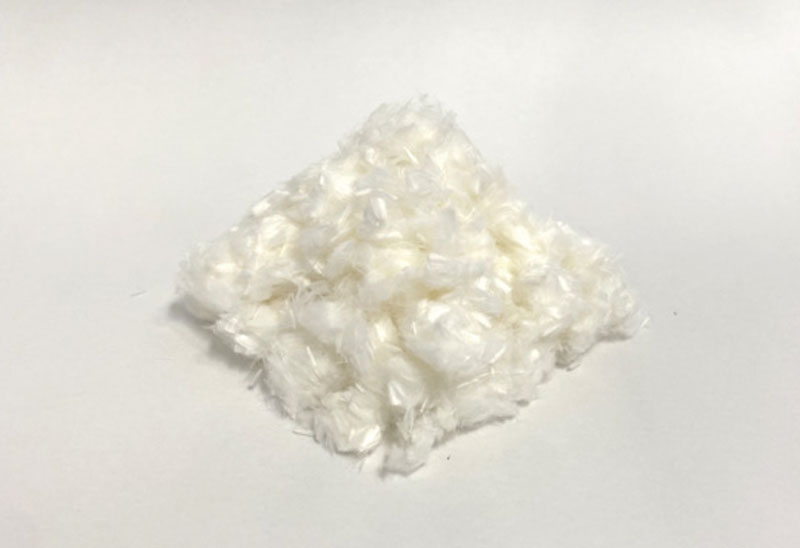 We use lyocell and rayon that are made with eco-friendly manufacturing methods.
Lyocell is a fiber primarily made from the wood of the fast-growing eucalyptus. More than 99% of the water and solvents used in its manufacturing process are recovered and reused.
As for rayon, we use those which are mainly made from beech trees. The manufacturing process utilizes bioenergy positively to reduce CO2 emissions and environmental impact.
Petroleum-derived Materials
Synthetic Fibers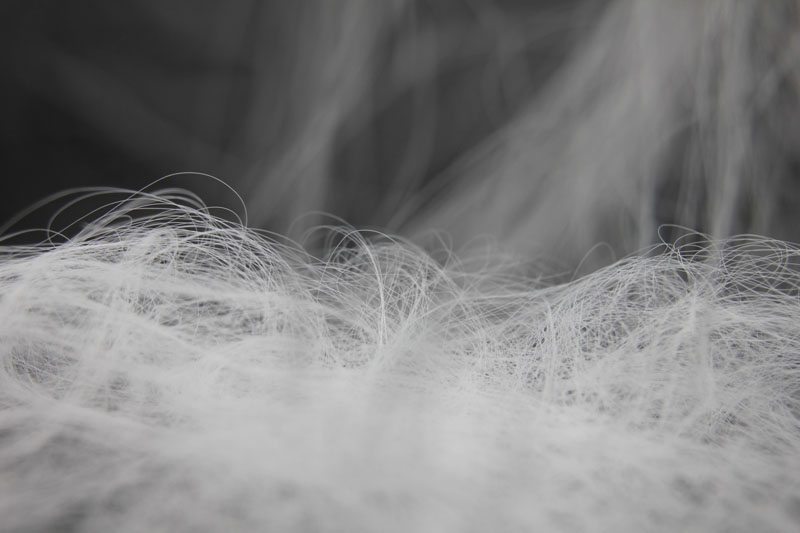 As for synthetic fibers we use certified recycled materials such as recycled polyester, recycled nylon, and recycled polycarbonate.
Using recycled raw materials helps to reduce the usage of new fossil-based material, and thus helps to lower down the environmental impact.
Recycled polyester is mainly made from materials derived from PET bottles, recycled nylon from pre-consumer recycled materials (discarded fibers from the yarn production process), and recycled polycarbonate from materials derived from water dispensers.
We are also proactively adopting synthetic fibers of which 20% of the components are plant derived. Aiming for a sustainable future, we are moving towards expanding the use of plant-derived materials and developing biodegradable materials.
Other Initiatives Related to Raw Materials
Leftover Yarn and Cloth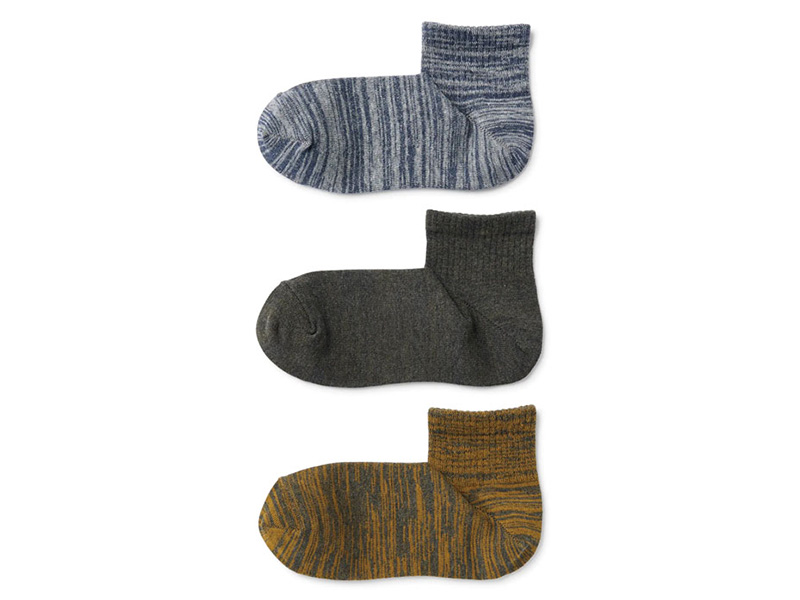 MUJI's longstanding approach of eliminating wastefulness informs its selection of materials. In 2000, we started sales of socks made from excess yarn that had been leftover at the factory and discarded.
By using leftover yarn and cloth which come from the manufacturing process of our production partners, we constantly work to reduce waste, which is a major issue in the apparel supply chain.
Development and Sales of Office Furniture Using Native Japanese Cedar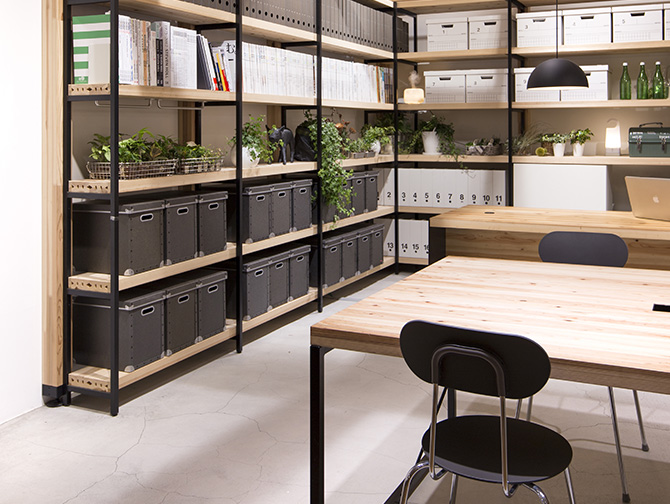 Japan is the third-largest forest country in the world, with forests accounting for 67% of the national land area.
By contrast, only approximately 30% of the total timber consumed in Japan comes from domestic sources.
The devastation of poorly managed forests has become a major social problem.
To preserve the environment of Japanese forests while stimulating the forestry industry, MUJI developed office furniture made of native Japanese cedar in collaboration with Uchida Yoko Co., Ltd., a pioneer in the development of office supplies using domestic timber, with the aim of creating pleasant workplaces.
Cedar timber is generally used as a building material, and the remainder is mainly recycled into disposable chopsticks and fuel.
By working with a manufacturer in Miyazaki Prefecture, who has developed a technology to process such remaining cedar into a panel that can be used as furniture, we succeeded in incorporating the remainder into the furniture production line.
Cedar is used for the desktop and shelf boards which users touch with their own hands, and steel is used for the structural part to ensure strength.
By effectively using the whole tree in our products, we have expanded the usage of domestic cedar.
Selection of Ingredients for Café&Meal MUJI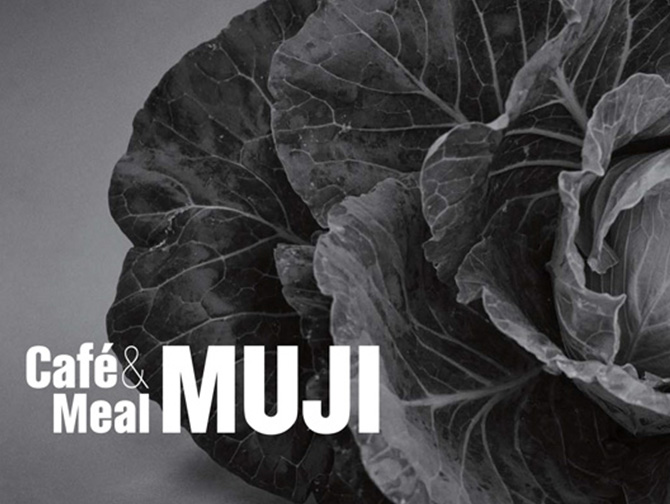 At Café&Meal MUJI, we offer a variety of dishes based on the theme of Simple Food is Delicious, which make the most of the inherent qualities of ingredients and are easy on the body and delicious to eat, along with seasonal ingredients filled with blessings of nature. We especially recommend the delicatessen menu, which features nutritionally balanced, healthy meals made using plenty of seasonal vegetables.
As for the ingredients that support the menu, our staff in charge travel around the world and directly visit production areas to source such seasonal ingredients while interacting with the producers. Furthermore, we actively use ingredients grown by eco-friendly farming methods. Allergic ingredients are displayed on the Café&Meal MUJI menu.