Respect for Human Rights in the Supply Chain
Monitoring Production Partner Factories
Considering respect for human rights, compliance with labor-related laws, improvement in the working environment, and environmental consideration in the supply chain our top priority issues, we are actively working to monitor our business partner factories in accordance with the "Code of Conduct for Production Partners of Ryohin Keikaku."
Monitoring of the Working Environment
Working Environment Monitoring for Business Partner Factories
Ryohin Keikaku regularly requires a third-party organization to conduct onsite audits for its production partner factories on items such as human rights infringement, working environment and environmental conservation based on the "Code of Conduct for Production Partners," and discloses these evaluation results. We also share with partner factories the result of the audits and work together with them to make improvements in case of any non-compliant items.
Since 2016, we have also conducted audits through the Better Work Programme, a joint activity program between the International Labour Organization (ILO) and the International Finance Corporation (IFC). Better Work audits, which is widely adopted in the apparel industry, enables us to monitor the progress of factories' initiatives through an online system. It also helps us avoid conducting duplicated audits, thus allowing factories to focus more on improving working conditions.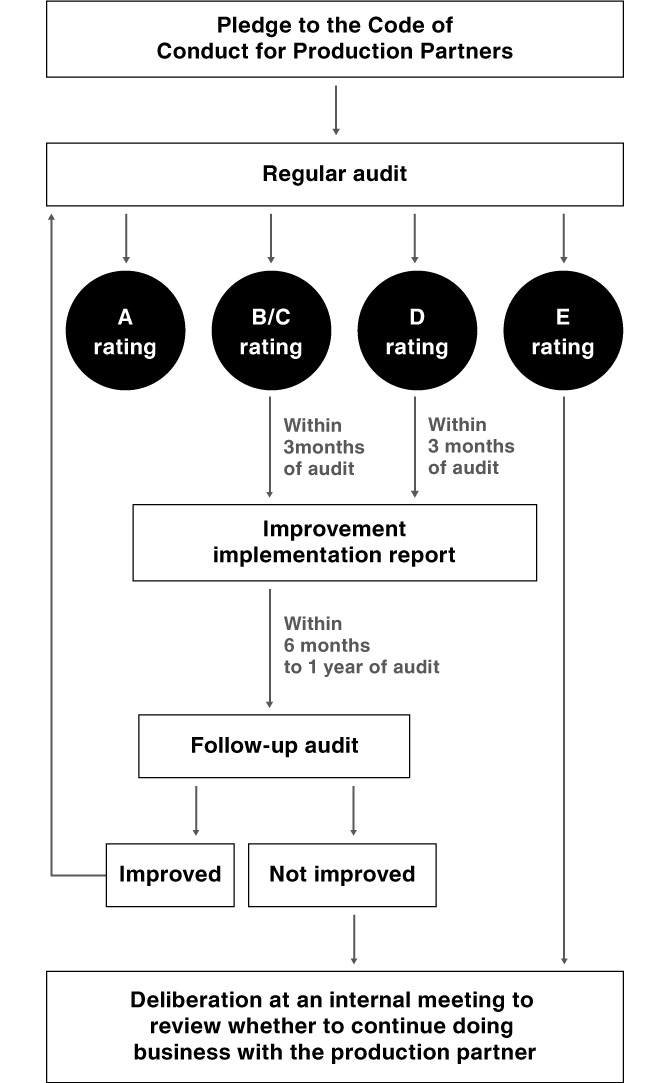 Third-party Auditing Mechanism for Business Partner Factories/Risk Evaluation
Some business partner factories are located in countries/regions with a high risk of modern slavery due to poor governance and weak rule of law, according to reports from international organizations and NGOs. Recognizing that there are potential risks of labor exploitation, poor working environment, illegal labor, etc. in the case of an inadequate governance structure of a factory and inappropriate treatment of workers, we are working to reduce and prevent such risks by preferentially conducting onsite inspections.
Onsite audits are conducted according to an established procedure, including interviews with factory employees/labor unions/employee representatives/management, reviews of records and documents, and site visits to check occupational health and safety conditions. We make sure that factories not only comply with national and regional laws and regulations concerning the environment but also conduct the following: formulating an environmental policy, conducting environmental impact analysis, and introducing a system to minimize adverse effects on the environment.
Business partner factories that comply with the "Code of Conduct for Production Partners" and have no violations will be evaluated as A. Factories with relatively low-risk violations will be rated as B. If violations of occupational health and safety, wage & benefit, working hours, contract, etc. are discovered, those factories will be rated as C. If many violations of occupational health and safety, wage & benefit, working hours, contract, etc. are discovered, those factories will be rated as D. If there is an important discrepancy that raises suspicions of a high level of risk, it will be rated as an E. If the violations leading to a D rating are not resolved, or if any factory is evaluated as E, an internal deliberation will begin to review business transactions with such factories.
We also share the result of the audits with our partner factories and work together with them to make improvements. Concerning the improvement reports prepared by factories, we do not simply check whether a non-compliant item has been corrected or not. Instead, we would identify the root cause of non-compliance, such as a specific activity/procedure or lack of an activity/procedure, and then discuss with our business partner factories whether it is necessary to change the system to prevent its recurrence.
Working Environment Monitoring at Subcontract Factories
Under the "Code of Conduct for Production Partners," Ryohin Keikaku prohibits outsourcing of production to factories that have not obtained prior approval of Ryohin Keikaku. We conduct pre-audits on subcontractor factories to which we outsource part of the production process, and we oblige them to obtain approval from Ryohin Keikaku. Like our business partners, our subcontractor factories are obliged to comply with the Code of Conduct, and if any serious violation of the "Code of Conduct for Production Partners" is discovered, they are required to take corrective actions and then undergo and pass another audit.
In-house Training
To promote initiatives for human rights and the environment, we have been holding sustainability study sessions since FY 2019 for managers and staff who are in charge of procurement, production management, product planning, and quality control that are related to the supply chain.
In FY 2019, a total of approximately 100 employees participated in the study sessions, and they learned about the following topics while looking at specific cases at factories of their own and other companies: what circumstances are referred to as serious human rights infringement in addition to modern slavery, which points to pay attention to when visiting a factory for checking, problems arising in the supply chain, and measures required of companies.
Moreover, for in-house training, we are working on educating our employees by confirming their awareness of current issues while providing questionnaires to participants to grasp the level of their understanding of social compliance.
Internal Facilitation System
Human rights initiatives in Ryohin Keikaku Group are overseen by the Compliance and Risk Management Committee, which includes members of the Board of Directors.
In the event that instructions are issued by the Risk Management Committee in accordance with the Group Compliance Code of Conduct or the Production Partner Code of Conduct, the Committee will respond to the issue in consultation with related departments.
Division/Committee in Charge
Main duties (related to human rights)
Compliance and Risk Management Committee
Overall issues related to human rights
(Supervision of Group Compliance Code of Conduct and the Code of Conduct for for Producton Partners)
HR & General Affairs Division
Elimination of discrimination and harassment for employees; point of contact for internal reporting and consultation concerning wages, working hours, etc.
Occupational Safety & Health Committee
Occupational safety and health
IT Services Division
Privacy policy (including privacy protection policies)
Development & Production Division, Internal Audit Office, PR & ESG Division
Human rights in the supply chain