Respect for the Environment
Commitments to Waste Reduction
Since the launch of the brand in 1980, Ryohin Keikaku has been consistent with its efforts in manufacturing products based on the three principles of Selection of Materials, Streamlining of Processes, and Simplification of Packages. Focusing on true quality, our manufacturing process aims to do the following: to select materials that are best for the global environment and its producers, to eliminate waste in all processes, and to provide customers with products they truly need in its best form.
As steps to further promote such efforts since our founding, and we are conducting initiatives such as eliminating plastic shopping bags, encouraging customers to bring their own bags, and reviewing packaging and display materials.
MUJI, which aims to create a better relationship with nature, will continue to do its best to help recycle the earth's resources and reduce wastes.
1 | Objectives
Objectives for the Ryohin Keikaku Group and our supply chain, and the cooperation from our customers.
(1) Ryohin Keikaku Group
・Recycling of resources in stores and offices
We promote resource recycling by properly managing and processing the wastes generated from our stores and offices worldwide.
In Japan, products are delivered in returnable containers, which are then reused between stores and distribution centers repeatedly. In addition, we have introduced a system to collect some of the cardboard and used paper generated by our distribution centers and recycle it into cardboard for use in supplying our stores.
・Efficient use of resources in raw material procurement
To improve our resource efficiency, we promote the use of recycled materials and other materials that improve resource efficiency in the planning of products and in the selection of raw materials to be procured.
・Efficient use of resources in product planning
MUJI was launched in Japan in 1980 as a high-quality product line consisting of a wide selection of clothing, household goods, and food items. By continuously manufacturing durable products, we aim to contribute to the formation of a society where resources are used more efficiently, achieving the simple, pleasant life and society MUJI proposes.
(2) Supply Chain
Since its launch in 1980, MUJI has been engaged in manufacturing, focusing on the three principles of product development: Selection of Materials, Streamlining of Processes, and Simplification of Packages. What is more, to make sure that we are not wasting resources, which has been an essential rule since our inception, we are recycling and reusing some of our products, for example, MUJI's clothes that can no longer be sold due to stains or blemishes, or fabric cutoffs generated in the production process. We are also minimizing wastes by optimizing shipping methods and reusing packaging materials.
(3) Cooperation from our Customers
Being a manufacturer and seller of products, we at MUJI are also considering the future of our products as they fulfill their role and function. Some MUJI products that customers have loved for years are collected at our stores. On top of that, we aim to promote recycling and reusing initiatives that eliminate waste and burden by utilizing the wisdom of our predecessors.
2 | Initiatives
Initiatives of Ryohin Keikaku Group and our supply chain, and cooperation from our customers.
(1) Initiatives of Ryohin Keikaku Group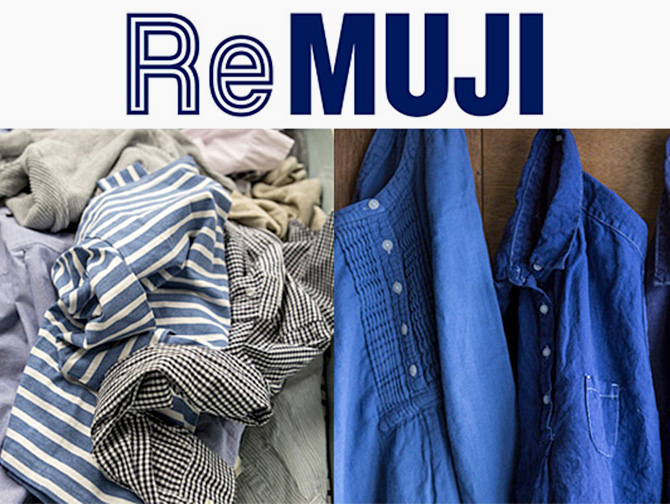 Textile Waste Reduction ~ ReMUJI ~
ReMUJI is an upcycle movement to reduce waste by collecting used textile products of MUJI clothes from customers to be overdyed and offered as ReMUJI. Initially began on March 2015 at MUJI Tenjin Daimyo, there are 18 stores that sells ReMUJI items across Japan as of August 2022.
MUJI Shinjuku, reopened in September 2021, has the largest ReMUJI sales floor and offers new colors of "overdyed clothes" as well as "re-washed clothes" that cannot be dyed, and "connected clothes" that combines multiple clothes.
Moreover, the store also collects textile products other than clothes. Textile products unfit for ReMUJI are brought under BRING*or other projects for a variety of purposes such as raw materials or recycled clothes.
*BRING...a project that creates clothes from collected clothes (through chemical recycling) in accordance with JEPLAN, Inc.(formerly Japan Environment PLANning)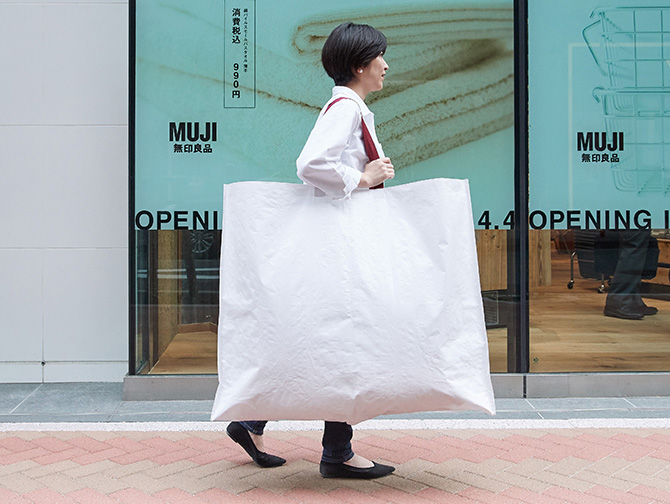 Initiatives around shopping bags
From March 2020 onward, all stores in Japan has abolished the distribution of plastic shopping bags and has then switched to paper bags, with new materials and sizes. In addition to promoting the use of My Bags, we also sell recycled polypropylene bags that are convenient for large items and bulk purchases at 150 yen (consumption tax included). These bags can be returned to all MUJI stores for refund when they are no longer needed.
In June of the same year, we launched a campaign to promote the use of My Bags at all MUJI stores in Japan. MUJI passport miles are awarded to customers who declined to use plastic bags when purchasing products.
Reviewing packaging materials and display materials in consideration of the environment
With the aim of recycling resources and reducing waste, we are progressively reviewing the materials used for product packaging and point-of-sale display materials in addition to shopping bags. For example, instead of using plastics, we have used recycled papers for the display hooks of our socks and scarfs, from spring/summer 2019 product series. Looking ahead, we will continue to identify all products that require packaging, such as underwear and aroma oil, and carry out plans to eliminate the use of plastic in terms of their packaging or replace it with recycled paper and other alternative materials whenever possible.
In addition, from February 2020, the material for straws served in Café&Meal MUJI restaurants has been gradually changed from paper straws to straws made of bamboo fiber. Made entirely from natural materials, these straws are 100% degradable in the natural environment and are also more water-resistant than paper straws, thus ensuring that customers can easily drink from them.
What is more, from autumn/winter 2021 we have gradually replaced the plastic tag pins with paper tag pins made from FSC paper, including recycled paper. The paper is twisted to keep its strength and can be used as a pin to hold the tag.
Starting with this fall/winter, all men's and women's inner wear will use paper hangers which can be returned to stores via collection boxes placed at cash register or elsewhere in stores (excluding Café&Meal MUJI and IDÉE). Instead of becoming household waste, the collected paper materials will be processed at factories to be reused as paper hangers.
In this way, MUJI, which aims to create a better relationship with nature, will continue to do its best to help recycle the earth's resources and reduce wastes.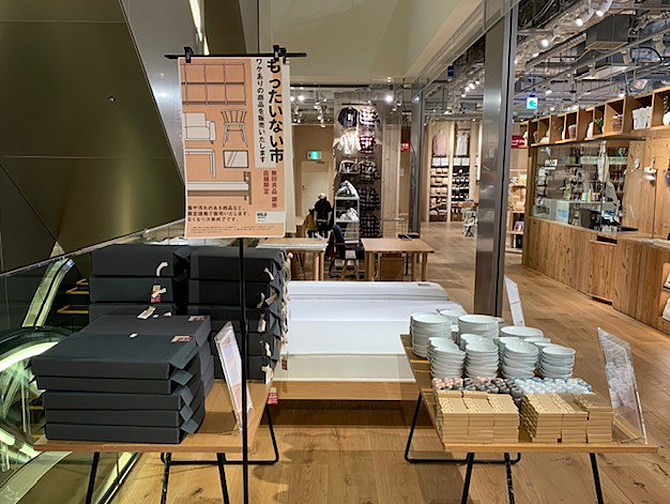 "Mottainai Market"
There are products that can be used without any problems, but cannot be sold due to slight scratches, stains, colors, or dyeing conditions during the manufacturing and distribution process. If we just throw these items away, we will be wasting valuable resources. Instead of wasting resources through disposal, MUJI has developed the "Mottainai Market" initiative to collect and sell such products.
This initiative started in MUJI GINZA in February 2021, and has been held at 10 stores in Japan so far. In addition, MUJI Shinjuku (Piccadilly), which reopened after renovation in September 2021, has set up a permanent "Mottainai Market" sales area.
Water bottle and water refilling services
As part of our efforts to reduce plastic waste, from Wednesday, July 1, 2020, we began selling "My Bottle for Water" and installed water refill stations in MUJI stores to provide water supply services at stores.
As MUJI is committed to a better relationship with nature, we are doing what we can to help recycle the earth's resources and reduce waste. As part of our efforts in reducing plastic waste, we have installed water refill stations in MUJI stores and has started a complimentary water supply service. Tap water is used for the drinking water available in these water refill stations. If people bring their own bottles, everyone can easily fill up their own drinking water instead of buying new bottled beverages. We have installed water refill stations in our stores to encourage customers to bring their own water bottles to the store and to advocate not just for the environment, but also for their own health.
We are also selling bottles that can be refilled with water repeatedly. In addition to using the water refill stations at MUJI, we aim to make the act of "getting water" a daily habit without the use of new plastic bottles, making it easier for customers to use the watering machine at their homes or offices. In conjunction with this launch, we has also started collecting unnecessary "self-service water bottles" at our stores. We encourage customers to use this product repeatedly, but if they need to replace it with a new bottle or if it got damaged, they can bring it to their local MUJI store. By recycling the collected products into polyester materials, we can reduce plastic waste and effectively utilize petroleum-derived raw materials.
Efforts to reduce the use of paper
MUJI (Shanghai) Company Co., Ltd. (hereafter, Shanghai Office) is promoting an office improvement project where members can volunteer and discuss new ideas, not just for office renovations but also for better working conditions.
In July 2017, we have introduced a printer that can reuse paper by erasing the ink; this came after a suggestion within the project that secondary use of printed paper should be promoted. By considering whether or not a document should really be printed each time, it served as an opportunity to raise awareness of resources among Shanghai Office members.
We believe that by valuing each individual's awareness and seriously considering even the smallest efforts together, we can bring about changes in terms of knowledge and behavior.
(2) Supply Chain Initiatives
Use of Recycled Materials: Cotton, Wool, etc.
We take cutoffs and leftovers from the production process - pieces normally cast off - to spin and reweave into recycled cotton or wool products. We will continue to make clothing and other products using recycled materials in order to reduce waste and promote recycling of resources.
Our Initiative on Reclaimed Wool
Resource Conservation
Scraps are inevitably produced in the process of making wool products from cutting and other processes. Rather than throwing them away, we collect and reuse them as wool again. MUJI is engaged in the recycling of wool based on the the traditional Japanese principle of appreciating resources around us and not be wasteful.
Reclaimed with Care
Reclaiming wool is as laborious and time-consuming as turning sheep's wool into fabric. Collected pieces of wool are carefully pulled back into raw fibres by color then turned into raw material to be used as yarn again. We work with Japanese mills mainly in Bishu Area known for their craftsmanship to produce high quality wool.
Process of Reclaiming Wool
1. Separation of raw materials for recycled wool

2. Cut it into a cotton shape

3. Spinning

4. Weaving

5. Remove wrinkles from the fabric and adjust the texture and hardness
(3) Cooperation from our Customers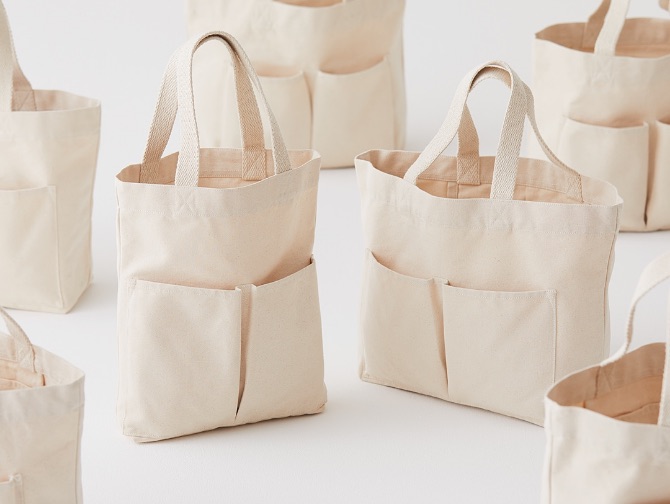 Promoting the use of My Bag
The global flagship store MUJI GINZA that opened in April 2019, took the lead in stop using plastic shopping bags and has been distributing only paper bags, while also expanding the range of My Bags available for shopping.
From March 2020, plastic shopping bags were gradually phased out and by the end of June, all stores have changed to paper shopping bags. In addition, we are running a campaign to promote the use of My Bag in all MUJI stores in Japan. We are encouraging customers to use their own bags through measures such as awarding MUJI Passport miles to customers who decline plastic bags when purchasing products.
3 | Fiscal Year 2021 Report on the Recycling of Specified Household Appliances, etc.
The total number of televisions, refrigerators, and washing machines that Ryohin Keikaku has re-merchandized, etc. in FY2021 (April 1, 2021 to March 31, 2022) in accordance with the Law for the Recycling of Specified Kinds of Home Appliances (Home Appliance Recycling Law) has been shown below.
(1) Number of consigned units for recycling specific household equipment waste (by units / weight / %) *horizontal scroll to view full table
Item
Television
(CRT)
Television
(LCD/plasma)
Refrigerators and freezers
Washing machines and clothes dryers
Number of units picked up at designated pick up locations
25 units
44 units
11,584 units
9,531 units
Number of units recycled
24 units
46 units
11,913 units
9,767 units
Weight of recycled products processed
533kg
811kg
690,875kg
386,487kg
Weight of recycled products
397kg
701kg
557,850kg
363,846kg
Recycling rate (weight ratio)
74%
86%
80%
94%
(2) Actual results of recycling by types of material (reported in accordance with Article 47, item 1 of the Enforcement Regulations)
The total weight of relevant parts and materials if they are made transferable for a fee or free of charge to those who will use them as parts or materials for products.
*horizontal scroll to view full table
Name of parts and materials
Television
(CRT)
Television
(LCD/plasma)
Refrigerators and freezers
Washing machines and clothes dryers
Iron
62kg
346kg
258,267kg
169,922kg
Copper
20kg
8kg
12,849kg
7,480kg
Aluminum
1kg
33kg
6,822kg
8,083kg
Mixtures of non-ferrous and ferrous substances
3kg
11kg
89,536kg
36,159kg
CRT glass
180kg
-
-
-
Other valuable materials
121kg
296kg
188,197kg
140,498kg
Total weight
387kg
694kg
555,671kg
362,142kg