Commitments to the Circular Economy
Quality and Safety
The basic concept of MUJI's manufacturing has not changed since its establishment in 1980. We continue to create products while preserving the three principles that consider the environment and society - (1) Selection of Materials, (2) Streamlining of Processes, and (3) Simplification of Packages. In order to provide products and services that realize "a simple, pleasant life" in line with these three principles, we believe that the manufacturing of products that customers can use with a sense of security is the most important.
At MUJI, we inspect each process of design development, procurement, and production based on the "Ryohin Standards," strive to provide safe and secure products, and aim to continuously realize the following:
Quality products with a reason and value sought from a consumer's perspective
Consideration for consumers, producers, and the environment
Solving issues for society as a whole and as inhabitants of the earth
Zero market quality faults
Reduction of market defect rate
Thorough quality-oriented awareness
Efforts to improve safety and security
Ryohin Standards
At MUJI, we have established the "Ryohin Standards," our in-house standards on the premise of complying with various laws established by countries all over the world and local administrations. With the "Ryohin Standards," our Development & Production Division and each Merchandising Division collect the product information and the information on changes in the social environment, market trends, and industry trends on a daily basis, research the details of cases that require new establishment/revision/abolition of Ryohin Standards, and consider new establishment/revision/abolition of the Standards as necessary, so that we can maintain and manage a state where product quality can be always guaranteed.
Risk Assessment
We conduct "risk assessments" to assess risks in product design, layout, manufacturing, distribution, and usage environment for the purpose of preventing product accidents, defects, or complaints. In addition to efforts to prevent the recurrence of product accidents, we identify the above risks (including accidents, defects, and complaints due to reasonably foreseeable misuse) at the product planning/development/design stage to deal with the risk factors in advance.
By implementing risk assessments in the early stages of designing, we can extract risks throughout the product life cycle from product planning and development to use and disposal, incorporate problem solutions for extracted risks into the design, and reduce the risk of accidents, defects, complaints, etc. in the market to aim for smooth commercialization of products.
Activities to swiftly respond to quality problems
The voices from customers regarding our products are all registered in the dedicated database (voice navigation system), and the Development & Production Division, each Merchandising Division, and other related divisions cooperate and respond quickly to them in accordance with the content. By enabling our business partners and factories to directly access the database to confirm the content, we have created an environment where we can respond to quality problems with speed. In addition, the Development & Production Division cooperates with external inspection organizations as needed.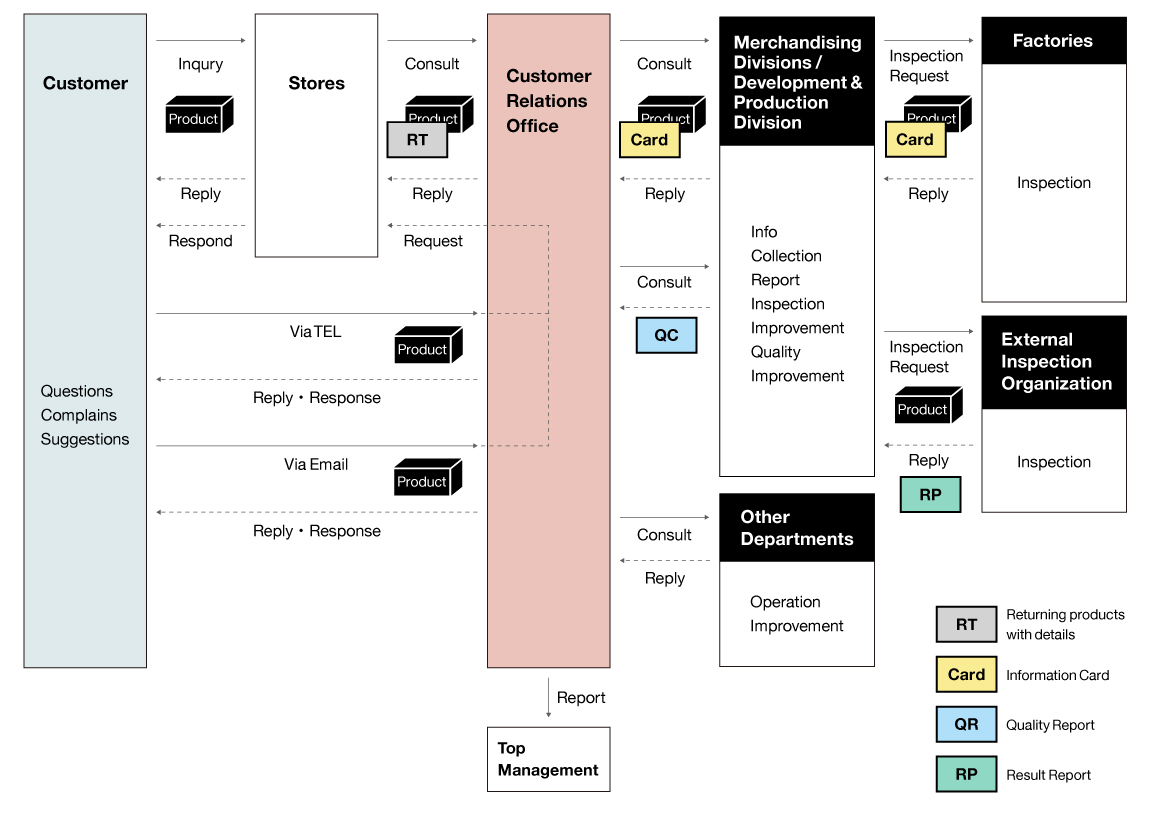 Furthermore, we strive for continuous quality improvement by holding weekly meetings mainly led by the Development & Production Division for the purpose of early detection of defect information, and by holding a monthly Quality Improvement Committee for the purpose of confirming the progress of quality improvement activities in the Merchandising Divisions.