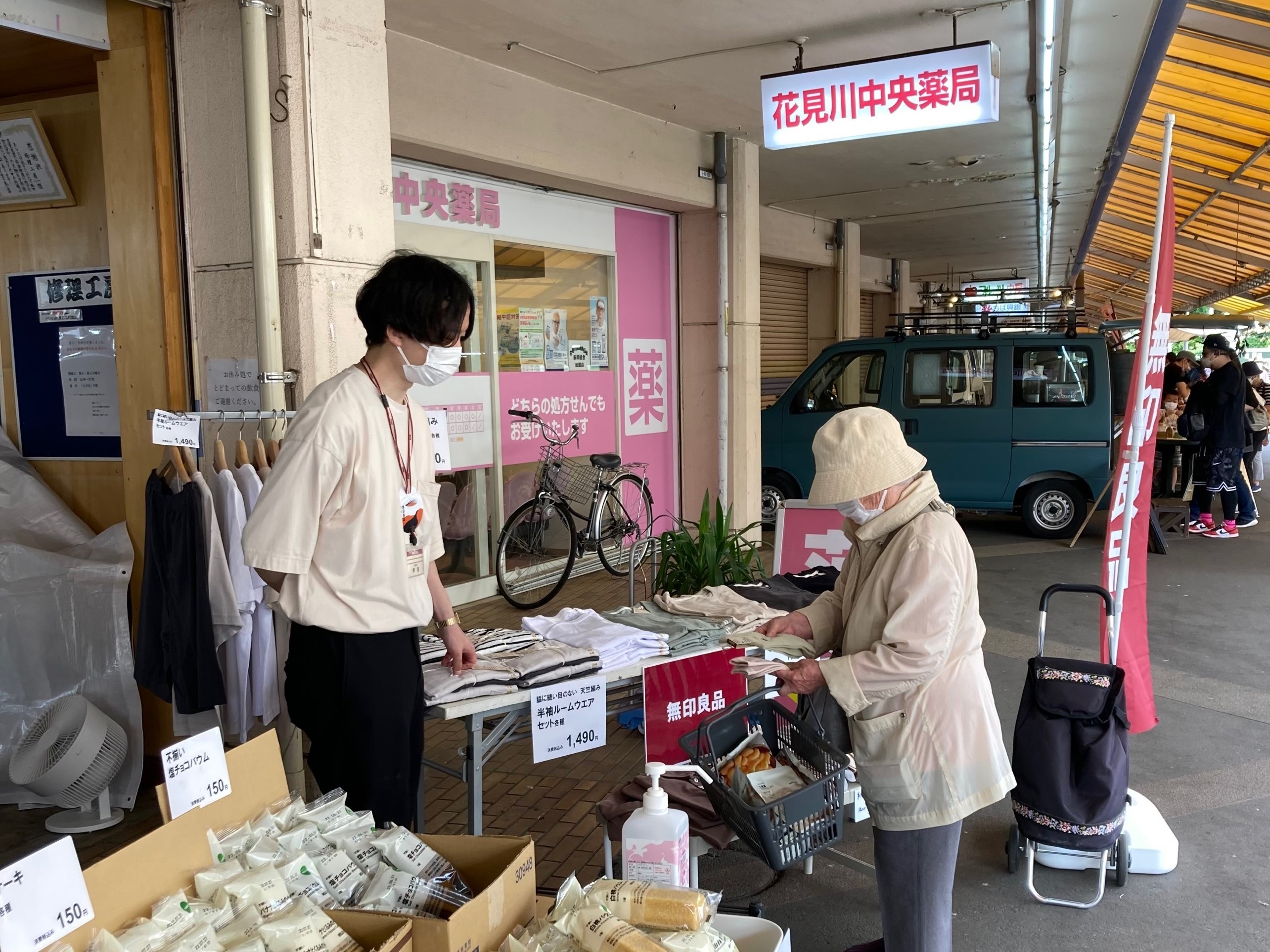 Events
Stores
Sustainability
Part-Time and Temporary Employees who are Fully Engaged with the Community: Chiba and Kyoto Region
 Ryohin Keikaku embraces a culture in which all members are encouraged to proactively connect MUJI stores to the community. This applies to members of all employment types; we offer several ways of working including part-time and temporary employment in order to accommodate various lifestyles. This is part two (part one: https://www.ryohin-keikaku.jp/eng/topics/035062.html) of the series where we recognize and celebrate the part-time and temporary employees in Chiba and Kyoto who made a key difference in the community and brough MUJI stores closer to people in the region, contributing to the corporate mission of making our stores community centers to bring positive impact.
■One Day Store Near the Residents of Hanamigawa Apartment Complex (Chiba)
 Temporary employee Yasuhiro Oshio from MUJI AEONMALL YACHIYOMIDORIGAOKA frequently hosts one day store at the Hanamigawa Apartment Complex with help from the store and the community manager. Hanamigawa Apartment Complex built 50 years ago is home to many shopping refugees, including elderly and those without convenient means of transportation.
 "We bring our products from food and household goods to clothing closer to customers who have difficulty with mobility", said Yasuhiro. "We sell sunscreen in the summer and moisturizer in the winter so customers can find what they need all year long." Yasuhiro also involves the community by inviting food trucks and local shops and sells locally grown vegetables.
 Yasuhiro is motivated by the smiles of customers who share their gratitude for his help. "I can feel that I am making a real difference in the community", said Yasuhiro enthusiastically. "As we continue with our initiatives, we want to make Hanamigawa Apartment Complex a case study for other stores.


■Expanding personal activities to include events at Community Markets (Tsunagaru-Ichi) (Kyoto)
 Temporary employee Kaori Watanabe from MUJI KYOTOYAMASHINA leverages her local connections to help with Community Markets at the store. Born and raised in Kyoto, Kaori is close with the locals from her hometown and she regularly participates in local events. She is acquainted with a knitting artist who wrote a book on knitting sweaters for work wear. The book contains pictures of people from Hiroshima wearing the sweaters at work. Kaori and the knitting artist began posting the "Kyoto version" of it on Instagram in 2021 and became a hit. They received offers from local shops to produce booklets. The sweaters in the booklet were exhibited at the 3rd anniversary of MUJI KYOTOYAMASHINA and at other MUJI stores.
 "It's really rewarding to be able to enliven my community and to see the liveliness at the Community Markets", said Kaori who is now on a mission to get more customers to attend the Community Markets.