MUJI Employees Select "Steel-Lid Cable Management Box" as "MY BEST MUJI"
 Every six months, we conduct a survey among our employees to find out which new product they would recommend most to others, which we named as "MY BEST MUJI". Among the products launched after September 2021, the Steel-Lid Cable Management Box was voted as the winner.
 "Steel-Lid Cable Management Box" is a compact storage box that offers a solution for organizing cluttered power strips and extension cords. It features a flap-style lid that prevents dust from entering the power socket and is easier to open and close than a box-style lid, which has been well-received by customers. Following its release on June 2, 2022, the product exceeded expectations and sold out in its initial production run within two months. It was restocked in September and remains as one of the best-sellers.
■Development Process
 In response to the risks posed by the COVID-19 pandemic, Ryohin Keikaku, like many others, began to promote teleworking. Kazushi Okamoto, a designer, was struggling with cable organization on and around his desk. He realized that many customers may be facing similar concerns.
 His team discovered that although there were many larger storage boxes in the market that were useful for organizing multiple cables, there was a shortage of compact-sized options that could be placed on a desk. As a result, they set out to develop a storage box that could fit into the limited space available on a desk.
 During the development process, the team discovered that placing a power adapter in a storage box could lead to overheating and fire risks. Additionally, they found that cables were often prone to tangling. As a result, the team focused on addressing the following during the development process:
 - Heat-resistant steel is used and ventilation slits are placed on the bottom to release heat
 - A flap-style lid that is easy to open and close is included to prevent dust from entering
 - The size is designed to accommodate a large 6-outlet power strip without taking up too much space on the desk
 - Space for cables to pass through from the front, bottom right and bottom left, allowing access from three directions
 - To make it easy to move when cleaning, the product can be combined with "Polypropylene File Box Standard Castor-Attachable Lid " and "Polypropylene Storage Case Caster"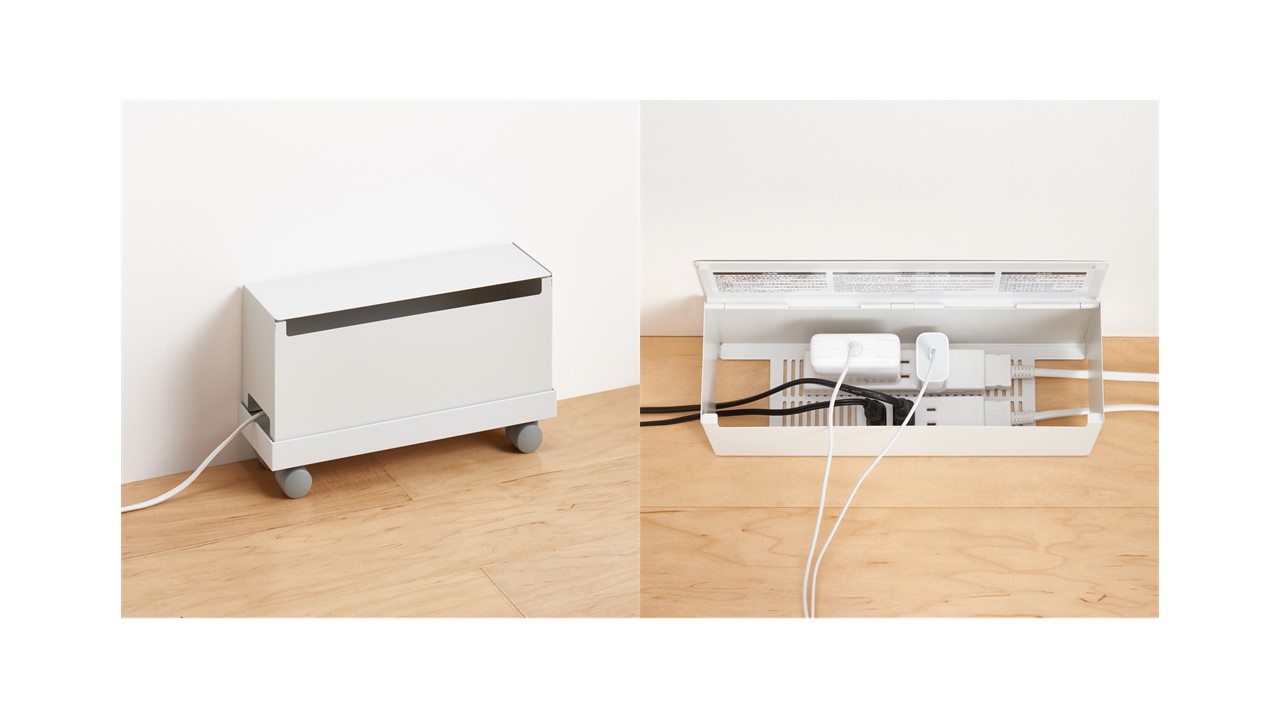 ■Comments from Kazushi
 In response to the outbreak of the novel coronavirus, we initiated the development of Steel-Lid Cable Management Box in anticipation of a surge in demand. Personally, I had long recognized the challenges that modern people face with cable management at home. To gain a better understanding, I assessed my cable environment and experimented with using existing products. I tested over 20 power strips to look for a size that could accommodate most existing power strips and ensure ease of use in various home setups. I was responsible for product development for stationery products, but expertise in electronics was necessary. So, I reached out to the team in charge of electronics. Their specialized knowledge helped to identify issues that stationery team alone might have overlooked. I believe the joint efforts of individuals from various departments were pivotal to the project's success.
■What's Next?
 We will continue our commitment to developing products that meet the needs of teleworking environments, including storage goods, cables, power strips, and mobile accessories. We plan is to create a teleworking environment that empowers customers to live comfortably in accordance to their lifestyle.
Kazushi Okamoto
Since 2014, Kazushi Okamoto has been a contracted designer at MUJI, where he focuses on product planning and design. He has overseen the design of stationery and furniture products and is currently responsible for housekeeping products.