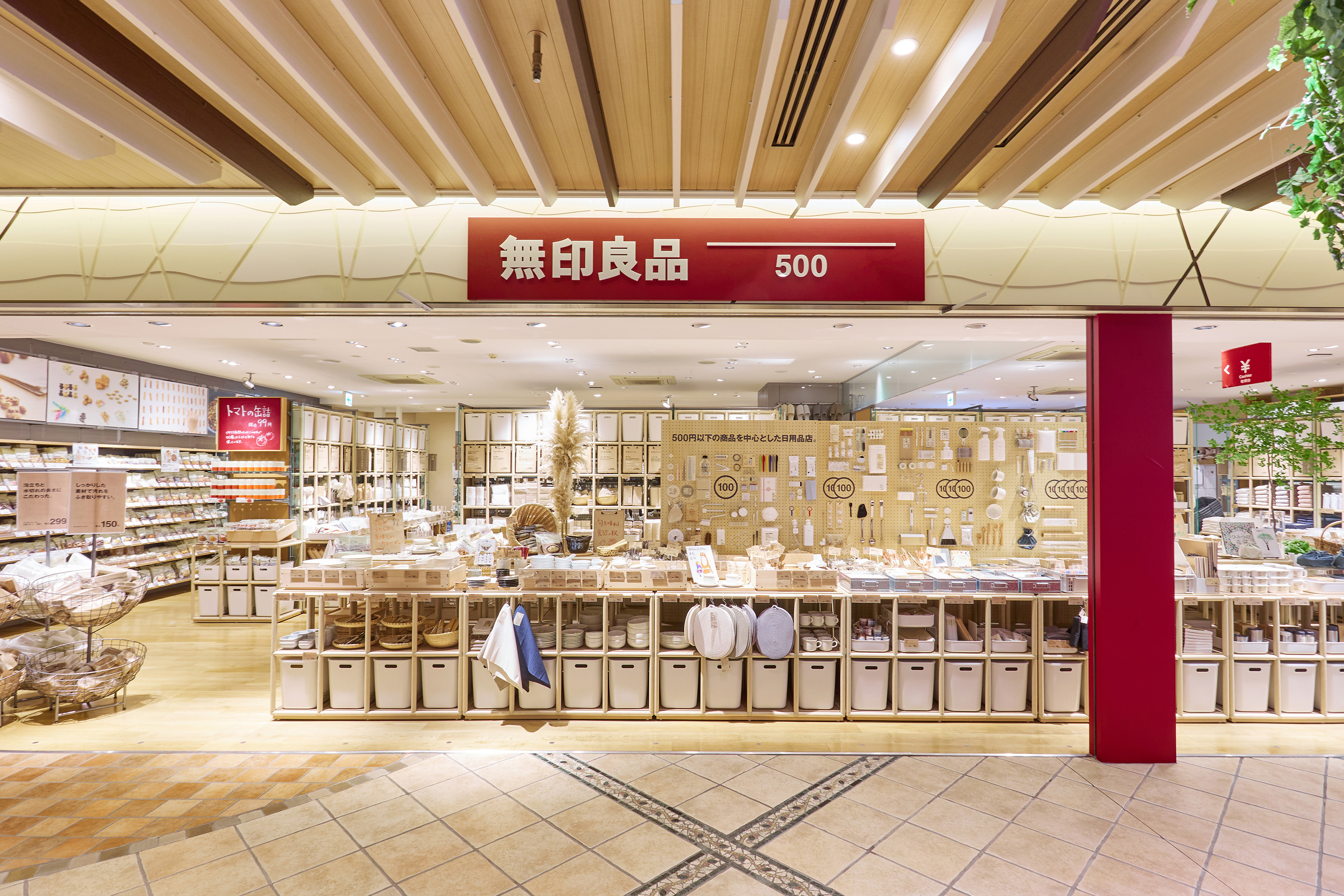 9/30 "MUJI 500 ATRE VIE MITAKA" Opened Under New Retail Concept
 "MUJI 500 ATRE VIE MITAKA" launched today in JR Mitaka Station under a new retail concept "MUJI 500" where product lineup heavily comprises daily necessities under 500 yen.
■What is "MUJI 500"?
 Approximately 70% of the product lineup at "MUJI 500" comprises daily necessities under 500 yen. The sales floor space is more compact than that of a regular MUJI store, and stores will be opened in areas where customers can easily visit daily, such as stations near residential areas as well as downtown and uptown.
 "Our goal is to create a store with products that are useful in daily life, so that customers who visit our stores once a month would want to visit once a week", explained Takuo Nagahara, Executive Officer and Head of Store Management Department during the store launch ceremony. "MUJI provides genuine quality goods at affordable prices even as inflation hits products fundamental to daily life. Over a period of several months, we sold mainly daily necessities at 'MUJIcom ATRE VIE MITAKA', analyzing customer trends and examining what products and services are necessary for daily life, which led to the start of this new business model", he added.
■About MUJI 500 ATRE VIE MITAKA
●Store Overview
 Located in JR Mitaka Station, a residential area used by 200,000 passengers daily, "MUJI 500 ATRE VIE MITAKA" is designed to serve as a store of daily necessities so that customers who use the station every day can conveniently visit the store before work or on their way home from school. To add to the convenience, online orders can be picked up right at the store.
●Lineup of Items Fundamental to Daily Life
 "MUJI 500 ATRE VIE MITAKA" will sell approximately 2,000 items of daily necessities priced at 500 yen or less, for a total of approximately 3,000 items. Specific items include: detergents, cleaning products, kitchenware, paper products such as kitchen paper, toiletries such as toothbrushes and toothpaste, skincare products such as facial toner, shampoo and conditioner*, underwear and socks, stationery such as notebooks and pens, food such as soup, curry, and snacks.
*Skin care products, shampoos, and other items will also be sold at prices of 500 yen or more.
■The Road Ahead
 We plan to expand our lineup of daily necessities under 500 yen by approximately 100 items in spring/summer of 2023 and plan to launch 30 "MUJI 500" stores, mainly in cities such as Tokyo and Osaka at stations near residential areas as well as downtown and uptown by the end of February 2023, then 20 additional stores per annual after that.