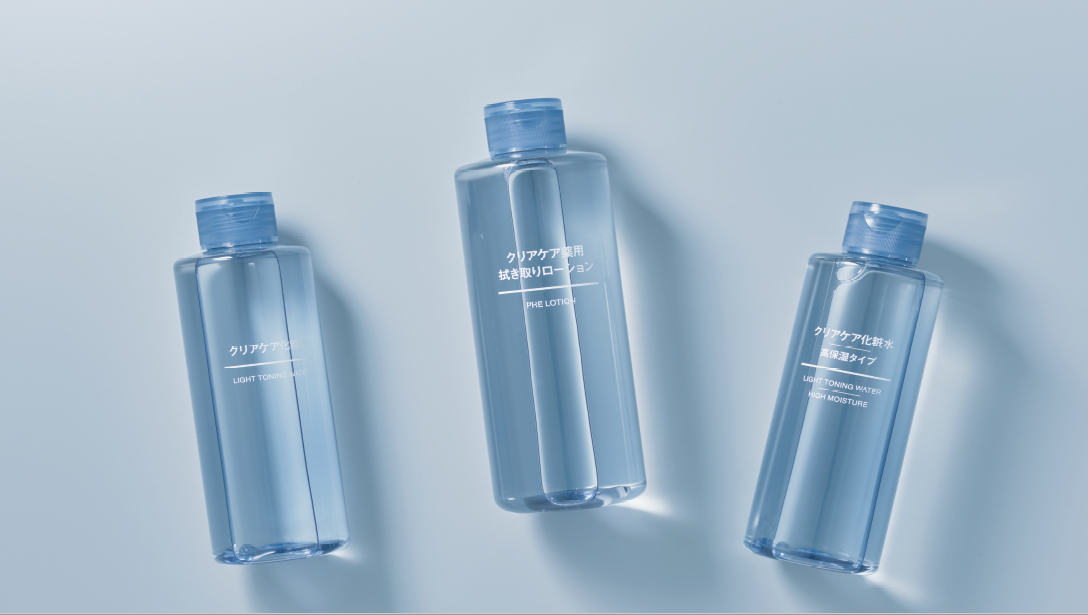 MUJI Employees Select PRE LOTION as "MY BEST MUJI"
 Twice a year, we ask employees which new product they would most recommend to others to be named "MY BEST MUJI". Among the products launched after February 2021, PRE LOTION, a medicated toner which can effectively prevent acne was voted to be its winner.
 PRE LOTION is the cardinal piece of the upgraded CLEAR CARE series released this summer. It is alcohol-free to help customers with sensitive skin and contains herb and fruit extracts acting as natural moisturizing agents and carries a fresh citrus fragrance. It is designed to be applied after washing by gently wiping over the face using cotton pad to remove dead skin cells and dirt in the pores, keeping the skin clean.
■Interview with the Product Developers
●Created to Answer a Problem of the New Normal
 "Many customers voiced that they never had skin problems before but started to experience them during the pandemic. When you wear a mask for a long time, the inner side of the mask becomes hot and humid, stimulating the secretion of sebum, and excessive sebum causes acne-causing bacteria to grow", explained Sakaya from Health and Beauty.
 "In response to these concerns, we reworked the CLEAR CARE series and came up with the PRE LOTION which is very effective at preventing acne", added Sayoko from Product Design.
●Commitment to Perfection
 "After countless trial and error, we were able to make it both alcohol-free and have the refreshing sensation that is typical of CLEAR CARE. We fine-tuned the moisturizing agent to ensure it blended well with skins", said Sayoko.
 "We chose blue to give the impression of tranquility and calmness. We compared various hues of blue and tests how each would look on the sales floor. In the end, we chose the hue that also matched well with colors of other series", added Sayaka.
●What's Next?
 "We will continue to develop products that are gentle to the skin and to the environment. We want to target customers who have never tried our skin products before, particularly appeal to young people in their teens and twenties, as well as male customers, whom we have not been able to reach until now", explained Sayaka.
■Member Introduction
Tomomi Nakano
 Joined Health and Beauty of Household Merchandising Department in 2015 and participated in the development of various facial skincare products. Appointed as the manager in charge of skincare products on February 2022.
 
 
 
Sayaka Togami
 Joined MUJI KAMIO-OKA KEIKYU as a new graduate in 2012. She worked at two more stores in Kanagawa then transferred to Kyushu as a store manager in 2016 and worked at three more stores. She moved to Headquarters to join Human Resource Department before becoming a member of Health & Beauty of Household Merchandising Department on September 2021.
Sayoko Kojima
 She joined the Design Office of Household Merchandising Department in 2016 and participated in the launch of Health & Beauty and stationery products. She was involved in the planning and management of ATELIER MUJI for 3 years and took part in the launch of Healthcare Centers.