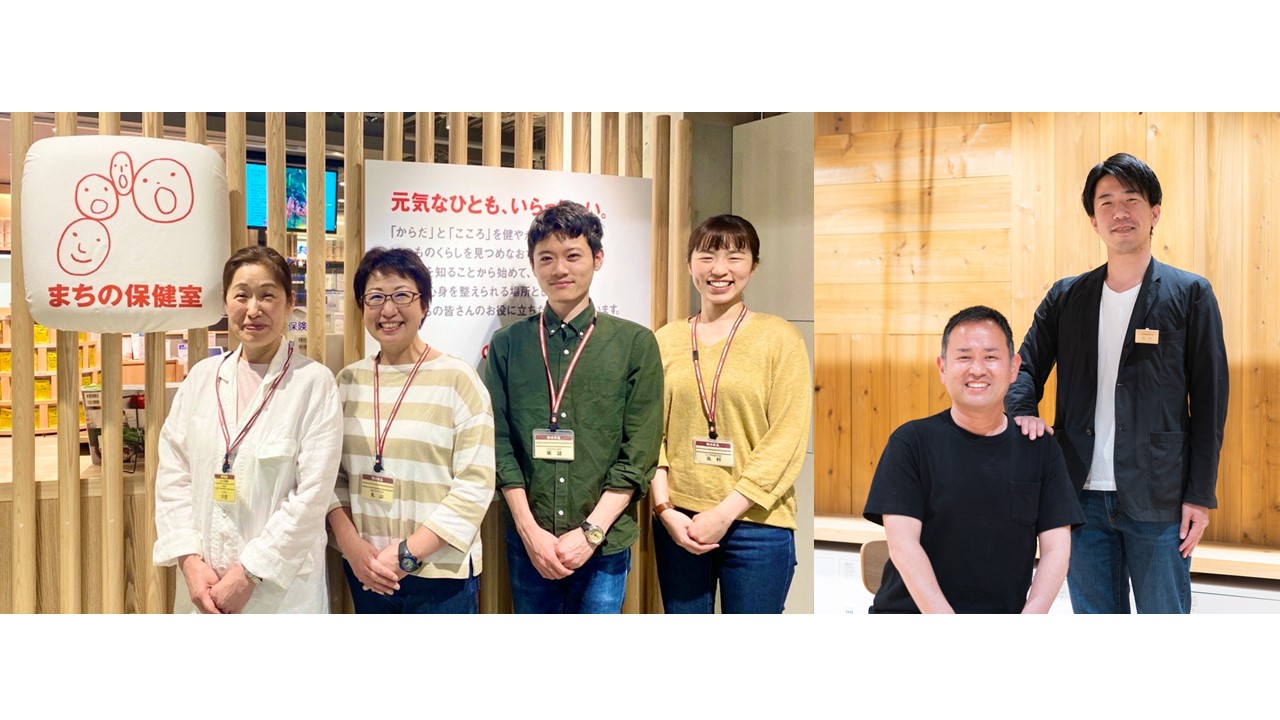 Products/Services
Stores
Sustainability
Healthcare Centers are one of the Healthiest Initiatives at MUJI
 As tackling local issues to deliver positive impact in the community is a core mission at MUJI, and as Japan faces aging population, Healthcare Centers are designed to help residents live a healthy life. MUJI launched its first ever Healthcare Center inside MUJI Naoetsu almost a year ago, while the second was just launched this April in MUJI Hiroshima Alpark. Healthcare Centers are equipped with fitness scales for understanding health conditions and sells products that support healthy lifestyle. Events are hosted frequently to support physical and mental well-being, and healthcare professionals are available to discuss health concerns big or small, free of charge.
 As Healthcare Centers gain momentum at MUJI, we spoke to Shimamura Yuri from MUJI Naoetsu, and Kanetake Keiji from MUJI Hiroshima Alpark to find out exactly what they do and what difference they are making in the community.
■Yuri from MUJI Naoetsu
●What is your role?
 I am responsible for the operation and management of our Healthcare Center including talking to customers myself to find out their needs. I also seek new ways for the Healthcare Center to be more involved in the community. To that end, I communicate with our partners such as pharmacy and municipality and look for ways to connect customers to the community.
●What kind of events are you hosting?
 I prepare fun activities that maintain physical and mental wellness. Every Monday, I plan brain teasers such as puzzles to activate the brain, while every Friday is walking day where we make rounds within the store. There is demand for this because Naoetsu is covered in snow in winter and more, making it difficult for elderly to stroll outside. The walking day is quite popular and often attracts more than 20 people.
●Are there any challenges? 
 By now you may have realized that many of our customers are elderly in their 60s to 80s. But I need contents to also attract customers in their 20s and 30s, and I am working on it.
●What is your goal?
 I want the Healthcare Center to become a centerpiece in people's lives. That means people come to the store to not only shop, but also to stop by the Healthcare Center to share their concerns and be able to feel rejuvenated after.

■Keiji from MUJI Hiroshima Alpark
●What is your role?
 I am an evangelist for the Healthcare Center, so that more people can know our purpose. I talk to our community, the municipality, local pharmacy and businesses to look for ways to work together. I am also responsible for the planning and execution of events and reflecting on feedback from healthcare professionals to better manage the space including product line-up.
●What kind of events are you hosting?
 Since the healthy life expectancy of Hiroshima is very low, we focus on physical exercises. We have exercises for elderly every Tuesday, muscle gain workouts by fitness instructors twice a week, and yoga lessons once a week.
●Are there any challenges?
 Since we just launched, people still have the perception that the Healthcare Center is simply a place to try out fitness scales for free. We want people to know our underlying purpose and share the importance of preventive care and staying healthy.
●What is your goal?
 We want to be on people's top-of-mind as the place to visit first for preventive care. If someone is concerned about their health, they think to pay us a visit before anywhere else.

■What Does the Future Hold for Healthcare Centers?
 Going forward, our Healthcare Centers will further support the physical and mental well-being of local residents with more in-store contents, more healthcare products, and more digital services. We want to connect with people living in the community through our store as well as digital services to advice on healthy diet, exercise, and lifestyle. We will continue to collaborate with governments and medical institutions to support the healthy lifestyle of people in the community.

■Shimamura Yuri
Initially assigned to MUJI Tamaplaza Terrace in Kanagawa as a fresh graduate in 2016, she experienced several stores before landing in MUJI Naoetsu in charge of food and drinks. There, she managed a restaurant using local ingredients from the Joetsu area before assuming her current position to manage Healthcare Center.
■Kanetake Keiji
Initially joined MUJI in 2000 assigned to MUJI Kashiwa Station Mall, he was the store manager at several stores including MUJI Matsumoto Parco and MUJI Keio Seiseki Sakuragaoka. He applied to the current position to promote the concept of "healthy living" at MUJI Hiroshima Alpark. He has already worked there twice before as a store manager and now assumes the role of a deputy store manager.