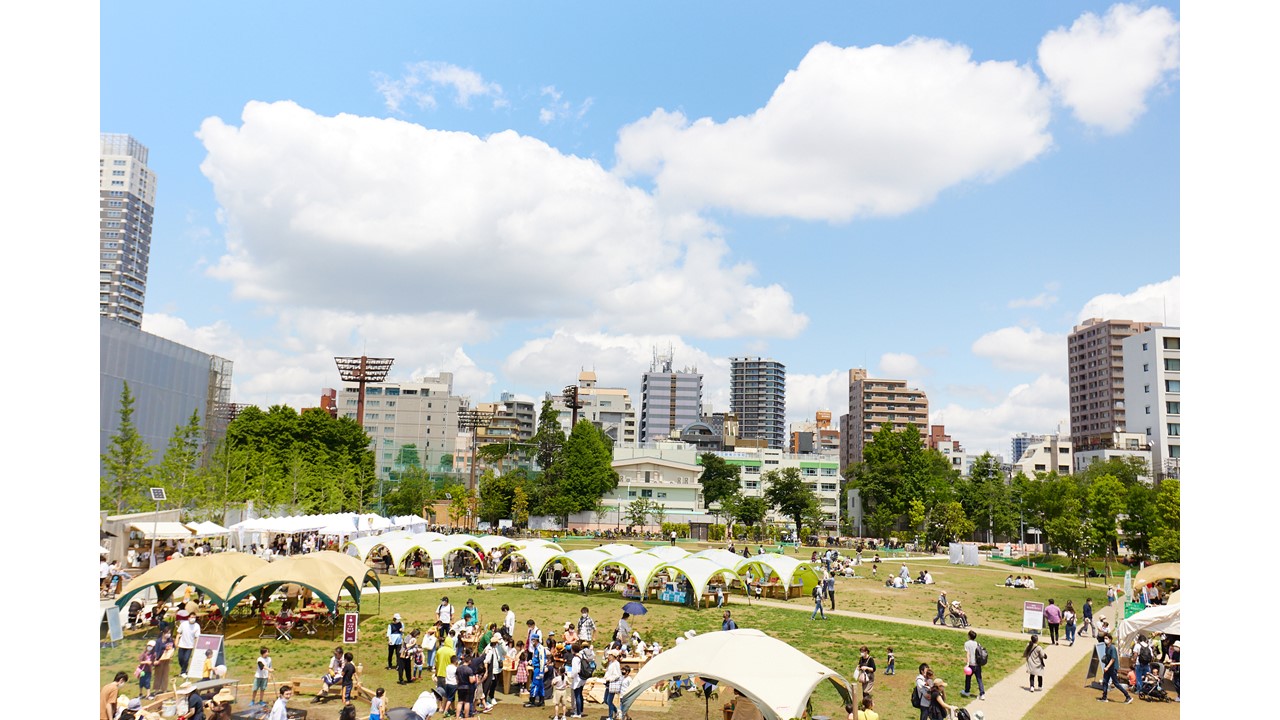 Disaster Preparedness Event "ITSUMONO MOSHIMO CARAVAN" held in Ikebukuro
  "ITSUMONO MOSHIMO" or "always be ready for emergency" is a project by MUJI since 2011 to always be prepared for disasters. So far, 3 caravans have been held in Tokyo and Niigata to present this idea to the community in fun and interactive ways. On May 21 (Saturday) and 22 (Sunday), the 4th caravan was held in Toshima Green Disaster Prevention Park (IKE SUNPARK) in Ikebukuro near MUJI's headquarters under the theme, "Disaster Preparedness x Good Health x Outdoors", attracting over 7,000 participants. In Japan, parks are often designated as evacuation sites after a disaster, and IKE SUNPARK is one such park equipped with various useful functions. Aside from knowing where to evacuate and what the park offers, participants gained potentially life-saving knowledge and skills such as how to be well-equipped for a disaster, how to help someone who cannot move, how to put out fire, and various outdoor skills. Among other things, MUJI also set up booths to introduce its own emergency kits, daily items and camping tools that can be useful also in disaster situations.

■Highlights of the Event
1) Acquire knowledge on disaster preparedness while moving one's own body and having fun
 In a timed trial, participants had to carry a frog weighing about 15 kilograms which is the average weight of a 4-year old using a single blanket. On participant commented, "I didn't realize how heavy an average 4-year old is!". In another game, participants learned to aim and shoot a water fire extinguisher at targets that resemble a frog. These are exercises that can potentially save someone's life, and participants were able to experience them physically while having fun.
2) An opportunity for kids living in the city to experience lighting wood on fire
 Fire hazards are of great concerns in disasters occurring in large cities, yet there are very few opportunities for people in the city to encounter fire. So, MUJI organized booths for log cutting in which two people work together to cut logs with a large saw, and for splitting firewood. In addition, by feeding the chopped wood into the fire, participants were able to experience what fire feels like up close.
3) Emergency food recipes
 The booth introduced recipes such as preserved seafood and vegetables mix, and rice simmered with preserved vegetables cooked using plastic bags which in turn saves water by eliminating the need to wash dishes, along with recipes using MUJI snacks and seasonings that can be made easily with ingredients found at home.
■Comments from organizers
 On Day 1, we were hit with heavy rain, but the weather gradually improved. Day 2 was pleasantly sunny, so we were able to welcome about 7,000 visitors, both adults and children. Seeing them smile and enjoy learning about what to do during a disaster made it all worthwhile, even though organizing it wasn't easy.
We had visitors telling us, "I didn't know you could make a stretcher out of a blanket! If a disaster happens, I want to support the firefighters", and "I had no idea how to stay prepared, but now I'm very aware and it was so much fun!" We will continue to hold caravans with everyone in the local community throughout Japan.

■Tamura Tomohiko of Social Good Division, in Charge of Local Good
Joining the company in 2004, Tomohiko worked at multiple stores before becoming a block store manager supervising multiple stores. In 2017, he transferred to the HR& General Affairs Division in charge of ITSUMONO MOSHIMO project and was involved in the development of emergency kits. He transferred to Social Good Division in 2021 and expanded the range of activities to encompass ITSUMONO MOSHIMO CARAVAN and more.
■Honda Akira, MUJI Lumine Tachikawa
Joining the company in 2018, Akira was initially involved in the development of circulators before transferring to MUJI Celeo Kokubunji in 2000 followed by MUJI Lumine Tachikawa in 2021 where he currently resides. On April 2022, he became second-in-charge of ITSUMONO MOSHIMO CARAVAN, leading its product development while also managing store operations at MUJI Lumine Tachikawa at the same time.