Product Focus No. 10 "Right Angle Socks"
 Right Angle Socks, one of our best-selling products, have been launched in November 2006. Since then, we have continued to improve to make it better. Most socks are made with a 120-degree angle while heels are 90 degree when standing. By making at the same right angle as the heel, Right Angle Socks fit the heels so that they don't slip down by movements even if the cuffs (top of socks) are loose. The socks have very good reputations and we have received large customer satisfaction as they do not slip down easily and fit the feet.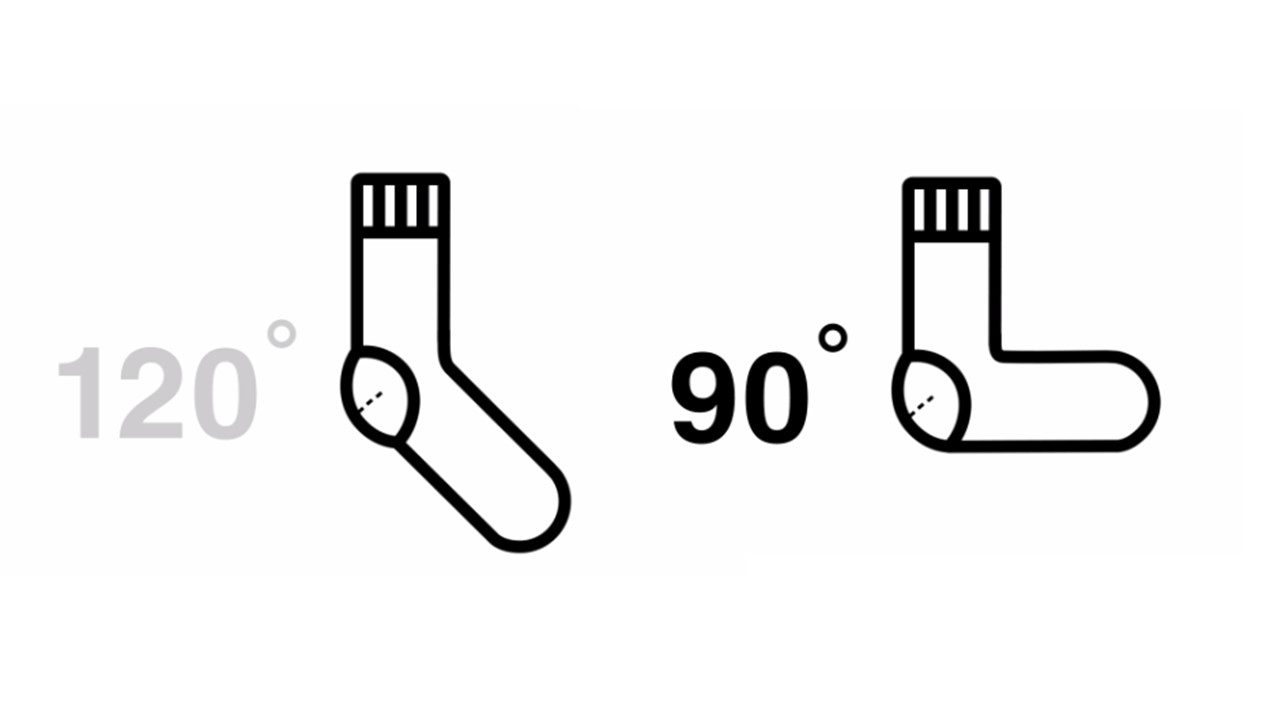 The Product Development Started with a Chance Encounter
 The start of the development of "Right Angle Socks" came from a pair of hand-knitted socks by a Czech grandma. Mr. Kanai, Chairman & Representative Director of Ryohin Keikaku met a lady who told him about her experiences in the Czech Republic when he asked to give a lecture at a university. She also shared her story with our in-house staff which was about freezing winter in the Czech Republic where the temperature can drop to 15 degrees below freezing and people wear thick socks and boots when going out to keep feet warm. The thick socks knitted by a grandma living in such an environment have a "right angle" shape so that the heel part fits snugly. They are very comfortable to wear and do not slip down.
 Once we experienced the fit and comfort of the socks knitted by grandma, we started development to replicate by machine knitting with our desire to have people to experience.
Successfully Developed After Trial and Error
 In the process of development, we faced a difficulty in the knitting method for making a 90-degree angle. We asked the daughter of a Czech grandma to come to Japan and to show us how to knit the socks by hand. There were some more challenges we need to overcome such as reproducing by machine knitting and finding a factory. After solving all those difficulties and making many prototypes, the "Right Angle Socks" were eventually released.
Special Features of Right Angle Socks
 Since its birth, Muji has continued to manufacture products considering following three perspectives: "selection of materials", "streamlining of processes" and "simplification of package." We aim to choose materials that take into account the global environment and producers, eliminate waste in all processes, and provide customers with what they truly need in the form they truly need it.
① Selection of materials…The organic cotton used in the socks is purchased in bulk from India. By using materials suitable for socks and purchasing in bulk, we are able to reduce costs.
② Streamlining of processes…All socks are knitted automatically (mechanical knitting).The post-process after knitting is carried out almost entirely by hand but we are proceeding with automation from where we can. For example, tagging used to be carried out manually one by one by staff. Now it is machine fastened.
*Post-processes include steam ironing, tagging and bagging
③ Simplification of package…They are packed in plastic bags to prevent them from getting dirty while transportation. The number of plastic bags is reduced by increasing the number of socks in each bag. (Excluding some products).
Continue to Improve the Products While Maintaining Quality
 The development team has been continuously improving and reviewing the product to respond to customer feedback and requests since launched. For example, women often prefer socks with loose cuffs, so we have developed socks without an elastic, while many men prefer socks that fit better, therefore we have developed socks with an elastic insert at the welt to prevent them from falling off. We don't compromise on design. We develop new products through repeated market research and discussions with designers and suppliers.
 The prices of some other sock products have been revised to make more affordable at 230 yen per pair while maintaining quality by purchasing raw materials in bulk and reviewing logistics. In spring 2022, we also plan to release two pairs of Right Angle Socks from last year's popular "Cotton Smooth Series" at 690 yen per pair. It uses cotton yarn with reduced fluff and suppresses the odor of sweat and is a product that you should try.
Future Goals
 We want as many customers as possible to wear and experience MUJI socks. We will continue to develop products by constantly thinking about what kind of socks would be nice to have, and aim to continue to provide useful products that are fundamental to our customers' lives, so that when it comes to socks, MUJI's "Right Angle Socks" will become the most popular choice.