"Health Care Center" has been Reopened after Renovation
 On January 28 (Friday), "Health Care Center" was reopened at MUJI Naoetsu after renovation.
 The "Health Care Center" was first opened in July, 2021 with the aim of offering a place where anyone can drop in and feel free to measure their health, talk about their conditions, and go back home feeling refreshed. Since opening, we have organized health consultations and exercise classes with the participation of many customers.
 This time, in order to make it easier for customers to visit us and talk to us about their concerns, we changed the layout of the sales floor, introduced new fixtures, and reviewed our products and relevant contents.
Specifically, we created a sales floor that is easy to understand and shop, by editing and displaying each product under a specific theme. At the same time, we also displayed in-store POP tools and books that contain relevant information.
 In addition, to provide opportunities for communication, a "Naoetsu Minna no Bulletin Board" has been set up where staff can answer customers' concerns and questions, and a blackboard has been set up to provide local and store information, as well as information on events related to health support.
 Furthermore, in order to raise awareness of the importance of improving pre-disease conditions while enjoying shopping, we have installed "bits of knowledge while you walk" on the floor of the store's main line to introduce information related to health.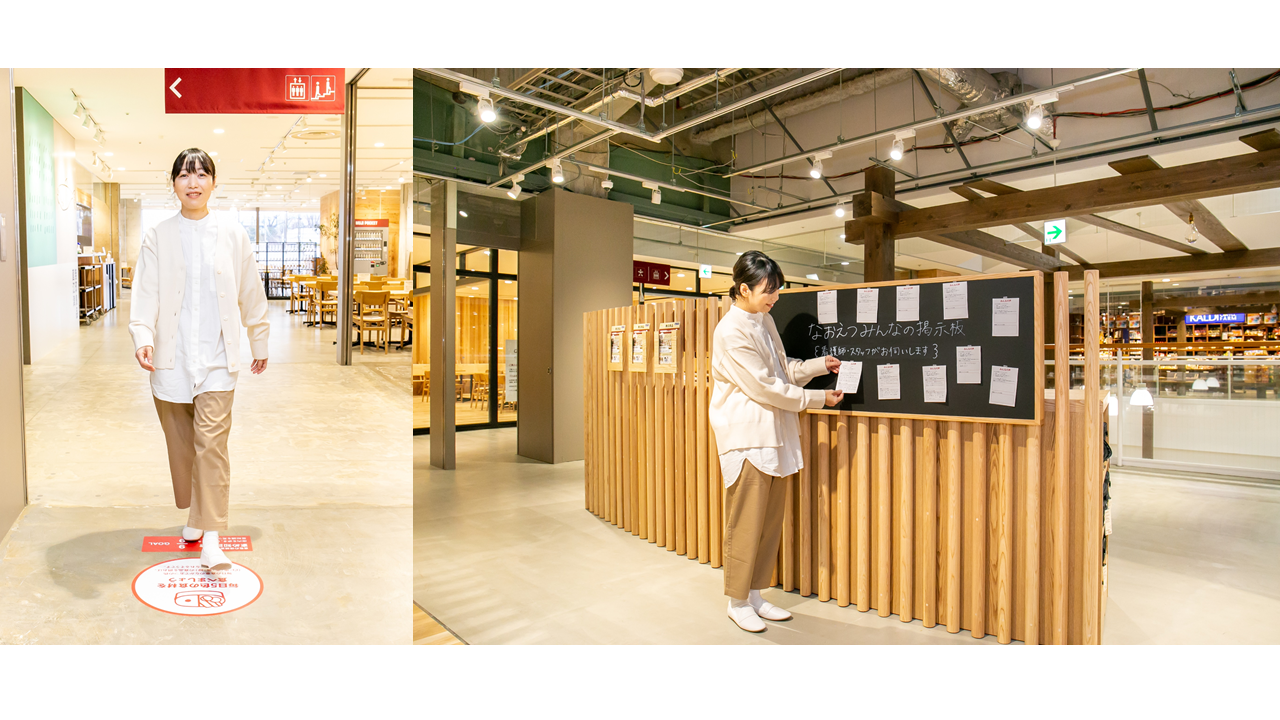 The reopening attracted many customers, especially on weekends. Many of them were interested in the activities of "Community Health Centre" and they actually used the measuring equipment to check their heath. Also, the number of customers who get interested in the "Health Care Center" further increased after we installed a black board in the entrance showing what can actually be done here.
 The person in charge said enthusiastically "more customers drop by after we increased the number of eye-catching tools in the sales floor. Also, by dividing the sales floor into themed areas and adding POP with product information, the number of customers who showed interest has increased.. We will do our best to make it a place where our customers can make new discoveries and learn new things when they visit the Health Care Center."
 The "Community Health Center" is making efforts to support the health of people in the community by cooperating with our partner pharmacies. We will continue our activities with the aim of contributing to the daily well-being of our customers.