Products/Services
Stores
無印良人
MUJI Kitchen Project Team - Ms. Masami Takahashi and Ms. Karin Takano
 On January 14th (Fri), MUJIcom Higashi Ikebukuro opened on the first floor of Ryohin Keikaku Headquarters Office. In addition to daily necessities that support everyday needs, this store also introduced MUJI Kitchen, MUJI's first takeaway meal service offering freshly cooked lunch boxes and deli. In this issue of MUJI People, we interviewed Ms. Takahashi and Ms. Takano who are members of MUJI Kitchen project team, representing the rest of the team members from Food Division.
■ It is nice to have a "Simple and Pleasant" store in my neighbourhood
 As we open new stores from place to place, focusing on "agriculture and food" as mentioned in our medium-term management plan, we, members from Food Division, thought about what kind of MUJI food would be convenient in our daily lives and what kind of stores we would like to have in our own neighbourhoods. Many of us thought that it would be nice to have a "Simple and Pleasant" store offering foods for our daily meals along with everyday products. We especially thought that there should be a line-up of healthy deli, lunch boxes, and fresh vegetables and eggs. At that time, we learnt about the plan that a store is scheduled to be opened on the first floor of the headquarters office. We had a series of discussions with people from various departments on how we can truly serve the local customers through this store.
 The Higashi-Ikebukuro area is a bit far from Ikebukuro station, and unlike the busy impression around the station, there are actually many parks and greenery in this neighbourhood. With the increase in the number of condo buildings, the area is attracting new families with children. On the other hand, there is little interaction between people coming from outside the area every day, such as office workers, and local residents of around Higashi-Ikebukuro Station. We have also an impression that there is a lack of stores selling daily necessities that support everyday life of local people.
 With the idea of making this store a "simple and pleasant" store in Higashi-Ikebukuro to serve the people of the neighbourhood in mind, we developed the current product line-up and services.
■For "delicious" everyday
 (Ms. Takahashi) MUJI kitchen was created from the idea of helping people, like a part of a household kitchen's function, to fill stomachs and hearts at the same time.
 Together with local people and producers, we would like to create not just a place convenient offering deli, frozen foods and everyday items, but also a place to encounter with fresh vegetables and other delicious stores in Ikebukuro, and feel the connection with the local community.
 (Ms. Takano) To contribute to people's everyday life, we offer daily lunch boxes, "50 kinds of delicious pouched-food bars", sold-by-weight deli, rice and eggs, produce, dairy products, and bread.
 There are many technical terms used to describe the special preparation methods and ingredients, and many of them are difficult to understand.  We repeatedly researched, reviewed, tasted, and visited restaurants/stores to find out why they were made the way they were, what made them different from others, etc., and decided the product line-up as a team.
 In addition, we were careful to use expressions that are easy for customers to understand. Especially for items coming from a supplier such as milk, we reviewed the format of POP so that we can write a handwritten comment to tell customers why we chose the product.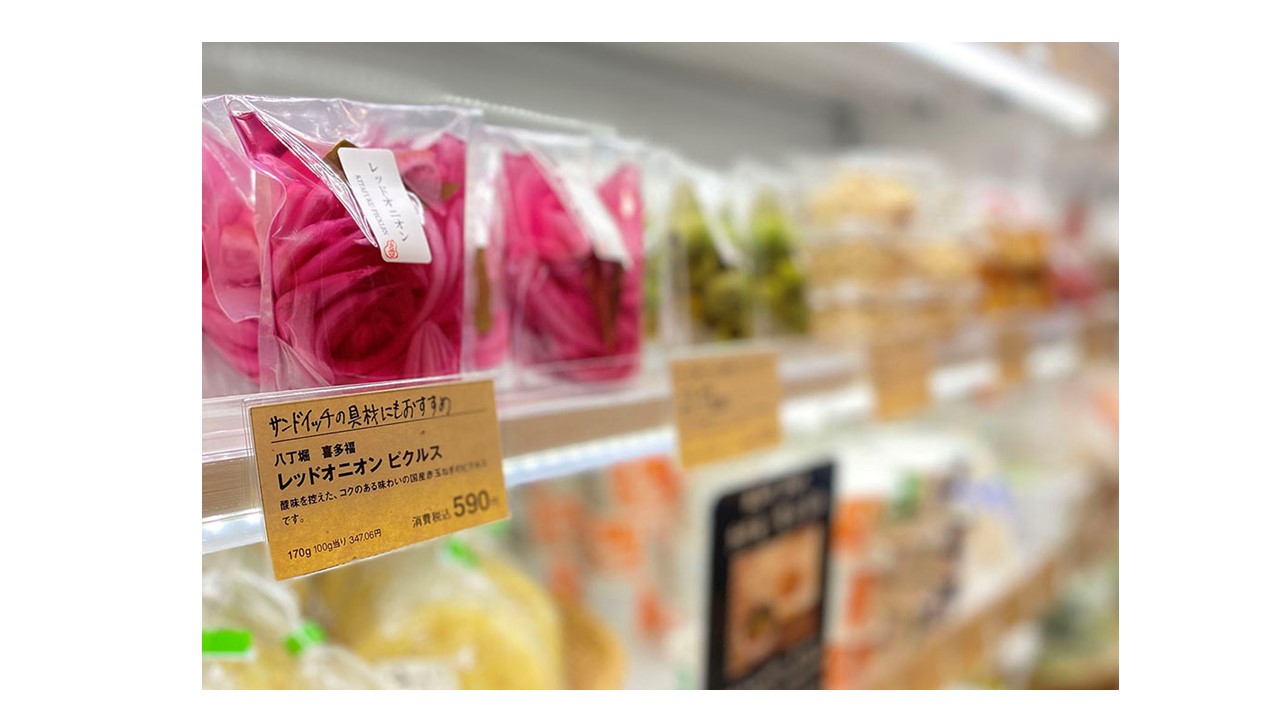 ■ To communicate our thoughts to our customers together with our products
 (Ms. Takahashi) It was hard to communicate background stories of products, information about producers/manufacturers and our services to our customers. We paid attention to the way we present information in the store, using designs, illustrations, icons, and images to make it visually clear.
 The new service, "50 kinds of delicious pouched-food bars", was created out of our hope to encourage people to eat MUJI's curry and try different kinds. In order to communicate that "MUJI's pouched foods are very satisfying" and that "there are many variations", we decided to name the service "50 kinds of delicious pouched-food bar". We filled the whole wall behind the counter with food pouches for an easy recognition. Many media articles introduced the counter saying that it offers 50 kinds of pouched food just like a bar offering a drink. I think it is an interesting service using popular MUJI food products.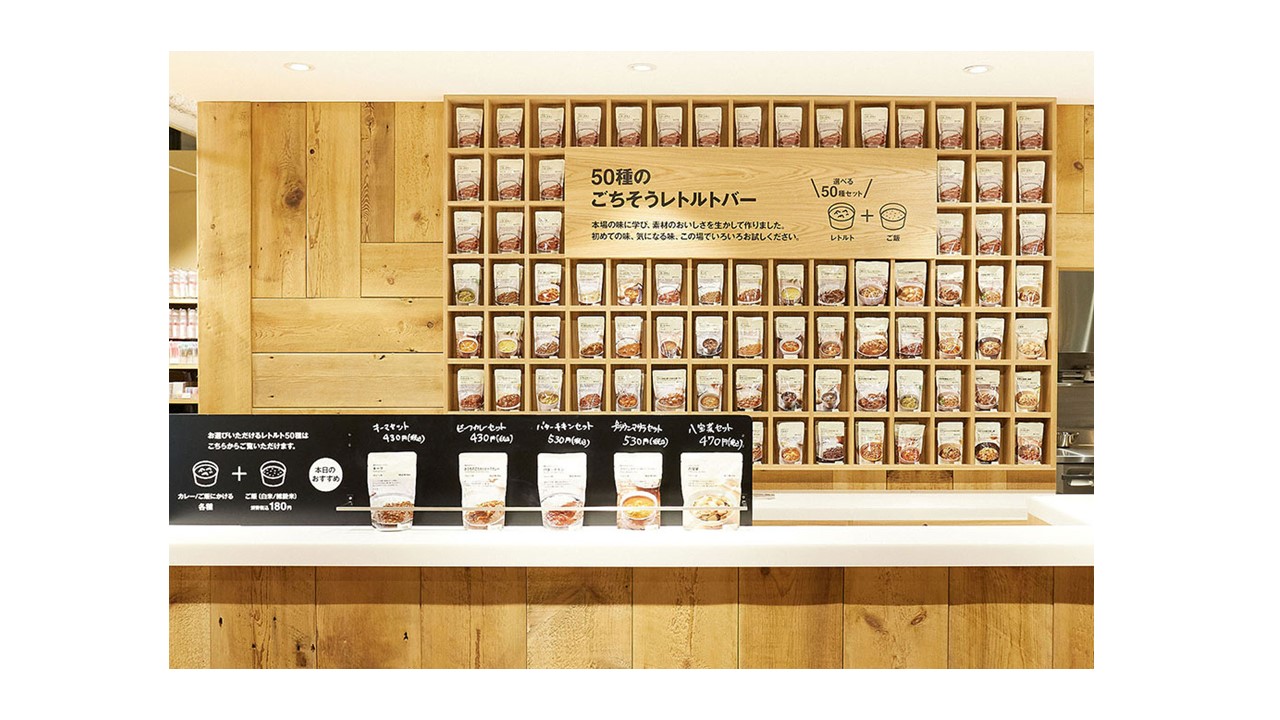 (Ms. Takano) As I am in charge of design, I wanted to create a sense of unity among products, services, sales floor, and promotional materials so that the ideas of MUJI Kitchen would be conveyed to customers. For the renewed daily lunch boxes, the team discussed what kind of bento they would like to eat every day, and considered everything from the contents to the packaging from the standpoint of the purchaser, including the price (500 yen including tax), the appearance of the side dishes, and the containers used. On the other hand, since lunchboxes need to be sold out by the end of the day, in the evening the sales area would look empty, which is another major issue. After discussing ideas with the VMD members, we developed an original fixture that utilizes wooden box-shaped containers and makes it easy to modify the sales floor by moving the boxes. There were many other challenges, but we were able to solve them thanks to the advice of everyone in Store Design Department, Open Communications Division, and Visual Merchandising Division.
■ Connection with the local community
 Because of its location on the first floor of the headquarters office building, MUJIcom Higashi-Ikebukuro participated in events in the surrounding area even before the store opened, and conducted various activities in cooperation with neighboring companies, organizations, residents, and the government of Toshima Ward such as the "Food Drive" initiative. In addition, the IKEBUKURO to GO map in the store will be a place where the store staff can provide information about the local area by periodically searching the surrounding area themselves. The staff will also be involved in the community and will work together to make the community a better place.
 In addition to "IKEBUKURO to Map," MUJIcom Higashi-Ikebukuro provides a variety of other initiatives such as "Connecting Coffee", "Connecting Bulletin Board", and "Tsunagaru Yatai (Connecting Stall)". These are services that customers who want to connect with others but don't know how or don't have the courage to do so can feel free to use. We believe that by getting to know and care about each other, the community can be revitalized, and people are brought together even more.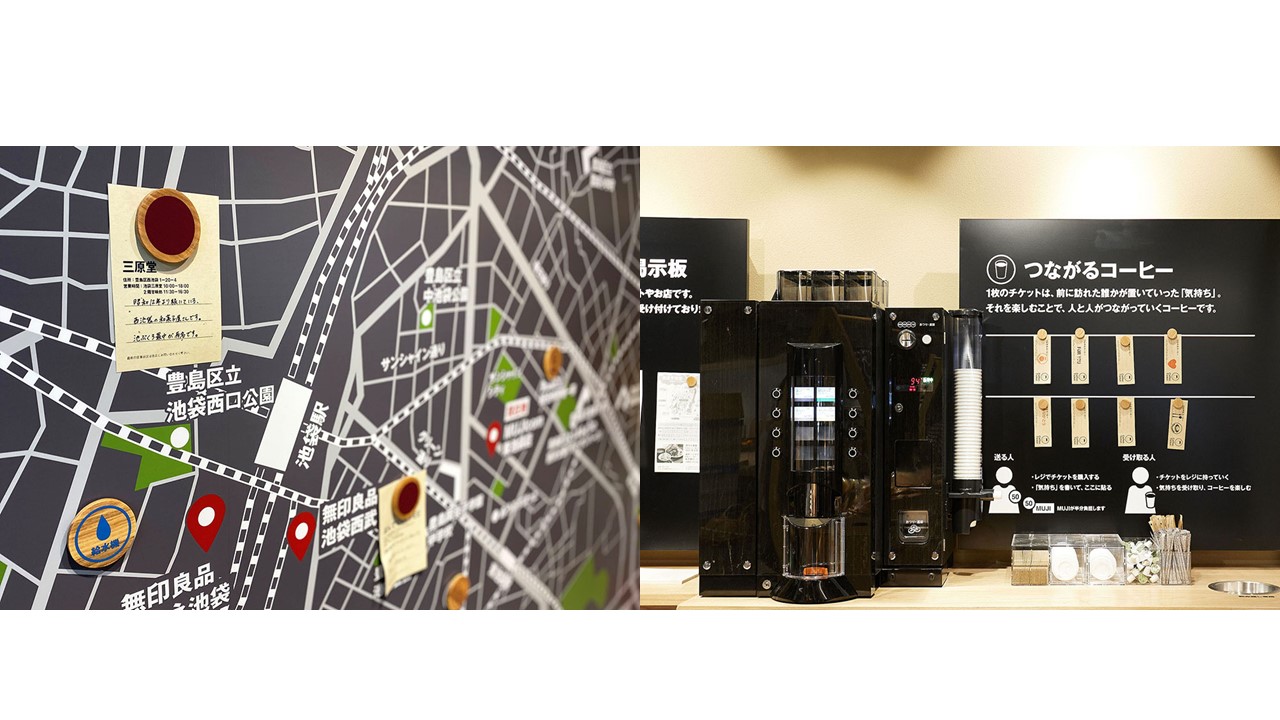 ■Future Goals
 First of all, we will make MUJIcom Higashi-Ikebukuro a convenient and familiar place for everyday use for people working and living in Higashi-Ikebukuro area.
 In the area of "food," there are still many issues to be addressed, such as food loss and the declining primary industry. Although this is just the start of a small initiative, we hope that through MUJI's activities we can continue to help solve the various problems related to the industries that support food.