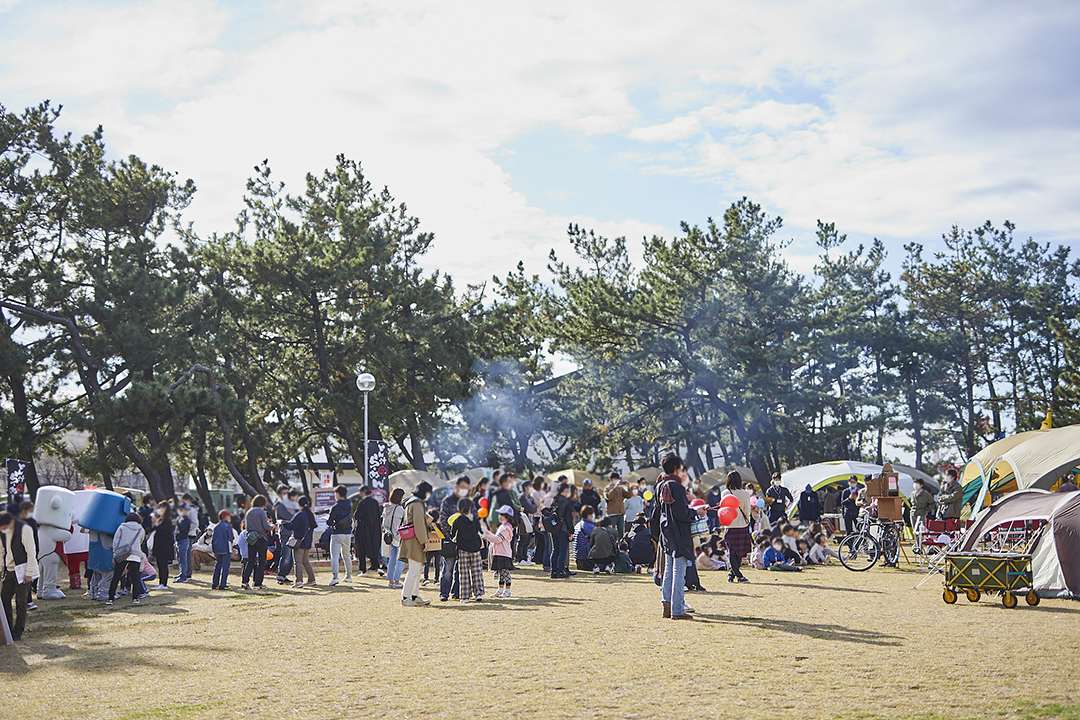 Events
Stores
Sustainability
"ITSUMO MOSHIMO Caravan" event held
 On November 13 (Saturday) and 14 (Sunday), the disaster prevention event "ITSUMO MOSHIMO Caravan" was held at "Kaihin Park" and "Naoetsu Yatai Kaikan" in Joetsu City, Niigata Prefecture, organised by Kubiki Jidosha Co., Ltd. and Ryohin Keikaku Co., Ltd., and co-organized by Nigata Prefecture and Joetsu City. Under the theme of "ITSUMO MOSHIMO – always ready for emergency", MUJI is proposing to prepare for disasters with familiar daily necessities by using camping tools and outdoor goods on a regular basis. MUJI NAOETS offers products selected from outdoor brands in Japan and overseas together with MUJI products at the "MUJI CAMP TOOLS" section, and we are encouraging customers to get prepared for disasters and emergencies through "ITSUMO MOSHIMO." Meanwhile, we wondered if we could hold any events that allow people to learn more about disaster prevention through playing and having fun. The event "ITSUMO MOSHIMO Caravan" was born out of such idea.
 This year marks the second time that we hold the event. A large bonfire was set up in the center of the square, and surrounding it, the participants experienced log cutting, initial fire extinguishing by actually using a fire extinguisher as well as first aid activities in the same way as the last time.
 Also, in Yatai Kaikan, we held an evacuation shelter accommodation experiencing event for the first time, in which the participants stay overnight in an evacuation shelter. 23 people from the city participated, and they actually assembled beds for themselves to sleep in the shelter, and heated up MUJI pouched curries in a pot to eat, pretending that a disaster occurred during the COVID-19 pandemic. At the end of this event, all participants wrote down things they were glad to have prepared, and things they considered to be necessary during a disaster. In this way, we believed that they were more prepared for potential disasters in the future.
 We received comments from the participants such as "This experience gave me a concrete image of what I should do in case of emergency," and "The children were excited to see a ladder truck, fire engine, police car, and large vehicles of the Self-Defense Forces, and we had fun all day."
 The person in charge of the ITSUMO MOSHIMO project said, "We organized this event to encourage local people to learn about disaster prevention through playing and having fun and to make it a habit to prepare for disasters just like being prepared for winter. With the help of the staff of the camp site and those from all departments at Ryohin Keikaku, the event was a great success with 2,500 visitors. Even after the event, we will continue to convey the importance of disaster preparedness through 'ITSUMO MOSHIMO' and 'MUJI CAMP TOOLS'." He added.
 We hope the experience in this "ITUMO MOSHIMO Caravan" event helped all participants become more conscious of disaster prevention by getting to know the people who live in the local area, and leaning about what kind of places are there in the region, what can they get, eat and wear, and how useful outdoor goods are in the event of disasters.