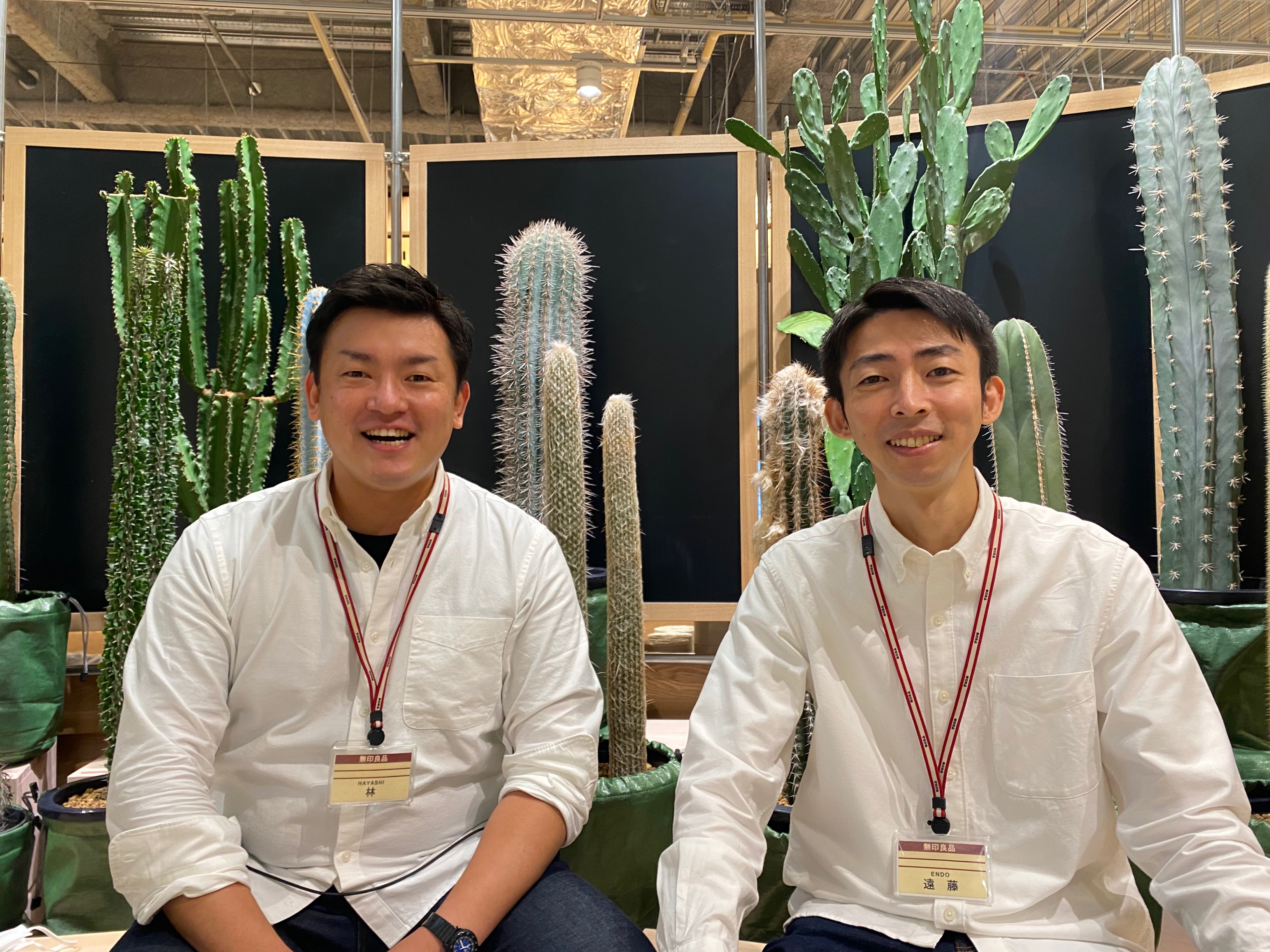 Mr. Endo Kazuyuki, Store Manager of MUJI iias Kasugai / Mr. Hayashi Yoshihiro, Assistant Store Manager of MUJI iias Kasugai
 In this issue of MUJI People, we invited Mr. Endo (Store Manager of MUJI iias Kasugai) and Mr. Hayashi (Assistant Store Manager of MUJI iias Kasugai) to talk about the episodes leading up to the opening of MUJI iias Kasugai (opened on October 22nd), a store that has a one-floor sales floor area of approximately 5,455 ㎡.
■The "foundation of living" for local customers
 Our concept is to become the "foundation of living" for local customers and the "community center" of the region. Ever since we took our new post in February, we have been gathering feedback from Kasugai City residents, and many of them told us that they are not proud of Kasugai, but not dissatisfied either. In preparation for this store opening, we thought about how to respond to those comments. With a single floor of more than 5455 ㎡, we want to prominently display local specialties and strengthen our daily products in order to create a store where local customers would visit and gather on a daily basis.
■A sense of leisure on the sales floor
 Kasugai City has a horizontally long shape and is an area of a motorized society that National Highway Route 19 crosses. It has a population of 310,000 and a high percentage of homeownership. Also, one of the issues that came up in our discussions with the local government was that people tend to go to Nagoya rather than shopping in the city. In my own case, though there were many home centers and discount stores in the city, I also tended to visit Nagoya on weekends because I felt that there were few places to buy daily necessities or go out for fun.
 When we opened the new store, we wanted it to be a store that local customers would use on a daily basis, and also a store that could offer a sense of leisure for families to visit on weekends. For "daily use", we needed to strengthen the daily necessities, but not only to display single items, but also to give a sense of leisure, so we set up a series of stalls on the main aisle in the store.
 The central square is a place for "people, objects and experiences" to come together, and the sales area and event schedule are designed to introduce the activities of local people and the local government on a daily and weekly basis. We hope that it will become a place to visit with family members on weekends and a place to relax in everyday life.
■Live in the city and deliver the voice to the local government
 We started by actually living in Kasugai, walking around on our own feet, and talking to the people who live there. We asked them if they had any problems, and they all said, "It's a comfortable city to live in" "I don't have any particular problems". Coming from outside and now living in the area, we were able to come up with solutions to the problems we felt in the area, and we visited the local government to discuss them. Since the government staff are looking for a fresh voice and something that will be a catalyst for new initiatives, when we told them "MUJI sincerely wants to help the community," they shared us what they really think. Although we are in different positions, we share the same thoughts and goals, and we became comrades to help vitalize the community.
 Looking back, we feel that the key was not only to present the issues but also to think about the solutions to the problems.
■What we have done by building trust
 We shared our thoughts, but we felt that there were walls to continuing the project. The government is vertically divided, and there are regular changes of personnel, causing the project to stop or be reset. While talking with the people in the various departments, it became clear that in order to continue our work with Kasugai City and Ryohin Keikaku, it is necessary to overcome that issue, and as a way of doing that, we talked about a regional cooperation agreement with Kasugai City.
 We share the same goals, and I feel that the fact that we were able to receive such a proposal from the government is a result of the trust that Mr. Hayashi, our regional coordinator, has gained through his daily visits.
■Future goals
・Store
 We would like to create a store that everyone in the community can feel close to.
 We want everyone to feel free to visit the store every day or every week so that they can buy the products they need for daily life whenever they come, and we want to become a place where local people can be connected. Most of our staff are also residents of Kasugai City, we believe that communication between our staff and customers will make them feel more familiar with MUJI. From now on, we plan to increase direct communication by using the central square, stall fixtures, kitchen counters, etc.
・Mr. Endo
 We are thinking of turning it into a regional business division. We only have one store in Kasugai City, so we think that opening stores in other areas of the city will bring us closer to the customers and help us deepen our relationship with them.
・Mr. Hayashi
 I would like to become more involved in the community and help the residents of Kasugai City to live a better life by involving industry, government, and academia. I would like to become a community manager for Kasugai City.