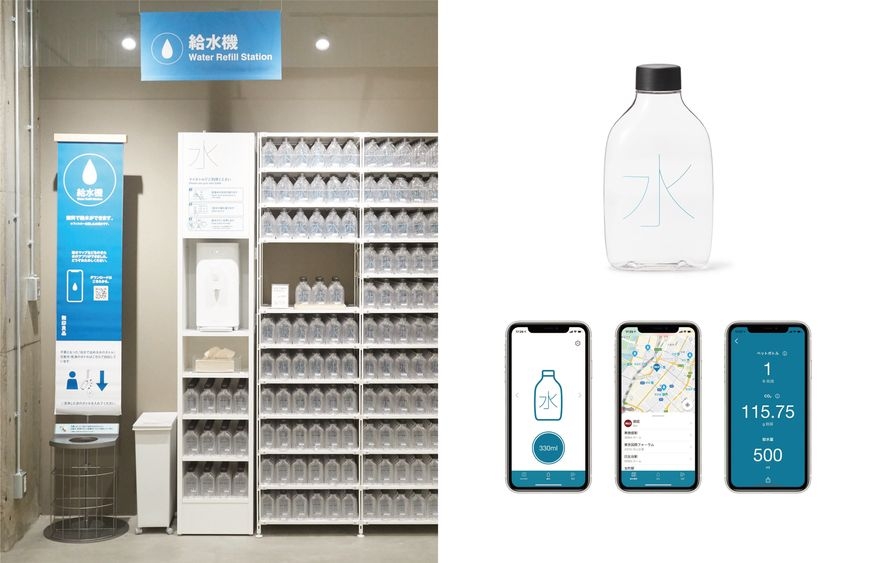 Products/Services
Sustainability
MUJI received nine awards of Good Design Awards 2021
 In the "Good Design Award 2021" organized by the Japan Institute of Design Promotion, MUJI's "Water Project" won the "Good Design Best 100" and 8 other items/initiatives won the "Good Design Award".
 Aiming to realize a "Simple, Pleasant Life and Society", MUJI has carried out various initiatives to promote global resource recycling and waste reduction. As a part of our efforts to reduce plastic waste, we installed water refilling stations in MUJI stores and started a free water supply service in July 2020. At present, the number of MUJI stores with the water refilling station has increased to over 300, and outside of the MUJI stores, we have been promoting "water" based initiatives including installation of water refilling stations in companies and community hubs. In addition, we released a "Water" application that notifies the users how much CO2 was reduced each time they used the water refilling service. With this application, we hope the users can enjoy using the service in their daily lives. Our commitment to environmental issues and the global resource recycling through the water project was highly praised and as a result, we were able to receive the "Good Design Best 100" award.
 Furthermore, we received "Good Design Award" for total of eight items/initiatives including our silicone kitchen utensil series, cardboard storage box series, as well as "MUJI Tokyo Ariake".

■Awards MUJI received
[Good Design Best 100]
"Water" project
[Good Design Award]
Silicone kitchen utensil series
Frying pan series, Stainless aluminium 3-layer steel pot series
Sofa Wooden frame
Wooden table Oak (composed of only a board and legs)
Cardboard storage box series
Tin boxes with lid
MUJI Tokyo Ariake
MUJI IS (MUJI achieve book)
■Good Design Award
 The Good Design Award is the only comprehensive design evaluation and recommendation system in Japan sponsored by the Japan Institute of Design Promotion. Starting from establishment of "The Good Design Product Selection System (commonly known as the G-Mark System) by the Ministry of International Trade and Industry (now the Ministry of Economy, Trade and Industry) in 1957, this Good Design Award has been adopted for approximately 60 years as a movement to improve Japanese industry and lifestyle culture through design, and it is now widely recognized.
https://www.g-mark.org/ (in Japanese)