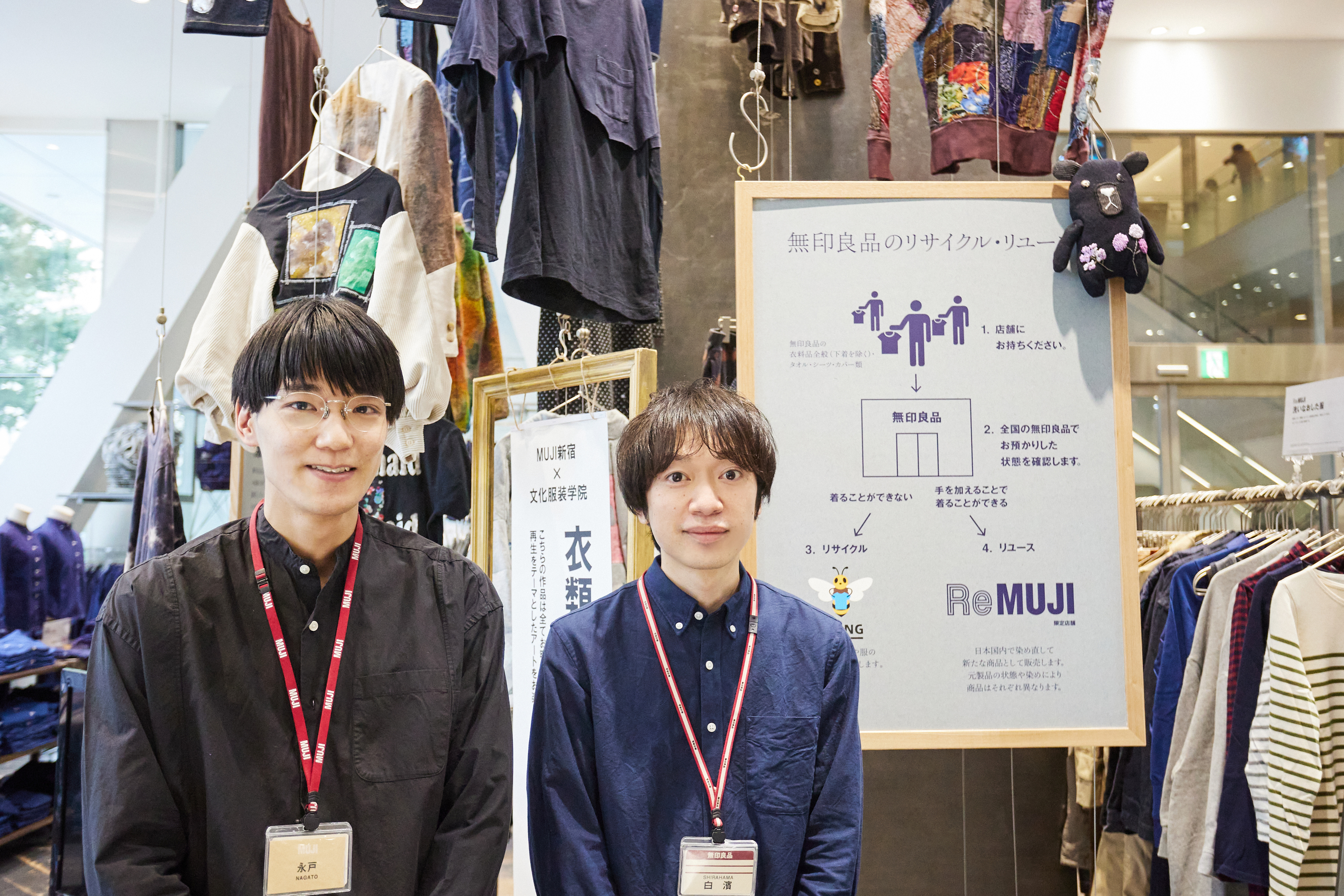 Products/Services
Stores
Sustainability
MUJI Shinjuku (Piccadilly) Store Manager Mr. Junya Nagato・MUJI Shinjuku Store Manager Mr. Ken Shirahama
■ What we can do in the diversifying area: Shinjuku
(Mr. Nagato) There are four MUJI stores around Shinjuku station. (MUJI Shinjuku (Piccadilly), MUJI Shinjuku, MUJI LUMINE Shinjuku, MUJI Shinjuku PePe) MUJI Shinjuku (Piccadilly) is located far from high-traffic areas comparing to other three locations located inside station buildings or facing Shinjuku street. With the condition, I felt that the usual product line-up and services did not motivate customers to visit the store, and that other stores were competing with each other for customers. This is why we wanted to make MUJI Shinjuku (Piccadilly), the store with the largest sales floor space in the Shinjuku area, a store that conveys a message that cannot be covered by the usual product line-up and services.
 In addition, Shinjuku is the world's busiest area in terms of passengers and is a place where people from all walks of life come and go in the heart of Tokyo. Because people from all walks of life come and go, people's values are diversified, and we believe that the location of MUJI Shinjuku (Piccadilly) is suitable for expressing our idea of becoming a front runner in ESG management. Therefore, MUJI Shinjuku (Piccadilly) would like to consider future initiatives together with customers, in order to contribute to the environment and the society. We will send out ESG messages in Shinjuku with the hope that all MUJI stores in the area can get involved and make their activities bigger for those who care about the same issues we are working on.
■Making the store together with the staff
(Mr. Nagato) The key is SDGs; the word is now becoming more and more familiar. First of all, myself, then all the staff memorized the titles and meanings of 17 items of SDGs. From there, we thought about what we can do, what our store can do, and what customers can do in our everyday lives. The store was made in cooperation with people from all walks of life while making sure there is nothing that contradicts the idea.
 There was no initiative that was easy to proceed. So, we put our minds into them and made progress little by little. What was important to me this time was to look at the people I passed on my way to work and at the signs in the area, and to keep an eye on their features and how they differed from others. Combining this information with my own research on the area, I was constantly examining what kind of people are there in Shinjuku and what kind of products would sell.
 There are about 7,500 products in MUJI. Using verification results is a great technique when starting a new service or when expressing something in a limited space.
■ Needs in Shinjuku.
(Mr. Shirahama) There are many commercial facilities such as Isetan and Takashimaya, who carry luxurious products, and Lumine and Marui who are more fashion-oriented. However, there is not many of stores that carry reasonably-priced everyday items. I thought there is needs for MUJI there.
 Also, since we have fewer customers from far away now, we thought we could be useful for those who come to Shinjuku for work. Vending machines were installed to be utilized even after business hours because there is still a lot of traffic in the early morning and night-time.
 MUJI Shinjuku and MUJI Shinjuku (Piccadilly) are located very close to each other, just 1 min's walk. By separating the roles of MUJI Shinjuku, which is responsible for daily necessities in Shinjuku, and MUJI Shinjuku (Piccadilly), which represents "front runner in ESG management," we would like to be able to serve customers in the entire Shinjuku area.
■Future Goals
(Mr. Nagato) From MUJI Shinjuku (Piccadilly), we do not want to urge to the reality of discrimination, poverty, or environmental destruction, but rather we want to send "awareness" to our customers that will lead them to pay attention to such things through MUJI's initiatives and services. I hope that will lead to a "simple and pleasant" store for people from all walks of life.
 We aim to be a store where people feel that they can get help solving various issues, small or big, that happen in the area, by taking the initiative and paying attention to various things.
 Also, there are two personal goals. For one, I would like to use this initiative as an opportunity to broaden my horizons a bit more and start thinking what we, Ryohin Keikaku can do based on the initiative of Kamikatsu Town and others. For that, I would like to take part in the initiatives of Social Good Business. The second goal is to be assigned to a local city or local segment that has completely different issues than the zero waste initiative, and to work with the people of the city to solve their problems and develop new products and services through business.
(Mr. Shirahama) With this renovation, MUJI Shinjuku has become a store specializing in food and everyday items such as small household items. The concept of the store is "to improve the infrastructure and the basics of life in Shinjuku." We would like to be indispensable for our customers' everyday lives. We expanded the sales area of socks and underwear in order to increase brand recall in the OS product category. Even after the renovation, there are still some parts that don't quite live up to the concept. We will listen to the voices of our customers and staff and make improvements to make our store even more useful.
 My goal is to make the newly renovated MUJI Shinjuku profitable by managing its purchasing, sales, and expenses. We would also like to introduce more MUJI daily necessities to the people working in Shinjuku. We would like to reach a point where the offices near our store are using MUJI stationery and garbage bags. We still have a long way to go to integrate into the community. I will work on it with a fresh mind.
MUJI Shinjuku (Shinjuku Piccadelly Location) & MUJI Shinjuku (In Japanese)https://www.muji.com/jp/flagship/muji-shinjuku/