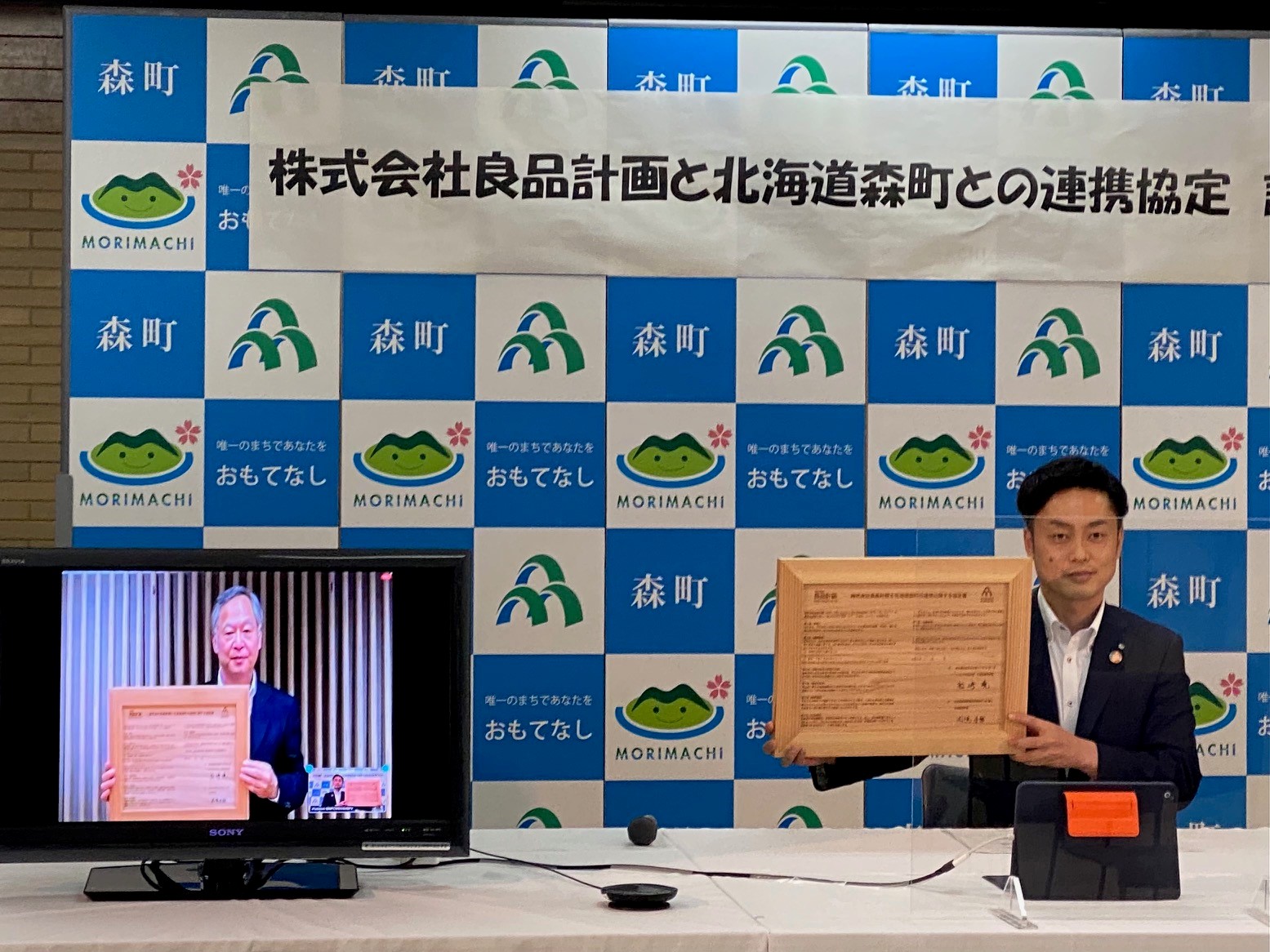 MUJI Signed a Collaboration Agreement with Mori Town, Hokkaido
On Wednesday, June 23, MUJI signed an agreement with Mori Town, Kayabe County, Hokkaido, regarding cooperation between Mori Town and Ryohin Keikaku Co., Ltd. in order to promote community development and regional revitalization.
With the aim of realizing a "simple pleasant life and society," MUJI is promoting activities that involve MUJI stores in the area and contribute to the resolution of local issues and community development. The connection between Mori Town and MUJI began with the opening of MUJI Share Star Hakodate (Hakodate City, Hokkaido) in April 2017, which used "Donan cedar" grown in the southern part of Hokkaido, for the store environment. Through the activities of "Mokuiku" (education with wood), which originated in Hokkaido, we have jointly held various events such as workshops and tree-planting bus tours, and we also deepened our relationship with Mori Town by inviting local producers to participate in the "Community Market" event, a limited time market held inside MUJI Share Star Hakodate.
With the conclusion of this partnership agreement, we will further promote cooperation between the two parties and take concrete steps to help the people of Mori Town. For example, through mobile sales by bus, we aim to directly listen to the problems of local residents and work with them to solve those problems.
After the agreement signing ceremony held on June 23, we held a mobile sales event in front of the Mori Town Hall, selling food and daily necessities to about 130 local residents. Young mothers of the child-rearing generation, learning about MUJI's mobile sales by bus through a LINE group of kindergarten mothers, came visit us and they also told us that they would like to have more stationery such as pens and notebooks as well as socks for children. We also received an offer from a restaurant owner in the Sunahara area of Mori Town saying that we could use his parking lot for our sales, and some invitations from other companies who asked if we would be interested in doing sales tour together.
Starting in July, we will start the regular mobile sales operation. Using MUJI Share Star Hakodate as a base, we will conduct the mobile sales on every Wednesdays, visiting two locations each week from a total of five locations, covering the entire Mori Town area including the Mori Town hall, Komagatake district, and Sunahara district.
The person in charge of MUJI Share Star Hakodate said, "On the first day of the mobile sales by bus, despite the rain, we had many customers, and we were very happy to be able to recognize again that MUJI is expected by everyone. In Mori Town, where lifestyles have changed dramatically due to CIVID-19, and where the population is aging and the number of households living alone is increasing, we will continue our activities to connect people with each other through mobile sales by bus, aiming not only to sell food, but also to make MUJI a part of the foundation of people's lives."
Please look forward to the future efforts of Mori Town and "MUJI Share Star Hakodate."