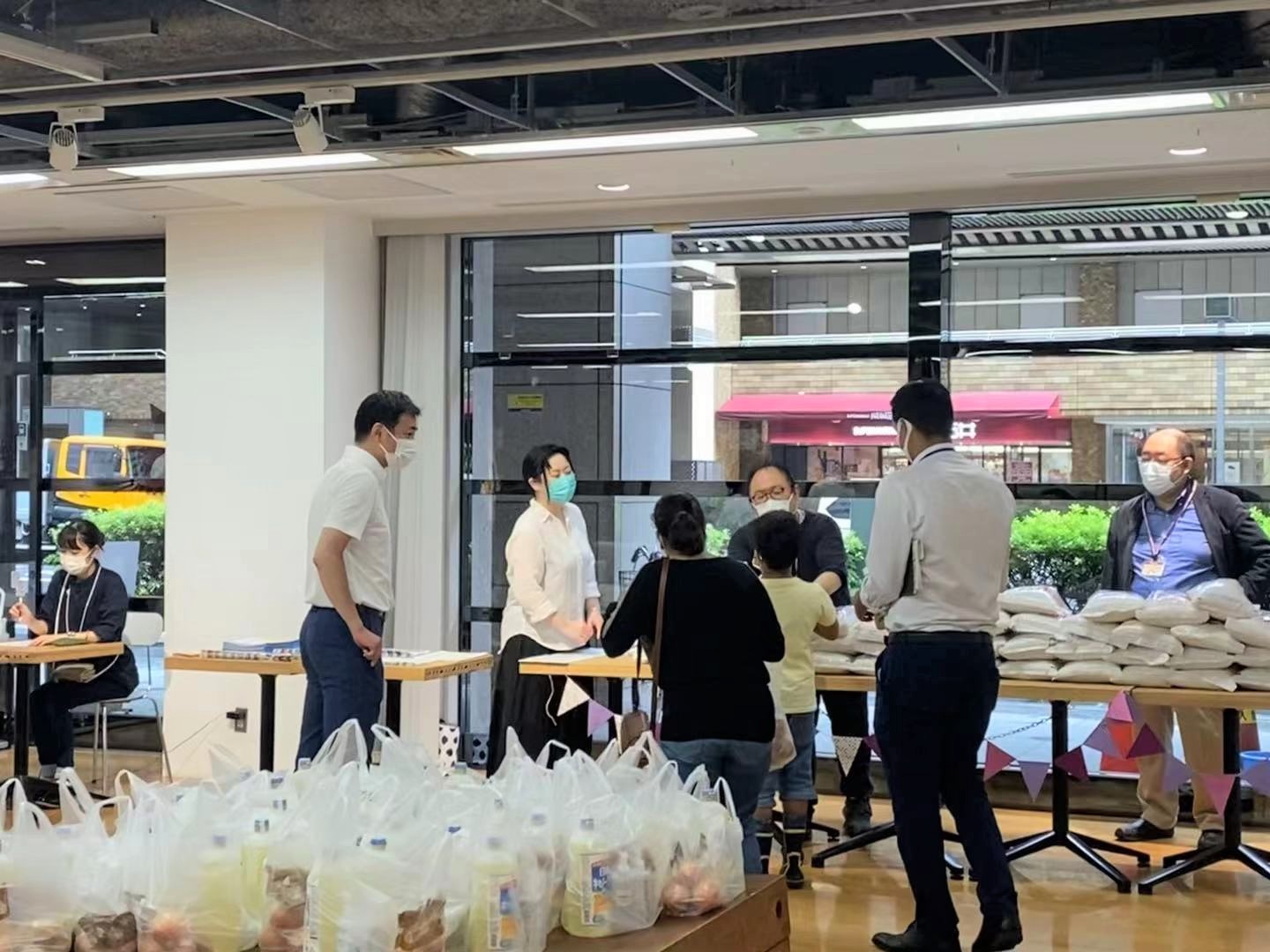 Participation in the Food Support Initiatives in Toshima-Ward
 Various activities have been started in different areas to support those whose lives have been greatly affected by COVID-19, including foreigners who are having trouble making ends meet because of the time off from work, or children from single-parent families. MUJI, aiming to realize a "simple, pleasant society," wants to support such activities. We opened the first floor of the Ryohin Keikaku headquarters building in Toshima-ku, Tokyo, as a food distribution base on June 19 (Saturday) to support the activities of two organizations.
 The "comprehensive livelihood security support via life support and legal assistance" held by Shanti Volunteer Association, Toshima Ward Residents Council of Social Welfare and Tokyo Public Law Office started from 11:30 A.M. In addition to distributing rice, seasonings, and other food items, staff also used the business meeting space on the first floor of the head office building to interview the foreign residents who came to receive the food about their current living conditions and any problems they were facing. To ensure smooth communication, there were coordinators to provide interpretations, and Toshima Ward Residents Council of Social Welfare staff and lawyers were able to provide direct advice on such questions as "How can I extend my visa when I have to take a break from work?", "I don't know what support systems are available for foreigners," and "I'm having trouble with my company or my job, but I don't know where to go for help." It was impressive to see that everyone's anxiety seemed to be relieved a little and they left with smiles on their faces.
 Then, from 1:00 P.M., TOSHIMA TABLE (A group that supports local children through food, consisting of childcare support groups in Toshima Ward, local government, the Toshima Ward Citizens' Social Welfare Council, and other companies) held the "Toshima Food Support" program to distribute food and daily necessities mainly to single-parent families living in Toshima Ward. Ryohin Keikaku has been participating in this activity since March 2021, and this is the fourth time we have provided support. In addition to rice prepared by TOSHIMA TABLE and foods collected from various individuals and companies, we were able to hand over household goods such as MUJI's hangers, cleaning products, and sweets, seasonings and picture books provided by Ryohin Keikaku employees. We saw many parents and children having fun discussing and choosing the items they like, and we received many warm comments like "It was comforting to see familiar faces of NPO or People's Livelihood Committee" and "It was fun to be able to choose by ourselves."
 Although it was raining on the day of the event, about 50 people came in the morning and afternoon. Mr. Seigen Muramatsu of Shanti Volunteer Association commented "We were able to listen directly to the voices of the foreign residents as well as their concerns and the problems they were facing, and we will consider how to support them in the future." Ms. Chieko Kuribayashi of Toshima Children's WAKUWAKU Network said, "This is the fourth time that we held this event here, and the number of people who are willing to help us is increasing. I would be very happy if we could make our town more prosperous by connecting opinions like 'we should do it this way'."
 Thirteen employees of Ryohin Keikaku participated in this event as volunteers. We will continue to support the local community through this kind of activities in the future.
 We look forward to your participation.