For Every T-shirt, Two Organic Cotton Seeds will be returned to the earth
From Friday, May 14th, MUJI began an initiative to provide two organic cotton seeds to farmers for free for every T-shirt sold at MUJI both in and outside Japan.
Considering the impact on the environment as well as on the health of the producers, MUJI started using organic cotton since 1999, and all the cotton used in MUJI's clothing products has been 100% organic cotton since 2018. However, since the production process takes more time and effort than the conventional cotton cultivation methods, and it also requires a suitable climate and land, organic cotton only takes up about 1%※1 of the world's total cotton production. Since organic cotton does not use pesticides or chemical fertilizers, the yield per acre is about 70% of that of ordinary cotton, which means that it cannot be produced efficiently in large quantities. Under this circumstance, MUJI considered what it can do in order to support organic cotton farmers.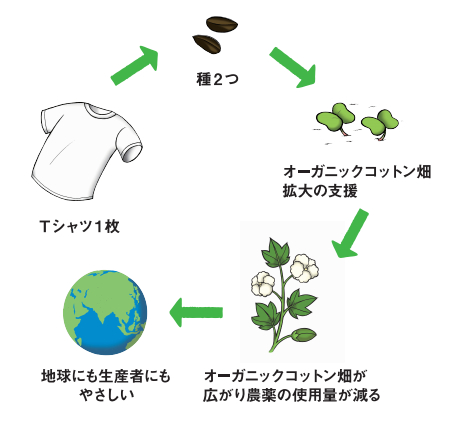 T-shirts are MUJI's mainstay item for the spring and summer season, and they are made from cotton produced in India. Based on the number of T-shirts sold worldwide in the spring/summer season of 2021, organic cotton seeds to be used for sowing around May 2022 will be distributed to approximately 500 farmers in the state of Kujarat (India) ※2. Technical guidance on organic cotton production will also be provided to the farmers when necessary.
Ryohin Keikaku hopes to continue to support farmers together with our customers through this activity in order to expand the cultivation of sustainable organic cotton. We will report our progress on our website in the future.
※2:Four of our business partners in T-shirt production have also agreed with and participate in the project, and we plan to distribute the seeds through non-profit organizations in India.
【Target Items】
Men's Wear | Indian cotton jersey/uneven yarn/low count T-shirt
Women's Wear | Indian cotton jersey/uneven yarn/low count/rib stitching T-shirt
Children's Wear/Indian cotton jersey T-shirt (excluding printed T-shirt)
※Target items are limited to short-sleeved, French-sleeved, sleeveless, and quarter-sleeved T-shirts
【Relevant Site】*Japanese only
Feature Site on MUJI Online Store (https://www.muji.com/jp/ja/feature/clothes/485536)
Video (https://youtu.be/eCrxZpWggbs)