Events
Products/Services
Sustainability
"Let's Start with Water by Ourselves" - Launch of New Beverage Products
On Thursday, April 22, the press event for the launch of new beverage products - "Let's start with water by ourselves" was held in B1F of MUJI GINZA. The event was attended by a large number of media, including online participants. In addition to the debut of the new aluminum canned beverage products, we also introduced MUJI's sustainable initiatives starting from "water". This time, for beverages that used to be bottled in PET bottles, a total of 12 types of drinks, mainly mainstay products, were changed to aluminum cans, which are made from recyclable raw materials.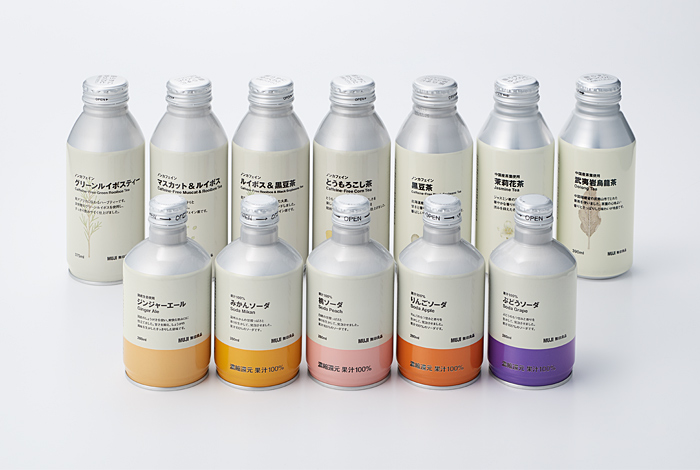 Since the establishment of the MUJI brand in 1980, MUJI has sought to contribute to the lives of consumers by further promoting the recycling of global resources and waste reduction from the perspectives of "selection of materials," "streamlining of processes," and "simplification of packaging," which have been the basis of our product development. Therefore, as a step toward a sustainable society, we chose to switch the bottles of all beverages to aluminum, which is considered a recyclable resource. Aluminum can is a material that can be recycled repeatedly, as the collection route has a recycling rate of about 98% in Japan and a high horizontal recycling rate (can to can) of about 70%. In addition, aluminum can bottles can protect the beverage from light and thus expanding their shelf life of 40 days for tea products and 90 days for soda series, which in return helps to reduce food loss.
<Water as the Starting Point for Sustainable Activities "Let's Start with Water by Ourselves">
The free water refilling service, which started in July 2020 as part of efforts to reduce plastic waste, has expanded from 113 stores when the service was launched to the current 270 stores, and is scheduled to be introduced to all 460 stores in Japan by the end of December 2021. The "Water" app, which was launched together with the service to make water supply a fun part of daily life, has been downloaded 135,000 times, and the measurement using the app has led to the reduction of approximately 200,000 plastic bottles* through the participation of participants in water supply. (*500ml equivalent) (*as of April 22, 2021)
 In addition, Ryohin Keikaku plans to sign a cooperation agreement with Kumamoto City in May 2021. Kumamoto City is a world-class groundwater city that uses natural groundwater for all of its water supply and sewage, and is scheduled to host the Asia-Pacific Water Summit in April 2022. In cooperation with Kumamoto City, we will set up eight water refilling services at facilities in the city. Moreover, we also plan to send messages to reduce plastic waste, and support delivery classes at elementary and junior high schools in Kumamoto City to promote the habit of using one's own bottle. We are also planning to hold a walking event to visit water sources in the city.
 MUJI's sustainable efforts will continue with the theme of "Let's start with water by ourselves". In the future, we would like to continue to promote initiatives through "water" with many companies and local governments.
■Inquiry for Water Project: water@muji.co.jp
■Water Project Special Page(in Japanese)
https://www.muji.com/jp/ja/stories/food/520171