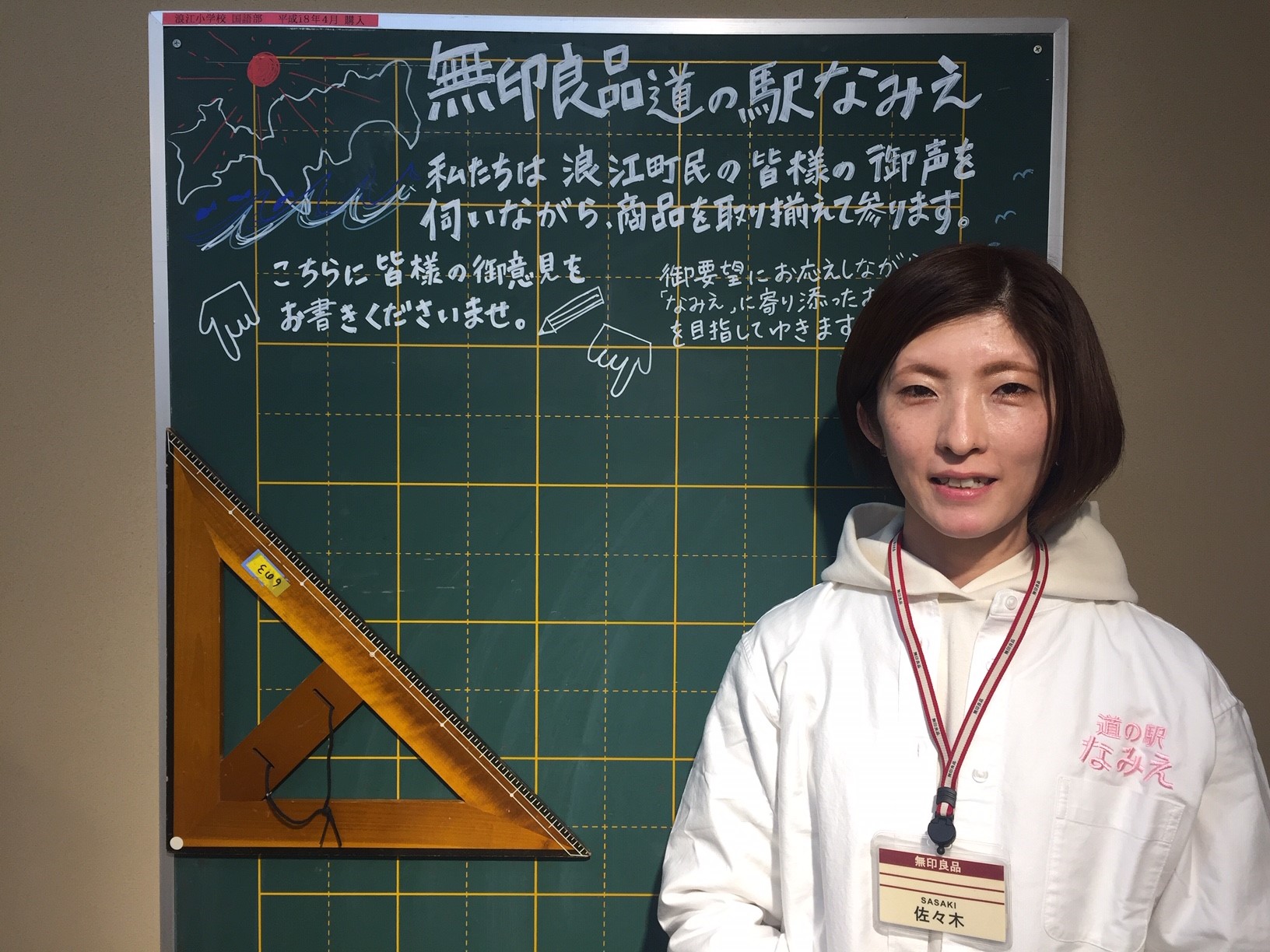 MUJI MICHINOEKI NAMIE, Ms. Yoko Sasaki, Namie Town Community Revitalization Entrepreneur
On Saturday, March 20th, "MUJI MICHINOEKI (Roadside station) NAMIE" opened in Namie Town, Futaba County, Fukushima Prefecture. In this issue of MUJI People, we interviewed Ms. Sasaki, the Namie Town community revitalization entrepreneur who is involved in the reconstruction of Namie Town and the local community, about the reason that she applied for the position as well as her future goals.
■MUJI MICHINOEKI NAMIE
 MUJI MICHINOEKI NAMIE is located in "MICHINOEKI Namie" that pre-opened on August 1st, 2020 as a symbol of the reconstruction of Namie Town, which was greatly affected by the Great East Japan Earthquake and the accident at TEPCO's Fukushima Daiichi Nuclear Power Station. It is located at the intersection of Route 6 and Route 114, and is frequently visited by tourists and truck drivers. More than half of the customers who visit our store are 65 years old or older, and based on their comments that they would like the store to be a place where they can quickly buy daily necessities closer to where they live, the store mainly stocks "basic items for daily life".
■What can I do for the local community?
 I have been interested in the activities of the "Lifestyle Organizing School" for a long time, and after hearing directly from the staff who actually participated in the school, I became even more interested, and I began to wonder if I could do something for the community as a citizen. Fukushima Prefecture is my hometown, and it is also the place where the Great East Japan Earthquake and the nuclear power plant accident occurred. Although reconstruction is progressing, I feel that it is still too early to say that we have restored normal daily life, and when I was thinking about what I could do for my hometown, I came across the internal recruitment project for "MUJI MICHINOEKI NAMIE" so I applied without hesitation.
■Building a community to help each other based on stores
 Currently, there are about 1,600 residents in Namie Town, and we want to create a store where all the residents, when considering to buy something, would say, "Right, let's go to MUJI!" We also want to create a community where all the residents could know each other, get connected, and can help each other out in times of trouble, by holding workshops and events such as "ITSUMO MOSHIMO."
■Building Relationships with Local Residents
 In order to "serve a purpose" to local residents, it is important to connect with them and gain their trust. As a result, I would like to actively participate in local activities such as community associations, and deepen exchanges through active communication with the town office and those people who take part in these activities. In this way, I wish to build a close relationship with local people so that they could feel free to talk to me whenever they wish.
 I would also like to take the lead in creating jobs in Namie Town so that the population will increase and people will feel that "we want to live here" and that "we are happy to be in Namie Town."
■"Notice, Think, and Try"
 Since MICHINOEKI Namie was opened as a symbol of reconstruction, we came up with the idea of displaying memorabilia of the region in the store through discussions with local people. Based on our discussions with the station manager, we displayed desks from the closed Namie Elementary School, and we received sake barrels from Suzuki Sake Brewery located in the second building of Roadside Station Namie and used them as fixtures to display MUJI's large bags of snacks.
 In this way, we have realized many things as the result of everyone considering together and sharing ideas, instead of me thinking along by myself.
■Future goals
 In order to meet the expectations of local residents, we will promote "to serve a purpose" activities through MUJI while discussing and getting involved with the town office and the staff of MICHINOEKI Namie. For example, in terms of product lineup, we have received requests from customers to display large furniture, etc. Based on customer's feedbacks, we would like to adjust our product lineup in the future to meet the needs of local residents.
 In the future, I will continue to think about what I can do for Namie Town while valuing the relationships between people.