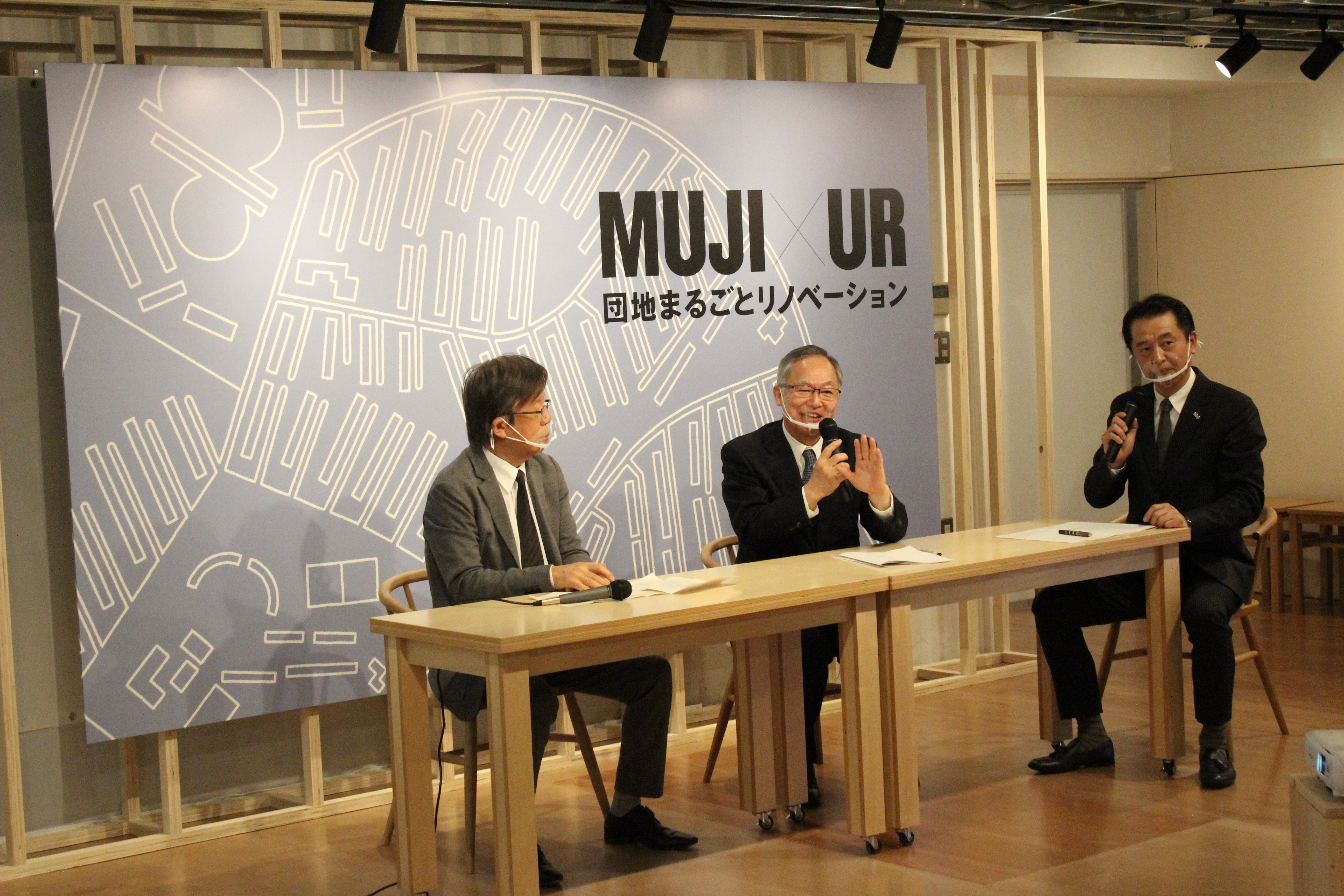 MUJI×UR "To Renovate the Housing Complex as a Whole" Media Event
 On Monday, March 15, the MUJI×UR "To Renovate the Housing Complex as a Whole" media event was held at MUJI BASE in Itabashi-ku, Tokyo. The event was also live broadcasted online via Zoom Webinar, and many people participated.
 The MUJI×UR housing complex renovation project, which began in Kansai in 2012, was launched with the cooperation of the Urban Renaissance Agency, which has pursued a standard of living in Japan, and MUJI HOUSE Co., Ltd., which provides houses as "living instruments" that can be used for a long time with affection. The project was launched to provide new standards for rental/leasing renovation in today's diversified Japanese lifestyles. This project is based on communication with customers through column articles on the Internet. It makes full use of the excellent history of the housing complex and promotes renovation based on the concept of "no unnecessary break-down or over-built" so that many people can live long and comfortable lives.
 At this media event, we announced our future plan of revitalizing the regional communities centered around the housing complexes, entitled "To Renovate the Housing Complex as a Whole." based on the achievements of the MUJI×UR Renovation Project so far. The main activities are apartment renovation, community renovation, formation of local communities, and information transmission. We aim to revitalize the community by encouraging young customers to move into the neighborhood, creating a place for interaction to connect with many local residents.
 At the event, Mr. Masahiro Nakajima, President of the Urban Renaissance Agency, and Mr. Satoru Matsuzaki, President and Representative Director of MUJI HOUSE, held a discussion on the outlook for regional revitalization and community building in an aging society. At the end of the meeting, President Nakajima said, "Our biggest mission is to resolve the issues facing local communities. We would like to continue to do what we can in the future, and to cooperate with MUJI." Mr. Matsuzaki said, "Thankfully, we were able to sell 1,000 MUJI×UR units, and we are very happy to be involved in the community. We would like to continue working together with the local communities to solve more problems and issues"
 The cooperation agreement conclusion ceremony has also been held successfully, expanding the scope of cooperation and renovation to include not only housing complexes but also common areas such as exterior appearance of housing complexes, outdoor plazas, and shopping districts. We will also work together to foster the formation of local communities to revitalize regional living areas centered around housing complexes.
Urban Renaissance Agency (in Japanese)https://www.ur-net.go.jp/chintai/muji/ 
MUJI House (in Japanese)https://www.muji.net/ie/mujiur/ 
MUJI Renovation(in Japanese)https://www.muji.net/renovation/