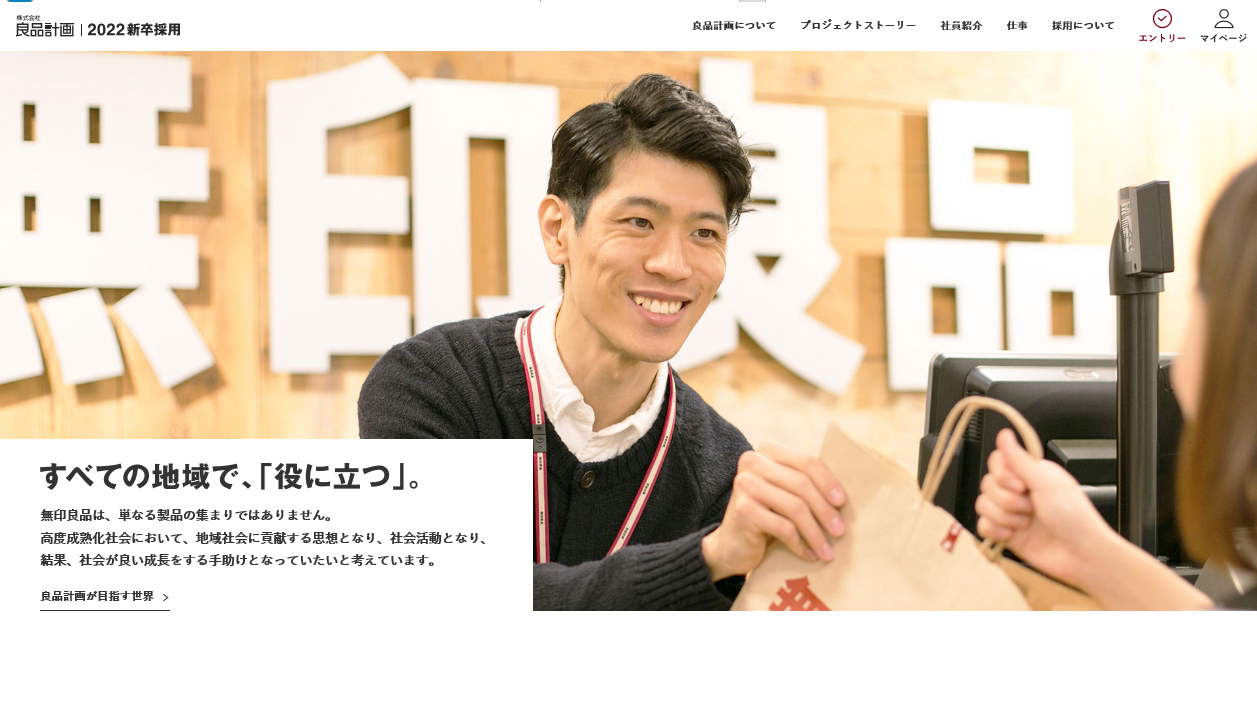 The New Graduate Recruitment Site Launched for Fiscal 2022
 On Monday, February 1st, the "New Graduate Recruitment Site for Fiscal 2022" was launched on the Ryohin Keikaku Corporate Site.
As a major change from its counterpart in fiscal 2021, our fiscal 2022 new graduate recruitment has expanded the scope of recruitment, allowing people under the age of 29 to apply for the program. In order to better serve the local communities and the society in different ways, we are looking for people with diverse values and ideas, and we have expanded the scope of recruitment to accommodate people with various backgrounds - studying abroad, working, starting a business, traveling around the world, etc. Based on the site structure of last year, we have added new contents to better explain the career plans.
 The site was created focusing on two points: "to convey the expanding activities of the company" and "to draw up a career plan after joining the company." With the spread of COVID-19, it is difficult to hold company briefings face to face. In order to explain our vision and culture, we created a new "Culture Deck" content that summarizes the ideas and ways of working that Ryohin Keikaku values. The "Culture Deck" includes three chapters: "to serve the people and society," "it all starts from the stores," and "Ryohin Keikaku is composed of people and ideas." We also created a new event report for online event "MUJI BUSINESS CAMP WEEK – One Week to Learn about the Work at MUJI" which was held online from December 14 to December 17, 2020. This report provides a more detailed picture of how the employees are working at MUJI.
 The person in charge of Organization & HR Development Department, who took charge of the launch of new graduate recruitment site, said "for new graduate recruitment, we want to people 'who are responsible and would pursue good results in work in order to be serve to society' as we are progressing toward our "second startup period" in 2022. This new graduate recruitment site was launched thanks to the cooperation of many people in and outside the company. I would like to take this opportunity to express my gratitude again. Especially, I think that the new contents - 'Culture Deck' and 'Event Report' - are not only useful for those who are seeking for a job, but should also be viewed by all our colleagues who are now working at Ryohin Keikaku."
 This is a site filled with information about the company's goals, initiatives, and work contents. Please take a look at it.

■Related sites
The New Graduate Recruitment Site Launched for Fiscal 2022 (In Japanese)
(https://careers.muji.com/jp/recruit/)