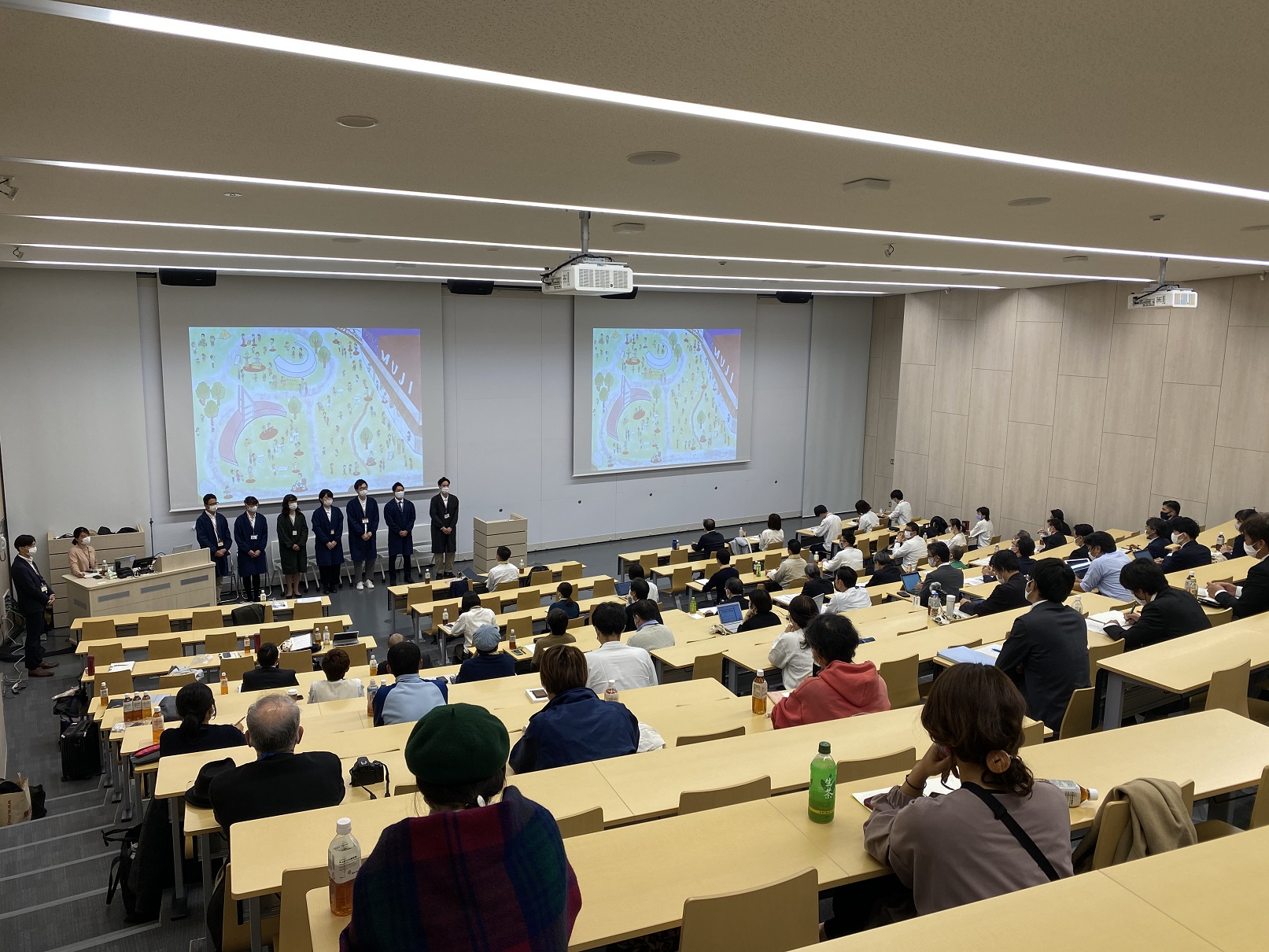 All Sessions of "Lifestyle Organizing School" Completed
On Friday, November 6, 2020, a business plan presentation session that served as the final training exercise for the Lifestyle Organizing School (hereinafter, Organizing School) with the theme of promoting the Tobu Zoo Project in Miyashiro Town, Saitama Prefecture was held at the Japan Institute of Technology (Miyashiro Town, Saitama Prefecture).
Lifestyle Organizing School is an internal training program, which aims to equip trainees with lifestyle organizing skills that could build bridges between regional lifestyles and wider society, in line with the MUJI's idea of seeking to be an ideal inhabitant. This is the fourth time that Organizing School has been held, following those held in Yanagase City in Gifu Prefecture (autumn/winter 2018), Sakata City in Yamagata Prefecture (summer 2019) and Naoetsu City in Niigata Prefecture (winter 2019).
Members of this session of the Organizing School included 11 Ryohin Keikaku staff recruited from stores and headquarters; two participants from Tobu Railway Co., Ltd. and two participants from Tobu Store Co., Ltd., which are the partner companies of the Tobu Zoo Project scheduled to be opened in autumn 2021; and seven staff members from the Miyashiro Town office. These members were divided into three teams. They presented the various community issues they discovered during the training programme, as well as the business plans they formulated to solve these issues, in front of a large number of people who supported their training, including Mr. Arai, the town mayor of Miyashiro Town, Mr. Yokota, the managing director and executive officer of Tobu Railway Co., Ltd., Mr. Tsuchikane, the president and representative director of Tobu Store Co., Ltd. as well as local mentors and many other people including Mr. Sashide, Editor-in-Chief of the monthly SOTOKOTO Magazine, Mr. Kanai and Mr. Azami.
Under the theme of "working style design – new business – increasing the number of people who take on leading roles to change the town," Group One proposed to create a system to connect individual activities in the area and to install "MUJI LOCAL PARTNER" to support local players – those who have their own strengths and enthusiasm, so that they would be able to play an active role in their own manner. The theme of Group Two's presentation was "making the most of current items – agriculture and food that represent Miyashiro town." This team drew up a business plan combining local agricultural products with shared food trucks, farmers' markets, cooking classes and other activities, and proposed a "Miyashiro Kamusha (meaning come, chew and thank) Festival" that would allow people to gather, express gratefulness and enjoy delicious food. Group Three identified various issues that Tobu Zoo Station area was facing and proposed the "connect TOBUKO" plan. Through actions such as conducting mobile sales, holding Marche and other events and promoting accommodation plans, this proposal aimed to increase opportunities for people to learn about the town, create new chains of connections, and increase the time that visitors spend in the town while introducing the attractiveness of the area.
Mr. Kanai commented, "Thank you very much for your cooperation and efforts to come up with such wonderful proposals. I believe that with the cooperation of the government, industry and academia and citizens, a bright future can be seen by us working together to consider the way of living and town planning, etc. not only for ourselves but also for the city's scenery 100 years from now. These are very impressive proposals. Let's make them come true."
Mr. Arai, the town mayor of Miyashiro, commented, "Thank you very much for your hard work. It was an extremely valuable opportunity for our staff from the government office to participate in the training together with those from private enterprises. When I listened to today's presentations, I really felt that the key to town building lies in 'people'. I believe that town building starts from everyone – those who live or work in the community – discovering and changing something small in their surroundings. If we can realize what you have proposed today, a truly new Miyashiro town and Sugito town will be created." Mr. Yokota, managing director of Tobu Railroad Co., Ltd., commented, "COVID-19 has accelerated online communications, but at the same time, the time people spend working in the community has also increased. I would like to work with all of you to strengthen face to face interaction among people and to make full use of local resources. Let's make them the new attractions of the community."
Mr. Sashide then gave the following advice: "I believe the presentations made by the three groups are all "future strategies" that considered how we should create our future. Through this Lifestyle Organizing School, we met a lot of people and we got to know about the community. We began to consider the issue of the local community as our own matters. This will then lead to our further involvement in the community. I will be pleased if all participants would remember this feeling of excitement and continue to be connected with the community in the future." After that, Mr. Tanaka, the deputy mayor of Sugito town, and Mr. Azami of the Social Good Business Unit gave comments and concluded the session.
Going forward, we will verify these business plans and consider the potential for making them a reality through coordination with Miyashiro town, Sugito town, Tobu Railway, and Tobu Store. Stay tuned for the future updates!