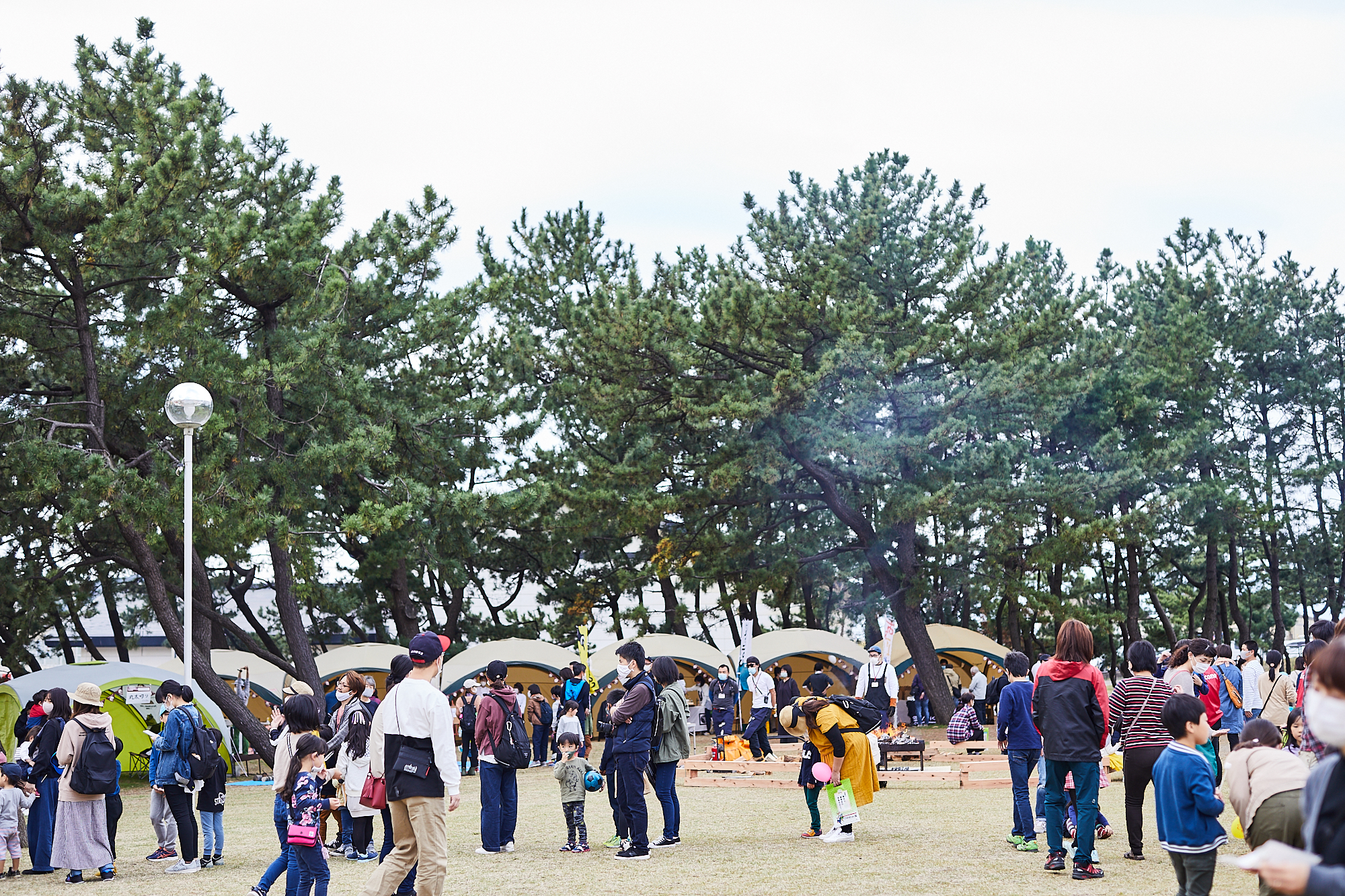 "ITSUMO MOSHIMO Caravan" Held
On Saturday, October 31st and Sunday, November 1st, the disaster prevention event "ITSUMO MOSHIMO Caravan" was held at the "Seaside Park" and "Naoetsu Yatai Hall" in Joetsu City, Niigata Prefecture, with the cooperation of Kubiki Jidosha and the support from Niigata Prefecture and Joetsu City.
With the theme of "always ready for emergency," MUJI proposes that we incorporate preparedness into daily life by using camping and outdoor equipment on a daily basis so that we could become familiar with their usage in the event of a disaster. At MUJI Naoetsu, which opened in Joetsu City in July, the MUJI CAMP TOOLS section offers products selected from domestic and overseas outdoor brandswhile also offering MUJI products that can be used in emergency situations. To date, we have held events at places such as the MUJI Campsites and the Machida-yamazaki Housing Complex in Machida City, Tokyo. This was the first time for MUJI to hold such an event in collaboration with the local government.
In the seaside park area, a large bonfire circle was set up in the center together activities that helped people realize the importance of fire in case of emergency, such as "fire starter experience" "firewood chopping experience" "bonfire library" and "bonfire BOOKS". Surrounding the bonfire, there were many other disaster prevention contents provided, such as "ITSUMO MOSHIMO quiz" to learn how to handle rolling stock, "Making an emergency map together" to share local information, initial fire extinguishing experience, and so on. In addition, the sales of agricultural products from Joetsu City, the exhibition and sales of camping goods, and the pop-up of local confectionery stores were also available. At the parking lot, participants can visit "drawing buses" "BOOKBUS" "MUJI mobile sales bus" and fire engines, which they enjoyed very much. In the Naoetsu Yadai Hall area, the disaster stockpile of Niigata Prefecture and the honeycomb bed using the paper tube partition system and corrugated cardboard material were exhibited to reproduce the shelter, and the shelter equipment stockpiled in Joetsu City were also exhibited. Some participants said, "I was worried about privacy and hygiene problems at shelters, but I now can feel relieved if there is something like this honeycomb bed." "I enjoyed learning about disaster prevention knowledge with my children."
The person in charge of the project said, "This project proposes the concept of incorporating preparedness into everyday life. Now that disasters have come to occur on a daily basis, there are many people who feel the necessity of preparedness but are unable to take a step forward by themselves. It is important for these people can feel that "we should have a try" and that "we can make it." We want to remind people that "preparedness = always ready for emergency." Just like this "ITSUMO MOSHIMO Caravan" event, we want to cooperate with local governments and business partners to communicate directly to the local community.
This event, while taking measures to prevent the spread of COVID-19 (such as providing disinfectant solution as requiring all participants to wear masks), was attended by a total number of 2000 participants. By combining the disaster-prevention project and MUJI Naoetsu's goal of becoming a store that could contribute to the local community, this was an event that enabled everyone from children to adults to learn about disaster prevention.