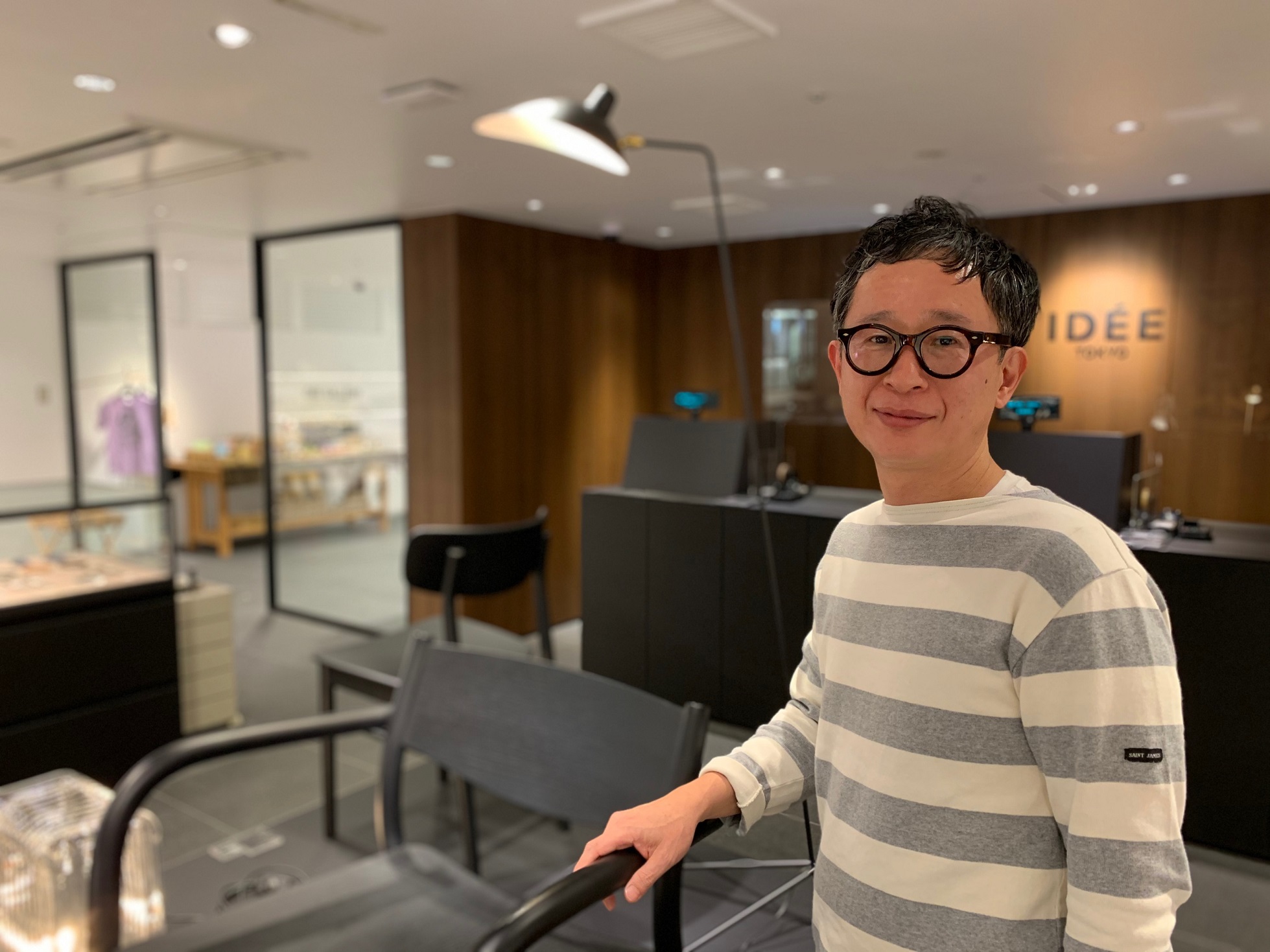 Mr. Tadatomo Oshima, Household Designing, Household Division
 On August 3, the new concept store of IDÉE – IDÉE TOKYO – opened on the B1 floor of GranSta Tokyo in Tokyo Station. This month's "MUJI People" features Mr. Oshima, the design director of IDÉE who is in charge of the overall planning of IDÉE, as well as the designing and supervision of relevant exhibitions.
■"Affinity with IDÉE" and "empathy from customers" are important
 As the design director of IDÉE, I am responsible for directing the overall IDÉE program, planning and supervising projects and exhibitions, giving advice the products and promotions, and planning the POOL project. I am also in charge of selecting and editing the IDÉE Records Channel, a broadcasting channel launched for playing BGMs in IDÉE stores. In the past, each store had selected and played different BGMs. However, we believed that music, just like interior items, is an element that enriches the space, so we unified the BGMs played at IDÉE stores, contributing to a unified brand image and worldview for IDÉE.
 For exhibitions, I always consider the affinities with IDÉE and whether or not these exhibitions are in line with the direction of IDÉE. In addition to the general exhibitions held at all stores, there are also exhibitions that are held at individual stores. What is more, once every six months, we would invite stores to generate ideas for exhibitions, discuss them from various perspectives such as sales, affinities with IDÉE and how to interact with online store, and then support the stores to effectively carry out these exhibitions. Along with presenting the contents, another purpose of the exhibition is to sell the products, so all the projects will be considered whether they would lead to sales or not. However, I believe that strong sales is also an indicator that these works are accepted and empathized by customers. As a result, I would make sure that the exhibitions get along well with the whole picture and will not make customers feel uncomfortable. We will continue to keep this in mind in the future.
■New form of IDÉE – IDÉE TOKYO
 I worked as the design director to plan, facilitate the project and develop products for IDÉE TOKYO while discussing and confirming information with Mr. Naoto Fukasawa, the curator of IDÉE TOKYO. It was a wonderful opportunity for me because working with Mr. Fukasawa enabled me to notice things from different perspective and discovered important points that we should value. As a result, we were able to create a brand new IDÉE TOKYO by coping with relevant issues and brushing up the concept.
 Due to the impact of COVID-19, the opening of the store was postponed, and we faced serious issues such as the drastic decline in tourists and a decrease in domestic customer traffic. But I do feel that there are many customers who appreciate the efforts we have made. This is a brand new IDÉE store that one has never seen before, so please drop by when you visit Tokyo Station.
■Life in Art
 Since COVID-19 have increased the amount of time people spend at home, it seems that many people are reconsidering their daily lives. More and more people want to live comfortably in an environment filled with what they like. I believe that the existence of art not only adds color to our lives, but also fosters a sense of beauty and enhances our values for life. At IDÉE, we will continue to make various proposals that incorporate art into daily lives and get more people become interested in it.
 I often go abroad to purchase products, and I am always inspired by the high level of awareness of people in Europe and the United States about their daily lives. I believe that a prosperous life is a kind of "feeling." There is no correct answer in the way of living, and people all have different lifestyles with different circumstances. I believe that by considering what "a pleasant and affluent life" means to us and then choosing the things we want accordingly will lead to the enrichment of our daily lives. The biggest difference between exhibitions at IDÉE stores and exhibitions at galleries and other venues is that visitors can view art together with interior items, enabling them to be aware of the arts in their daily lives. I hope that through the proposal of IDÉE, our customers would get an opportunity to think about what "affluence" means to them.
 Last but not least, let me take this opportunity to introduce the web magazine "Lifecycling" that I have been planning and publishing since 2011, which features attractive residences (Sumika) of people who live with love and commitment to "things" and "objects". This is an interview magazine that provides hints and ideas for a more fulfilling lifestyle, such as aesthetic consciousness in daily life, aesthetic sense of choice, and playful spirit. Please take a look at it.
Lifecycling
(https://www.ideelifecycling.com/)