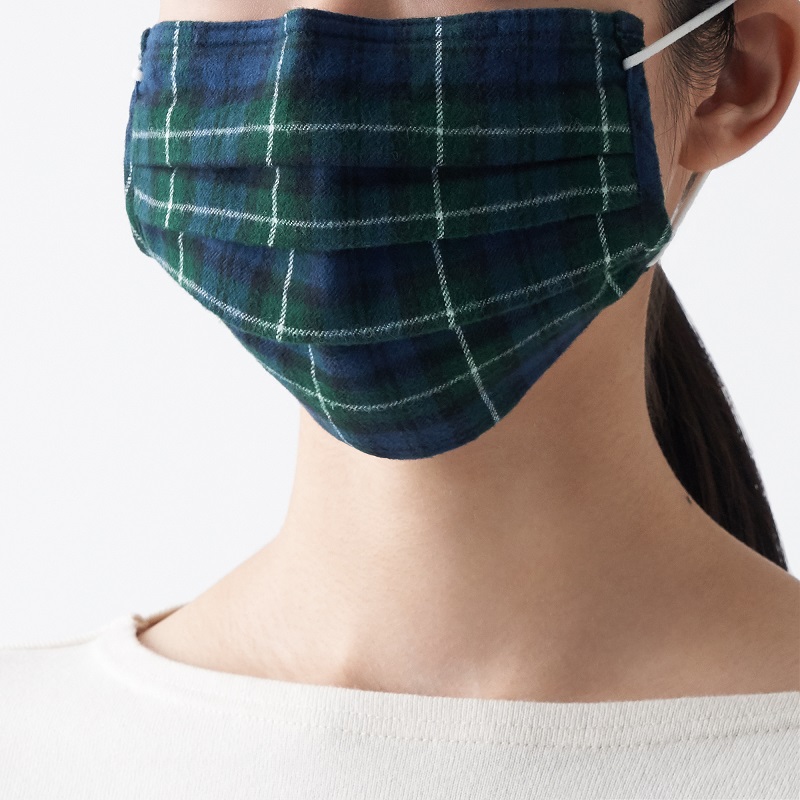 Sales of Autumn Material Masks Made of Organic Cotton Fabric Offcuts
Three types of fabric masks utilizing organic cotton*1 material offcuts when producing Autumn/Winter apparel will be sold at MUJI stores nationwide from mid-October.
With the spread of the COVID-19, mask has become a daily necessity. Since it is something people use every day, it should make the best us of resources, and be nice to the skin. Instead of the use-and-discard masks that become garbage right away, we would like to provide the kind of mask that can be used repeatedly. As a result, we make use of the fabric offcuts of organic cotton when producing MUJI apparel to make these masks that be used repeatedly after handwashing.
From mid-October, we will release three types of reusable masks made of autumn material with antimicrobial and deodorant finishing. They are "Reusable mask (Pack of 2) /French Terry," "Reusable mask (Pack of 2) / Flannel," and "Reusable mask (Pack of 2) / Corduroy." These masks are made from organic cotton cut-offs during the production process of MUJI's parkers, shirts and trousers, and can be washed for approximately 30 times (approximately 60 times for the French Terry type) *2
From May 2020, we have been selling the Reusable Three-layer Mask (Pack of 2) at MUJI stores as well as online store, and we also sold three types of summer material masks in June. These masks have been very popular among customers, and we have already sold approximately 3.5 million pieces. The Reusable Three-layer Mask (Pack of 2) has an antimicrobial and deodorant finishing on the surface to prevent splash and can be used repeatedly after being washed. Therefore, waste will never be generated every time the mask is used.
MUJI will continue to develop products that are helpful to consumers who wish to enjoy a simple, pleasant life.
*1 Organic cotton is grown by natural processes in a land without the use of any agrochemicals and fertilizers for over three years.
*2 The data is based on in-house test results.
■ Relevant News Release
Sales of Autumn Material Masks Made of Organic Cotton Fabric Offcuts (In Japanese)