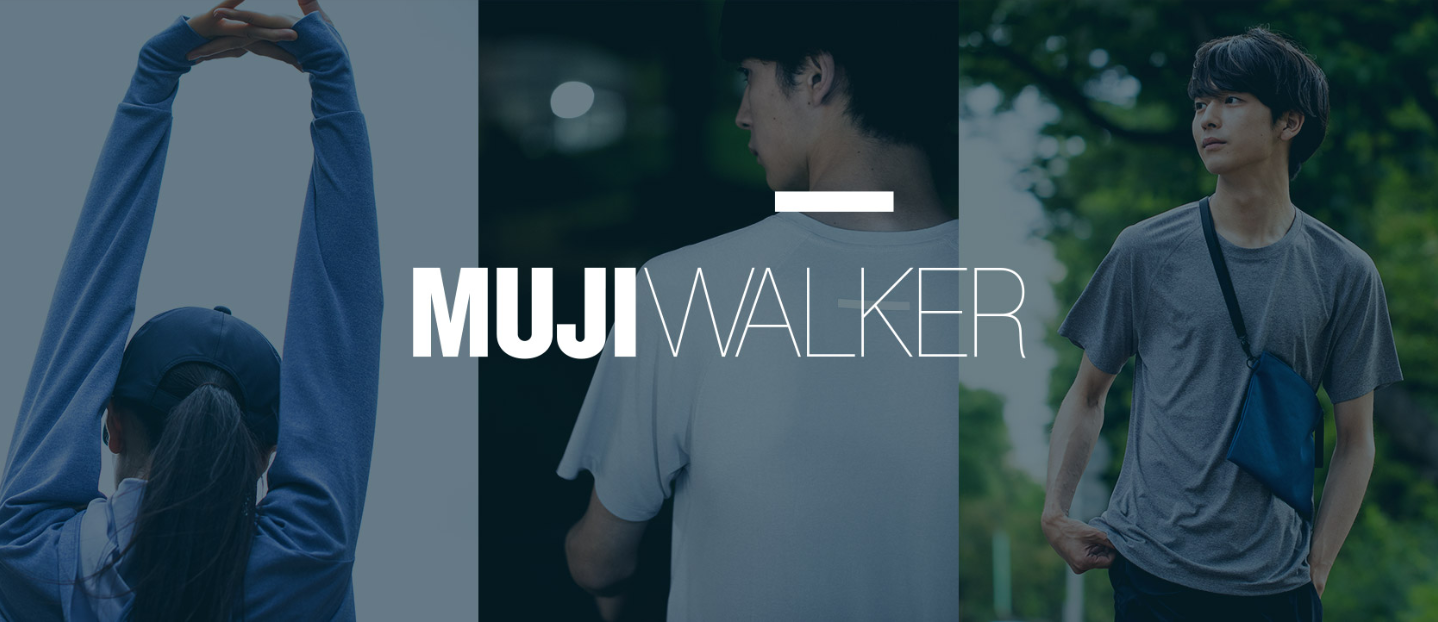 Product Focus No. 3 MUJI WALKER
 T-shirts that are sweat-absorbing and quick-drying; windbreakers that prevent rain and wind to make one feel comfortable; trousers in silhouette that can be used as daily wear; and sneakers that are not only suitable for light exercise but also convenient for commuting to work. In this issues of Product Focus, we talked with staff from the Apparel Division about the appeal of the MUJI WALKER series, which features functional clothing that can be worn every day, just as exercise has become an extension of our daily life.
■About "MUJI WALKER"
 Since the trend of athleisure has become part of our day-to-day life and people's health awareness continues to rise, in 2017 MUJI developed a series of daily wear with dynamic functionalities that enables one to do light exercises. In 2018, this series was launched as MUJI WALKER. Based on the concept of "integrating exercise into everyday life," MUJI WALKER utilizes the functionality of outdoor clothing and sportswear, and can be worn comfortably not only for walking but also as everyday clothes.
 No matter how technology progresses, human beings are bodies of living flesh and blood; we can live a full, happy and worthwhile life in eating well, walking well, sleeping well and cleaning well. At a time when the way we live and work start to change, how can we accommodate these changes in a pleasant way and arrange the rhythms of our living? With this idea in mind, MUJI began offering a range of products that focused on "walking". We select materials with a natural texture and offer T-shirts, hoodies, windbreakers, trousers and other products with features such as "stretchy," "sweat-absorbing and quick-drying," "UPF50+," "strong to wind," "water-repellent" in a versatile design.
■Functional clothing that can be worn in everyday life
 MUJI has been developing no-frills quality products based on the three principles of "selection of materials," "streamlining processes" and "simplification of packaging." These ideas are also reflected in MUJI WALKER products, as we develop and improve the products by keep considering what kind of functions are truly necessary for functional clothing that can be worn in everyday life.
 For example, in order to cope with sudden changes in weather conditions, a typical product in the series is "WATER REPELLENT POCKETABLE WINDBREAKER", which requires features such as "strong to wind," "water-repellent," "easy to carry around" and "moisture permeability." In order to achieve these goals, we have adopted a material – taking hints from the structure of rice leaves, which is the material for making straw raincoat since ancient Japan – that can easily make water droplets roll down in longitudinal direction. This material retains water-repellency by the structure of the yarn, instead of using only chemicals to process the surface of the fabric. We have also eliminated unnecessary specifications and designs, and instead of using separate storage bags, we have created an integrated pocketable package – using the back of the hood as a bag to storage the whole piece.
■Applying customer feedback to improve products
 Since its establishment, MUJI has been reflecting on every aspect related to daily life from the viewpoint of customers, and has been applying these ideas to its manufacturing. MUJI WALKER's product development involves not only in-house research and discussions about how we can better serve the consumers, but also incorporates the opinions of customers who actually use our products.
 From June 2019, MUJI WALKER project cooperated with other departments in the company and held a series of events called "Walking Together", which encourage people to think about health and learn about the local community. The product development team member of MUJI WALKER also participated in these events, communicating directly with customers and identifying key points for product improvement from customers' feedbacks, such as "I would be happy if it has these functions" and "I would like to use them in such situations as well. The "Walking Together" event is being held on an ongoing basis now, in MUJI stores not only in Japan but in other countries and regions around the world.
 There are always moments when we want to maintain a balance of body and mind by doing some light exercises – to move our body while cleaning the house, to walk to the station when commuting to school or work, or to take a small trip somewhere on weekends. MUJI WALKER will continue to offer functional clothing that can be worn in daily life as well as tips for everyday living to our customers.
■ Related Site
 MUJI WALKER (in Japanese)
*Information is current as of the date of issue of the individual article.