Respect for Human Rights at Ryohin Keikaku
Supply Chain Policy
Ryohin Keikaku does not own any production plants or production facilities. It does not manufacture any products, so all the products that MUJI handles are produced by its contract manufacturers. As a result, we believe that it is extremely important for us to work with suppliers through procurement standards.
Procurement Standards
In accordance with the "Code of Conduct for Production Partners of Ryohin Keikaku," we share the policies related to the working environment, respect for human rights, and environmental consideration throughout the supply chain with our partner factories and promote initiatives toward respect for human rights while asking the factories to comply with policies.
The Code of Conduct is distributed and communicated in Japanese, English, and Chinese to all of our business partner factories in the world to which we outsource production.
We require all the business partner factories that manufacture MUJI products to sign a pledge to comply with this "Code of Conduct for Production Partners", and we only do business with those factories that pledged to comply.
In this way, we aim to realize our vision of achieving a simple, pleasant life and a simple, pleasant society by providing MUJI products and services that cater for not only consumers and the environment but also producers.
Principles/policies regarding Respect for Human Rights
Commitment
We will actively address challenges, such as those related to the working environment throughout the supply chain, in cooperation with our business partner factories. We will also appropriately disclose supply chain information while communicating with stakeholders.
Policy
We believe that our most important responsibilities are to respect the basic human rights of all people involved in the supply chain and to ensure their physical and mental health, security, and safety. To this end, we have formulated the "Code of Conduct for Production Partners of Ryohin Keikaku" and request all our business partner factories not to engage in any kind of human rights infringement, including discrimination, child labor, and forced labor. The Code of Conduct is based on global human rights principles and declarations, including the International Labour Organization (ILO) Declaration of Human Rights, the 10 principles of the United Nations Global Compact, and the UN Guiding Principles on Business and Human Rights.
In addition, to respect human rights, we have signed the United Nations Global Compact, which consists of 10 principles on human rights, labor, environment, and anti-corruption advocated by the UN, and have expressed our support since 2013.
Evaluation of Respect for Human Rights
Ryohin Keikaku takes the following approaches to promote its supply chain policy.
Supply Chain Due Diligence
We established the "Ryohin Keikaku Environment, Labor and Safety Management" guidelines in 2007 and revised it as the "Code of Conduct for Production Partners" in 2020 to further reinforce our initiatives. Besides distributing it (in Japanese, English, and Chinese) to all contract manufacturers that produce MUJI products, we shared our policies related to working environment and the respect for human rights, and required all contract manufacturers to comply with these working environment standards. We request factories that newly start business with us to sign a pledge to comply with the Code of Conduct, and we do business with only those factories that agree with it.
In addition, to confirm whether the contract manufacturers comply with the Code of Conduct and are taking continuous initiatives, a specialized third-party organization conducts site visits and regularly monitors the working environment of manufacturing sites. The audit results are sent to the contract manufacturers, and factory management is requested to make improvements in any non-compliant items, and we provide support for improvements. On the basis of the improvement report prepared by factories, we not only correct non-compliant items but also identify the root cause of non-compliance, such as a specific activity/procedure or lack of an activity/procedure, and then check with the contract manufacturers whether it is necessary to change the system to prevent its recurrence. In the unlikely event that our contract manufacturers are proved to contribute to serious human rights abuse such as forced labor, and the situation cannot be improved even if we exercise our leverage, we will take appropriate measures in accordance with our "Code of Conduct for Production Partners of Ryohin Keikaku", including considering the cease of business relationship with such contract manufacturers as an option. Through this process of human rights due diligence, we are striving to identify and prevent the risk of potential human rights abuses in accordance with the UN Guiding Principles.
What is more, Ryohin Keikaku implements due diligence process in the supply chain including the upstream where raw materials are procured.
As one of the main materials for its apparel products, cotton is sourced from many places around the world including India, Turkey, the United States, and China. The organic cotton and yarn used by MUJI have obtained organic certification confirmed by a third-party organization. This certification is conditional on the compliance with labor conditions stipulated by the International Labor Organization (ILO).
For other major primary raw materials (wool, down, linen, and wood), we would use those materials that can be traced back to the production area as much as possible, and above all, our product development team would actually visit the production areas to check with our own eyes the conditions of collection/cultivation sites of major raw materials and the lives of producers.
What is more, based on reports by media/NGOs, Ryohin Keikaku has conducted enhanced due diligence not only against primary suppliers but also against the producers of raw materials. In line with the guidance issued by international organizations and governments, we commissioned an independent audit organization to conduct onsite audits. The results confirmed that at this point, there is no significant problem identified except for those issues that can be corrected by factories taking actions on their own to make improvements. Going forward, in order to prevent human rights abuses in the supply chain, Ryohin Keikaku will engage with other companies in our supply chain to further improve the working environment, and will continue to carefully gather information and appropriately implement due diligence and any other measures.
Appropriate Ordering by Thorough Implementation of Procurement Policy
We protect the working environment of our business partner factories and the human rights of people working there by formulating a procurement policy and placing orders according to appropriate procedures. For example, we place orders by observing an appropriate schedule and quantity so as not to set delivery dates that ignore production lead times leading to excessively long working hours and try not to frequently change order details.
Facilitation of Improvement in Working Environment Through Collaboration with External Organizations
Since 2016, our company has been participating in the Better Work Programme, a joint program of the International Labour Organization (ILO) and the International Finance Corporation (IFC), which aims to improve the working environment. We are working to improve the working environment monitoring program by evaluating the compliance status for labor standards in each country or region where our factories are located and for areas where compliance is inadequate, by utilizing services that provide expert advice and training to solve a problem.
Moreover, the product development project that we have been working on in the Kyrgyz Republic since 2010 has been certified as an initiative of Business Call to Action (BCtA). BCtA is a global initiative led by the United Nations Development Programme (UNDP) with the aim of promoting businesses that simultaneously achieve commercial success and sustainable development. Ryohin Keikaku contributes to the improvement of skills of local producers, especially women, and an increase in income they need to make a living. It aims at achieving community revitalization by enabling residents to utilize locally developed products and thereby promoting local residents' social advancement and improvement in their status.
Through collaboration with various external organizations, Ryohin Keikaku will continue to actively participate in important initiatives such as human rights and environmental issues at production sites.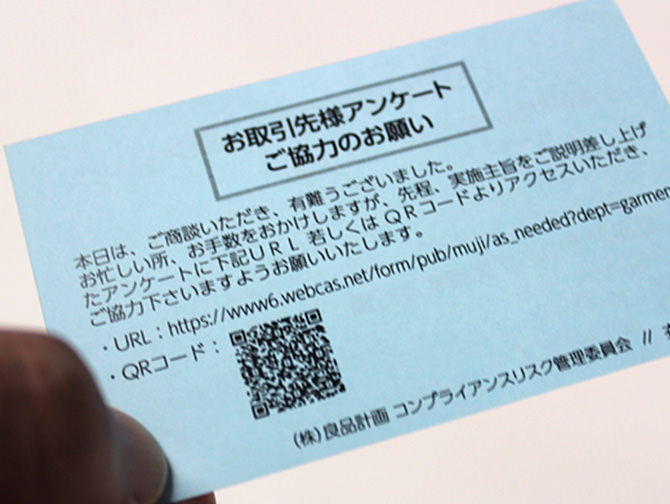 Relationship with Business Partners
The Seven Pledges by Ryohin Keikaku to Business Partners represent our determination to maintain fair and sound relationships with business partners who support us in our quest to achieve a simple, pleasant life.
We formalized our basic commitments such as punctuality and reliability, and we ask our partners to answer an anonymous survey on our level of achievement after business meetings.
We believe that a relationship of respect for each other's opinions and ideas is one of the important foundations for creating better products.