Ryohin Keikaku to Begin the Recycle of Paper Hangers
2022.10.04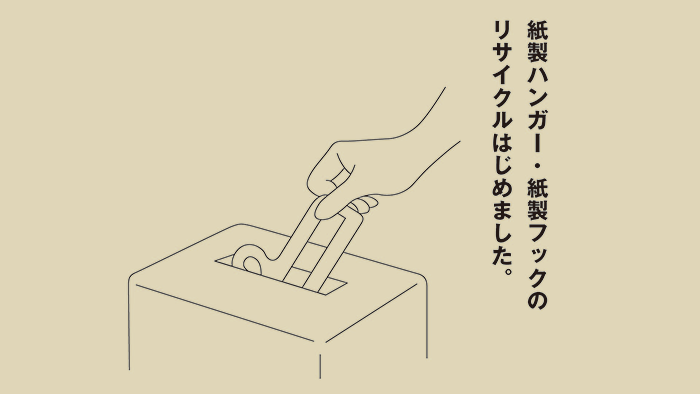 Ryohin Keikaku Co., Ltd. (Toshima-ku Tokyo; President and Representative Director: Nobuo Domae) announced today that stores will begin collecting paper hangers used to hold products beginning October 11 in order to enhance circularity and reduce waste.
Working Toward a Circular Economy
As we aim to enhance circularity through our product, services and activities, we have set as one of our environmental goals to remove entirely the use of plastic in packaging by 2030. ※1
In 2019, we began transitioning away from plastic hangers in favor of materials such as recycled paper. Starting with this fall/winter, all men's and women's inner wear will use paper hangers which can be returned to stores via collection boxes placed at cash register or elsewhere in stores (excluding Café&Meal MUJI and IDÉE). Instead of becoming household waste, the collected paper materials will be processed at factories to be reused as paper hangers. ※2
Ryohin Keikaku will continue to aim to build a sustainable society while achieving circularity, and coexisting with nature.
※1 14% of apparel and household goods no longer use plastic in packaging and materials in FY2021.
※2 Collected materials may also be used as recycled paper products for other companies.
For press inquiries please contact below or send a message from Contact Us portal.
PR Department, PR & IR & ESG Division
RYOHIN KEIKAKU CO., LTD.
Tokyo, JAPAN