Message from MUJI - "Pleasant, somehow"

Ryohin Keikaku Co., Ltd. (Tokyo, Japan; Satoru Matsuzaki, President & Representative Director) announces the launch of a new message from MUJI on Friday, August 28 worldwide. At the same time, the book "CLEANING" will be released at MUJI stores and bookstores in Japan.
The year 2020 marks the 40th anniversary of MUJI. On the occasion of its 40th anniversary, MUJI, who has been pursuing lifestyle aesthetics and creating products that are truly fundamental to day-to-day life without any unnecessary complexity, chooses "cleaning" as the theme of its message. It believes that the very essence of a simple, pleasant life and society lies dormant in the everyday and ordinary work of cleaning, which transcends culture and civilization. This message conveys the stance that MUJI is taking: to pay attention to our everyday life, which is often taken for granted, and to discover important hints and then learn from it.
Message from MUJI - "Pleasant, somehow"
On Friday, August 28, message from MUJI - "Pleasant, somehow" has been released at the same time worldwide. The website will be launched simultaneously in 17 languages, not only in MUJI's website in Japan, but also on the websites of all countries and regions in which MUJI operates. In addition, we will publish five long videos based on the theme of world's cleaning one by one on a regular basis (one video every two weeks), and distribute short versions of these videos through SNS every day. In addition, on Wednesday, September 2, newspaper advertisements will be posted in the morning edition of some national newspapers, and TV commercials will also be broadcast at 114 TV Stations in Japan from August 28.
In addition, the in-store visual tools - posters, banners, etc. - at MUJI stores will be changed on Friday, August 28, and a product promotion campaign will be carried out accordingly. Since MUJI aims to make life simple and beautiful, all MUJI products should have something related to cleaning by nature, and they answers the question of "why do we feel pleasant, somehow?" From Friday, August 28 to Thursday, September 24, the product promotion will focus on "cleaning tools" that we use in our daily life.
Start from /
Date of
publication
Place of publication
Contents
In Japan
Countries and regions
other than Japan
Website
August 28
MUJI website
Websites of each country and region (in 17 languages)
Message from MUJI "Pleasant, somehow"
Videos
August 28
On the website
On the website of each country / region
Five videos based on the theme of "World's Cleaning"
SNS distribution
August 28
・Official SNS Media account run by Ryohin Keikaku (Instagram / Twitter / Facebook / LINE / YouTube)
・Official SNS Media accounts operated by each country / region
Short versions of the five videos
Newspaper
advertisement
September 2
Morning Edition of national newspapers
Scheduled to be posted in newspaper in Thailand and Taiwan
Newspaper Advertising Message "Like Water and Air"
TV commercials
August 28
114 TV Stations in Japan
-
Videos on the theme of "World's Cleaning"
In-store promotions
August 28
All MUJI stores in Japan
MUJI stores
・Change of in-store visual tools (worldwide)
・Product promotion (may vary by country or region)
【Newspaper Advertisement Message "Like water and air"】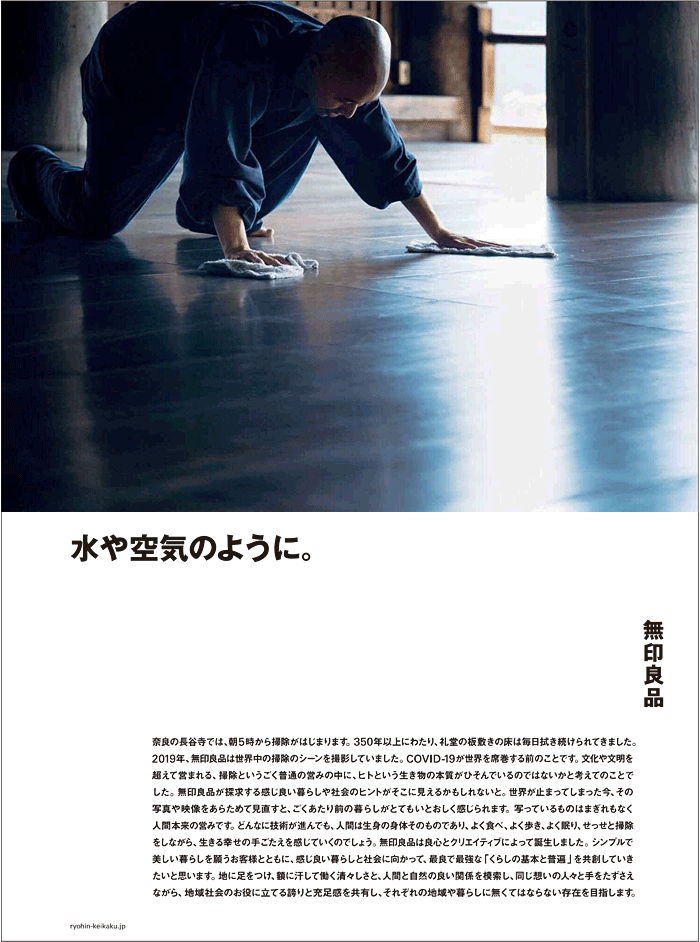 At Hasedera-Temple in Nara, cleaning begins at five o'clock in the morning. For more than 350 years, the wooden floor of the worship hall would be wiped out every day without exception. In 2019, MUJI photographed scenes of cleaning around the world. This was before COVID-19 swept the globe. We thought that the essence of people, as living beings, could be found hidden in the act of cleaning, something that happens across cultures and civilizations - that perhaps there could be glimpsed a hint of the comfortable daily life or society that MUJI has sought. Today, in the midst of a world that has come to a standstill, as we look over those photos and videos, we feel nostalgic particularly for our daily lives before the virus went global. What is reflected there is clearly an essential human activity. No matter how technology progresses, human beings are bodies of living flesh and blood; we can live a full, happy and worthwhile life in eating well, walking well, sleeping well and cleaning well. MUJI was born of conscience and creativity. While working towards a comfortable life and society, we want to develop the ideal and strongest "foundation and universality of daily life" with our customers, who desire simplicity and beauty in their daily lives. In pursuit of a good relationship between people and nature, and a down-to-earth, refreshing way of working, and sharing with those of similar mindsets a sense of pride and satisfaction of being useful to regional communities, we aim to be indispensable to localities and lifestyles.
【Visual】



Release of book CLEANING
This is a 504-page picture book recording scenes of cleaning around the world under 16 categories such as wiping, polishing, removing, etc. It will be released at 123 MUJI stores in Japan and MUJI online store from Friday, August 28. From early October, it will be available at all MUJI stores in Japan as well as in general bookstores in Japan. We also plan to sell it in outside Japan from November onward.
Number of pages: 504
Price: JPY 2500 (excluding consumption tax)

For press inquiries, please send a message via Contact us portal.
PR Department, PR & IR & ESG Division
RYOHIN KEIKAKU CO., LTD.
Tokyo, JAPAN