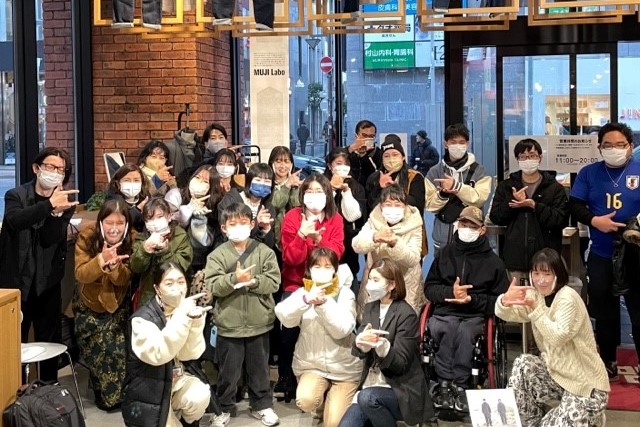 Events
Stores
Sustainability
Part-Time and Temporary Employees who are Fully Engaged with the Community: Fukuoka and Hiroshima Region
 Ryohin Keikaku embraces a culture in which all members are encouraged to proactively connect MUJI stores to the community. This applies to members of all employment types; we offer several ways of working including part-time and temporary employment in order to accommodate various lifestyles. This is part three of the series where we recognize and celebrate the part-time and temporary employees in Fukuoka and Hiroshima who made a key difference in the community and brough MUJI stores closer to people in the region, contributing to the corporate mission of making our stores community centers to bring positive impact in the region.
(Part one: https://www.ryohin-keikaku.jp/eng/topics/035062.html)
(Part two: https://www.ryohin-keikaku.jp/eng/topics/035113.html)
■Planning Events that Embody the Philosophy of MUJI (Fukuoka Prefecture)
 MUJI TENJINDAIMYO in Fukuoka City is pleased to report on the success of a recent in-store event organized by two highly-motivated staff members, temporary employee Minako Watanabe and heartful employee* Kenshin Hamahira. The two-day event, held September 10–11, 2022, provided customers the opportunity to learn about and purchase MUJI apparel via Japanese Sign Language. The response was tremendous, drawing approximately 250 customers, including a significant number who traveled from outside the prefecture to take part, along with extensive TV and newspaper coverage. (*An employee hired through the Heartful Project, Ryohinkeikaku's inclusive hiring program.)
 The event was initially conceived by Watanabe, who became aware of the difficulties faced by individuals with deaf and hard of hearing while attending a previous fashion event in Fukuoka. The experience helped her to recognize that sales staff may seem less approachable to these customers, who might wish to request additional information about a product or find out whether other sizes are in stock, but hesitate to do so because of communication concerns. Hoping to find ways MUJI could make the shopping experience more enjoyable for these customers, Watanabe got in touch with Land Hey, a Fukuoka-based sister duo who promote sign language. Together, they began to solidify plans for an in-store sales event with use of sign language.
 During the event, the Land Hey duo interacted with customers with deaf and hard of hearing using sign language, while MUJI staff carried tools to communicate through writing, including handheld whiteboards and preprinted cards. Numerous attendees expressed their hope to see similar events held at MUJI locations in other regions. After that brief survey revealed that many participants appreciated the welcoming environment to try items on and get details and advice from store staffs, leaving them more interested than ever in purchasing MUJI apparel. In light of the overwhelmingly positive response, the MUJI TENJINDAIMYO location made plans for another sign language event in December that year. The response was again fantastic, with the courses attracting not only customers with deaf and hard of hearing but also other individuals interested in sign language, who together enjoyed the process of exploring their personal styles.
 In planning these events, Watanabe notes that she wanted to create experiences that convey the MUJI philosophy, that are meaningful for MUJI to provide, and that customers would be excited to be a part of. At Ryohinkeikaku, we aim to support the basics of better daily living. We provide our customers with products and services to enrich their day-to-day lives, as part of our effort to realize a "a truthful and sustainable life for all." Reflecting on this accomplishment, Watanabe says, "I'm glad staff members at our store had the opportunity to see customers with deaf and hard of hearing trying MUJI products and services, leading to greater awareness in all of us of how we can better accommodate these customers' needs." She adds that she's looking forward to further collaboration with outside parties and that she's excited to discover what shape those opportunities might take and how they'll continue to convey the MUJI philosophy to others.
 
 
■A Trio of Part-Time Employees Taking Charge of One Store's Sales Promotion Efforts (Hiroshima Prefecture)
 At MUJI HIROSHIMA ALPARK in Hiroshima Prefecture, three of our part-time employees have banded together to form a sales promotion team, creating staff blog posts for the store's website and managing its Instagram presence. MUJI Hiroshima Alpark" has attracted attention on TV and in newspapers as the world's largest store. It also maintains deep ties with the local Hiroshima community, organizing numerous events with local residents and offering a constant selection of Hiroshima-produced goods for sale. The three-member sales promotion team is careful to stay abreast of all these goings on, to better encourage customers to visit and to keep them informed of products they'll find useful in their daily lives.
 Specifically, the team consists of Hazuna Morikawa, Kana Fukumoto, and Masafumi Yamada, who make use of their respective professional experience as an artist, a writer, and a former advertising business employee. This mix of skills has the team perfectly suited to the challenges of managing the store's social media presence and designing sales tools, including original illustrations, articles, fliers, and POP. The team's typical workflow consists of first speaking with fellow staff members about new developments at the MUJI HIROSHIMA ALPARK location, after which Morikawa and Yamada identify potential material for Instagram posts and Fukumoto outlines ideas for potential blog content. Finally, the three pool their ideas, narrow down the selection, and work together as a team to ready the photographs and written content to be shared.
 The team emphasizes the many decisions they face, such as determining the ideal timing for announcements regarding events and in-store promotions, and having to evaluate whether selected palettes and designs are in-line with the MUJI brand identity. Preparing public content on behalf of MUJI, they say, with few defined rules or absolutes. Still, they note how delightful it is to hear from other staff members and local residents as they design their content, and how much joy they find in the responses, not least of which are the excited comments from customers when each social media post goes live. Asked about their goals moving forward, they say, "We're eager to continue providing useful and easy-to-understand content from our customers' perspectives, and we hope our posts help make the MUJI shopping experience that much more enjoyable."