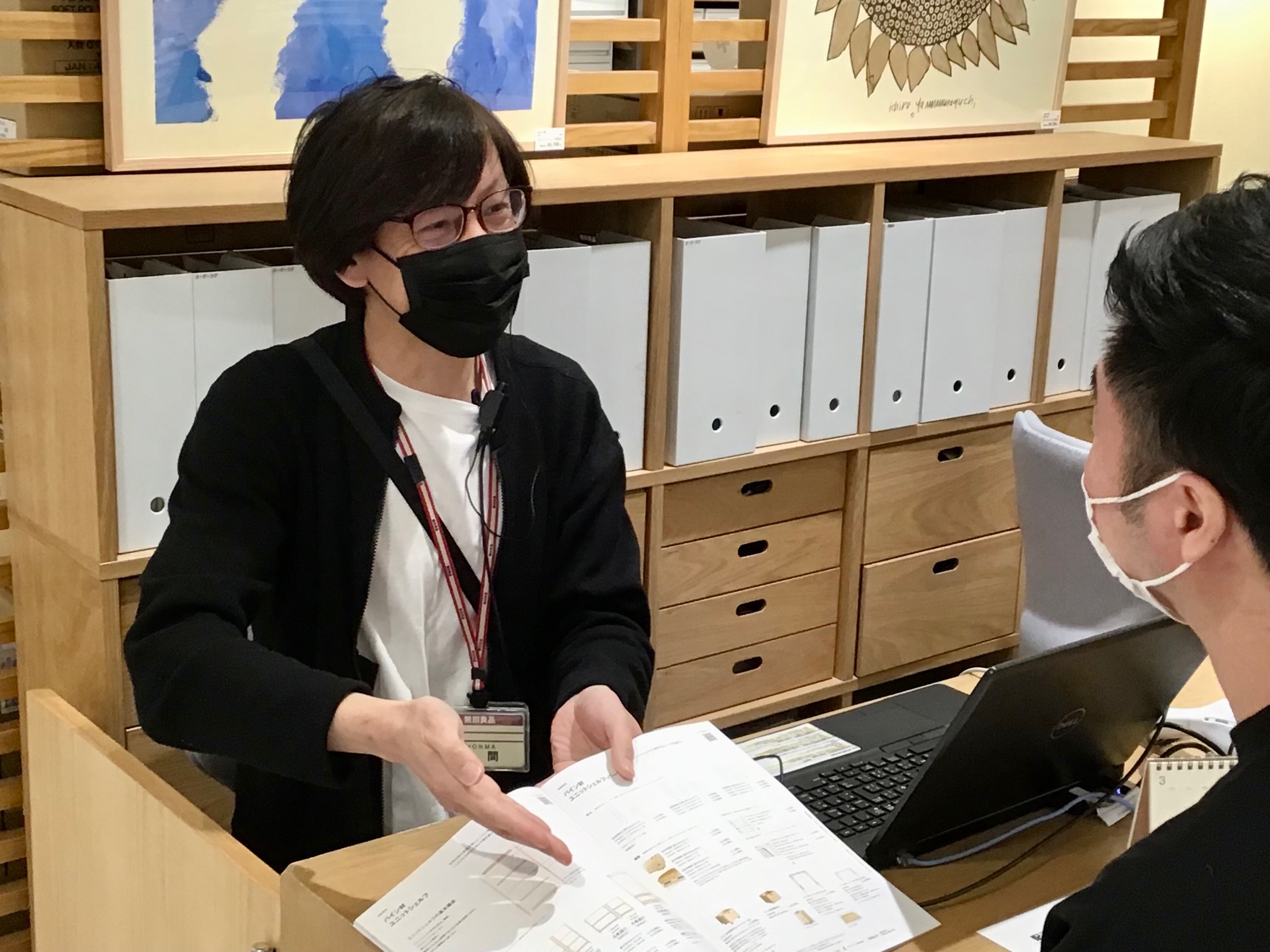 Expansion of Home Interior Consultation as We Increase the Number of Experienced Interior Advisors
 During the timing of a new fiscal year or new school term, many people experience changes in their lives such as moving, relocating to a new home, or making purchases. MUJI has experienced interior advisors who can respond to customer lifestyle concerns such as "what is the layout of furniture that fits perfectly for my room" or "which shelf should I buy to best organize my things." In September of last year, interior advisors at MUJI became part of a newly established Sales Department. 17 employees with extensive experience in stores and headquarters have joined as new interior advisors, bringing the total to about 100.
■Interior Advisors: Offering Close-Range Support for Customers' Lives
 The interior advisors at MUJI possess specialized knowledge of furniture and strive to provide customers with solutions using MUJI products and services tailored to their needs. Their expertise extends beyond just furniture, interior decor and storage. When a customer asks about beds, the advisor can also provide advice on pajamas or aromatherapy based on customer needs. To be able to handle diverse customer inquiries, years of experience and knowledge of products are needed. Well-experienced employees have extensive knowledge of its products and services, as well as personal experience in life events like moving and raising children. Their wealth of knowledge and life experience enables them to provide practical advice on ways to incorporate MUJI products into customers' lives. For example, Masanori Sato, who joined as an interior advisor in September 2020, admits, "I don't think I could have provided this level of customer service in my 20s or 30s."
 
 
■The Joy of Supporting Customers' Housing Concerns
 Yoshihiro Honma worked as a staff and as a manager in MUJI stores for 11 years, then moved to the headquarters to look after logistics. He wanted to communicate directly with customers, so he applied to become an interior advisor. Now, he is able to listen to and help customers in-person. Honma expressed his pleasure upon receiving gratitude from a repeat customer, following his proposal of a solution for pleat curtains. "Working with a single customer for an extended period and becoming their representative is enjoyable. I can confidently say, 'Leave it to me,'" he added. As an interior advisor, he is truly able to support customers by listening to their needs and providing solutions.
■More Interior Advisors to Meet Diverse Customer Needs
 Interior advisors respond to customer consultations regarding interior decor, storage, renovation, and remodeling through "MUJI SUPPORT," a service provided by MUJI. By increasing the number of interior advisors, especially those with extensive experience at MUJI, we aim to help tackle more customer concerns.
 We have received numerous requests from customers seeking assistance with furniture setup. We therefore decided to launch the "Mobile Assembly Service" as a store-specific service at two locations - "MUJI NONOICHI MEIRINDORI" and "MUJI iias Kasugai" - from mid-March. In addition to expanding the "MUJI SUPPORT" service at each store, we are also considering collaborating with local companies, organizations, and individuals active in the region to address customer concerns in the future.
 If you are considering consulting about your lifestyle with the start of a new life, please feel free to consult with an interior advisor at a nearby store.