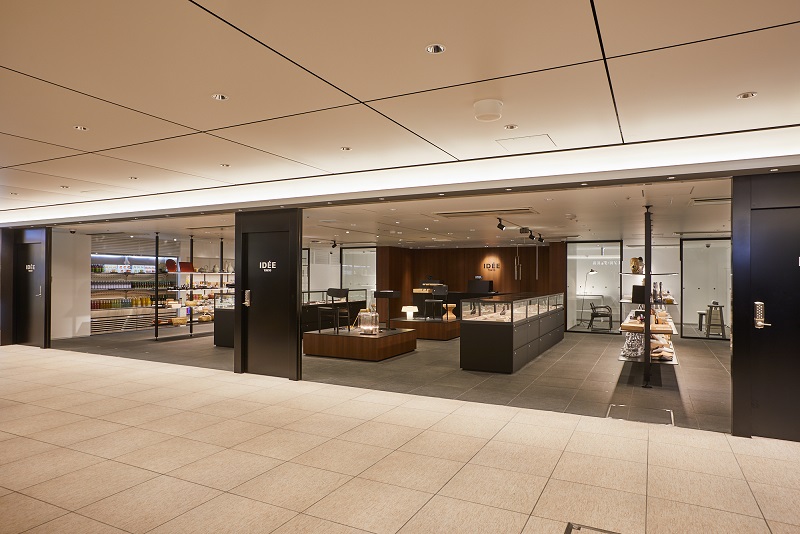 IDÉE TOKYO - A New Form of IDÉE - Opened
 On Monday, August 3rd, the new concept store of IDÉE, IDÉE TOKYO, opened on the B1 floor of GranSta Tokyo, the commercial facility located inside JR Tokyo Station.
 IDÉE TOKYO, together with the curation of Mr. Naoto Fukazawa, introduces design products, folk crafts and art that beautifully support everyday living, such as the design table "COMODO Achille Castiglioni" representing "world masterpiece", and "Dote Jubako (multi-tiered food box) Echizen-nuri (lacquerware)" representing folk craft and craftsmanship. In addition, limited items of original design such as the tenugui (hand towel) designed by dyeing artisan Samiro Yunoki. At a place where many people come and go from one place to another, we propose "good things" that will stop one's steps and brighten up one's mood.
 The IDÉE Gallery, which is located inside the store, would regularly change the theme and hold individual exhibitions and projects for artists from Japan and overseas. The opening exhibition entitled "Imperfect Perfection" features works of the famous potter Taizo Kuroda.
 We place the highest priority on preventing the spread of COVID-19. In addition to cleaning and disinfecting the store regularly and managing the health of the staff, we also take other measures, such as limiting the number of visitors. We will operate our business with consideration for the safety and health of our customers and staff.
 IDÉE TOKYO brings together design products that can only be found here, such as masterpieces from all over the world, pure folk crafts, and high-quality daily necessities. Please visit the store when you are nearby.
■Opening Event
Individual exhibition "Imperfect Perfection" by potter Taizo Kuroda
Schedule: August 3, 2020 (Monday) – September 1 (Tuesday)
Time: 8:00-22:00 (Sunday and the last day of consecutive holidays: 8:00-21:00)
Place: IDÉE TOKYO | Free admission
※Since the store is located inside the station, for those who want to visit the gallery from outside the ticket gate, please purchase a ticket (140 yen) first.
■Store Overview
Store Name: IDÉE TOKYO
Address: B1 floor of GranSta Tokyo, JR Tokyo Station, 1-9-1 Marunouchi, Chiyoda-ku, Tokyo
Opening Date: August 3, 2020 (Monday)
Business Hour: 8:00-22:00 (Sunday and the last day of consecutive holidays: 8:00-21:00)