Grand Opening on 18 January 2018
MUJI HOTEL SHENZHEN Update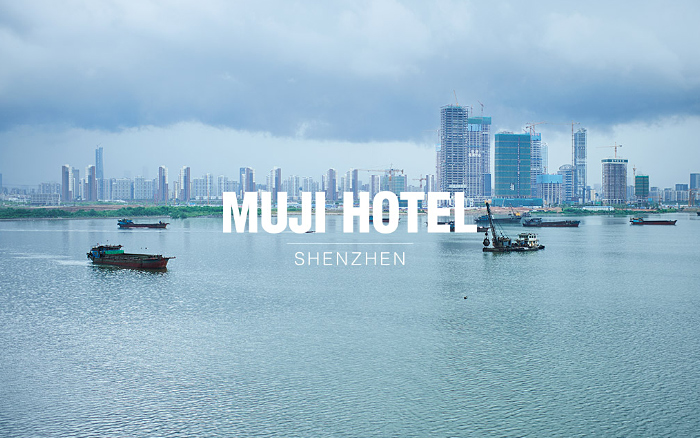 Ryohin Keikaku Co., Ltd. (Tokyo; Satoru Matsuzaki, President & Representative Director) disclosed further details regarding MUJI HOTEL SHENZHEN, which opens in Shenzhen, China on 18 January 2018.
MUJI HOTEL SHENZHEN
MUJI HOTEL in Shenzhen is developed around a MUJI concept: walk as much as you can, wherever you can; eat well; sleep well; stay fit. Surrounded by the sea on west and east, Shenzhen is showing an outstanding growth. Within just 30 years, it has burgeoned from a fishing village of 30,000 people to a megacity of 14 million. In this metropolis, geometrical scenery including sprawling skyscrapers and highways juxtaposed with the chaotic hustle and bustle of everyday life in an old port city. Shenzhen is a city of perpetual metamorphosis bringing forth innovation and dealing. It is our wish that MUJI HOTEL SHENZHEN will be a most comfortable base from which to both concentrate on business and heighten one's enthusiasm for touring this great city.
Details of the Hotel
[Location]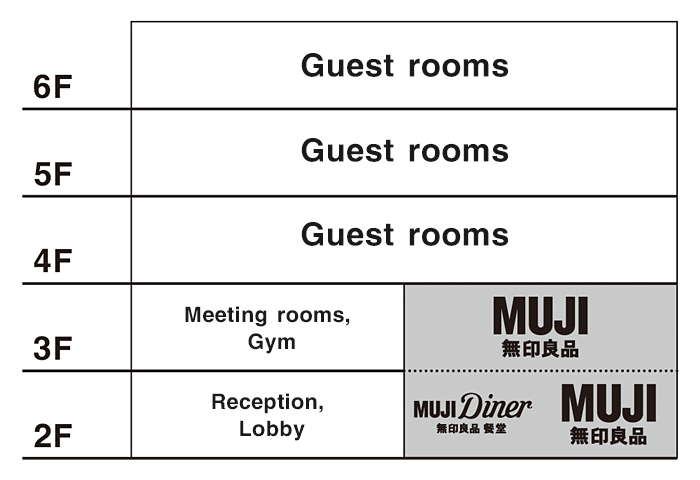 Shenzhen is located in Guangdong Province. The hotel is located close to the heart of the city in the new UpperHills multi-use complex. The reception desk is located on the second floor, with floors four through six holding a total of 79 rooms. Pillars and walls of traditional Chinese houses are repurposed in interior walls and courtyards. A brand new MUJI store on the second and third floors will open simultaneously with the hotel, to help customers experience the world view of MUJI.
[Project Management]
The overall concept and room design is handled by Ryohin Keikaku, with management and operation provided by SHENZHEN SHUM YIP HOTELS MANGENENT CO., LTD. (China/Shenzhen, General Manager: Steven Wu) of the UpperHills developer group.
[Guest rooms]
All trips, whether for business, sightseeing or long-term stays, are supported first and foremost by quality sleep. We designed a space for exceptional relaxation, providing indirect lighting to release tension and guide guests to a comfortable slumber; coil mattresses with the best firmness for any sleeping position; gently enveloping bath towels, and so on. Five types of rooms are available:
Room Type
Area
No.
Bed
Room Charge

*Including breakfast for one person, service charge and tax.

A
26~28m2
16
Double
from RMB 950
B
32~35m2
26
Double / Twin
from RMB 1,085
C
38~39m2
21
Double / Twin
from RMB 1,300
D
42~46m2
12
Double / Twin
from RMB 1,480
E
51~61m2
4
Double
from RMB 2,500
Check-in : 14:00
Check-out : 12:00
Standard complimentary items and fixtures :
toothbrush / toothpaste / shower cap / cotton balls / cotton swabs / shampoo / conditioner / body wash / hand soap / refrigerator / safe / electric kettle / hair dryer / wall-mounted CD player / Wi-Fi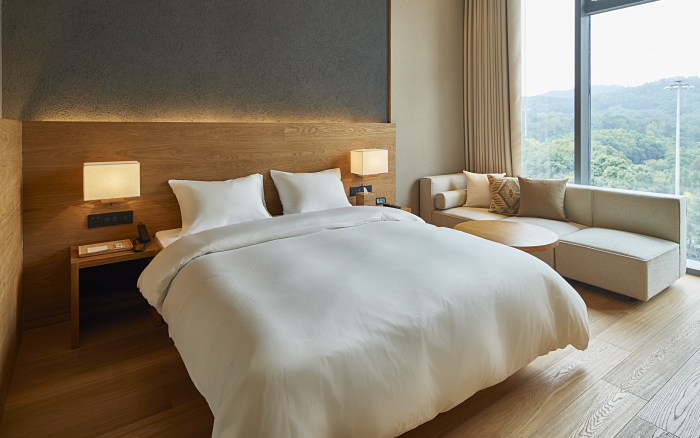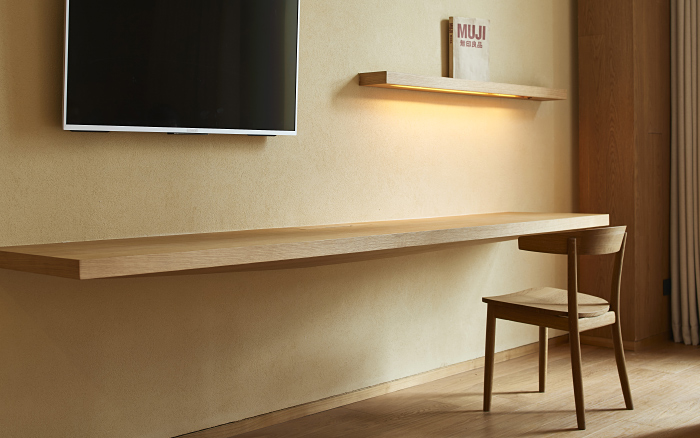 [Other facilities]
MUJI Diner

MUJI Diner Shanghai Huaihai 755

At MUJI Diner, hotel guests can enjoy meals featuring freshly prepared nutritious and delicious local foods inspired by home cooking from around the world. The diner is open from morning breakfast to late night bar hours. Some of the dinnerware is available at the MUJI store.

Opening hours :
Sunday - Thursday 6:30 - 23:00, Friday & Saturday 6:30 - 24:00
Location : 2nd floor

Library

MUJI BOOKS offers a collection of words of wisdom of all ages and cultures: a source of inspiration and motivation for any reader. Our library in the common area of MUJI HOTEL SHENZHEN accommodates approximately 650 volumes.

Open 24 hours, free of charge to the public
Location: 3rd floor public area
*Books are not for sale at the hotel.

Gym

A small-scale gym is offering running machines, aero-bikes and other workout equipment.
Men's and women's locker and shower rooms. Perfect for free time during the workday or a refreshing break for travelers.

Opening hours : 6:00 - 22:00
Free of charge for hotel quests
Facilities : Coed locker room / showers
Location: 3rd floor

Meeting rooms

Three conference rooms are available to rent, ranging from 70 to 130m2. Moveable walls allow expanding the space to its largest, theater-seating dimensions, accommodating 200 people.

Opening hours : 10:00 - 20:00
Equipment and Facilities : Projector / Reading space
Location : 3rd floor

MUJI UpperHills

Open MUJI in Shanghai flagship store

One of the largest MUJI stores in China is located on the second and third floor, covering 1,726 m2. It sells not only travel essentials but also everyday items including furniture, storage items, food, clothing, and cosmetics and skincare. At Open MUJI we plan to hold workshops and other events facilitating communication with customers, inviting guest presenters from a variety of fields.

Opening hours : 10:00 - 20:00
Services : Open MUJI / MUJI YOURSELF (Stamp, Embroidery Workshop) / Make-to-order Service (Curtain, Carpet, Sofa Cover) / MUJI BOOKS
Location : 2nd and 3rd floor

Overview of the Hotel

Name :

MUJI HOTEL SHENZHEN

Location :

UpperHills, No. 5001 Huanggang Road, Futian District, Shenzhen, Guangdong Province, P.R. China

Grand Opening :

January 18, 2018

Reservation Start :

Beginning of January 2018

Management Company :

Shenzhen Shum Yip Hotels Management Co., Ltd.

Guest rooms :

Total 79 rooms in floor 2 - 6

Restaurant :

MUJI Diner (118 Seats)

Other facilities :

3 meeting rooms, library, gym parking lot for 3,732 cars (for total UpperHills)

Official Website :

https://hotel.muji.com/en/


(available in Japanese, Chinese and English)

MUJI HOTEL Features

The hotel has been designed to reflect an anti-gorgeous, anti-cheap concept. The goal is to offer great sleep at the right price, provide a space supporting both body and soul while away from home, and connect travellers to local communities. Travel has become part of our daily lives. It has evolved from the extraordinary to the ordinary, from something in which we participate to something we create. MUJI HOTEL provides an answer to this shift in demand. Cooperating with MUJI stores, MUJI HOTEL seeks to provide a physical experience of the MUJI philosophy through the texture of the towels, the placement of outlets and light switches, menu and venue of the restaurant, and more.

The Shenzhen location is scheduled to open on 18 January 2018, followed by the Beijing on 20 March 2018 and the Ginza, Tokyo in spring 2019.
For press inquiries, please send a message via Contact us portal.
PR Department, PR & ESG Division
RYOHIN KEIKAKU CO., LTD.
Tokyo, JAPAN