Commitments to the Circular Economy
Recycling at MUJI
Being a company that develops and sells products, MUJI is also considering the future of its products as they fulfill their role and function. Some MUJI products that customers have loved for years are collected at our stores. In addition, we aim to achieve circular economy to eliminate waste and to promote recycling and reuse of materials.
MUJI will endeavor to foster circularity to better protect the environment.
【Main Products】
Textiles
Plastic bottles
Refrigerant packs (Gel ice packs)
Donated materials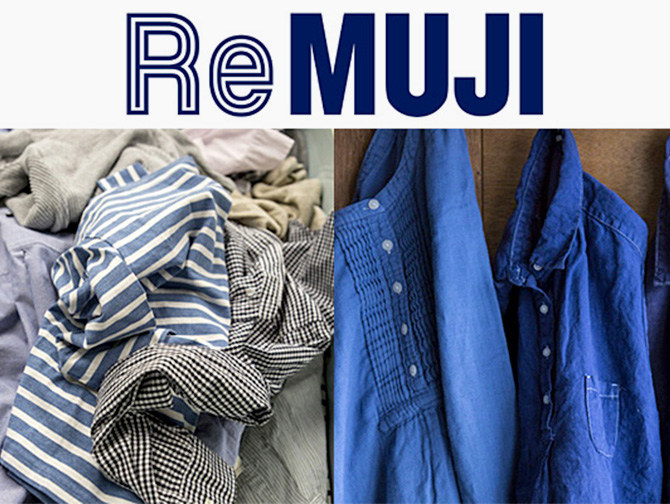 Textile Reuse / Recycling
MUJI launched a recycling initiative in 2010 by collecting used textile products such as stained clothes, towels, fabric covers and children's clothes that no longer fit the customer.
The collected garmets are either washed, overdyed and turned into new products offered as ReMUJI available at certain stores, or reused as raw materials under BRING* and other causes for various purposes.
【Target Products】
All MUJI textile products (Towels, bed sheets, fabric covers, etc. excluding underwear and socks)
【Collection Points】
MUJI stores
*BRING...a project that creates clothes from collected clothes (through chemical recycling) in accordance with JEPLAN, Inc.(formerly Japan Environment PLANning)
1) Items to be collected are limited to those listed as Ryohin Keikaku Co., Ltd. in the laundry lable.
2) Please wash it before bringing it to the store so that it can be recycled effectively.
3) Products containing metal or rubber such as shoes and bags cannot be collected.
Recycling of Plastic Bottles
From July 2020, MUJI started the collection and recycling of PET material as part of its efforts to reduce plastic waste. Bottles of used Moisturising Milk/ Toning Water, or "My Bottle for Water" are available for collection. The collected bottles will be recycled into polyester raw materials, in order to reduce plastic waste and to make effective use of petroleum-derived raw materials.
【Target Products】
Empty bottles of all types of Toning Water/Moisturising Milk/Booster Essence Lotion sold by MUJI
(Target volume: 150ml, 200ml, and 400ml)
My Bottle for Water
【Collection Points】
MUJI stores
1) Please remove the cap from the bottles and bring them to the store in a clean condition after washing.
2) Please remove the lid of Moisturising Milk/Toning Water/Booster Essence Lotion.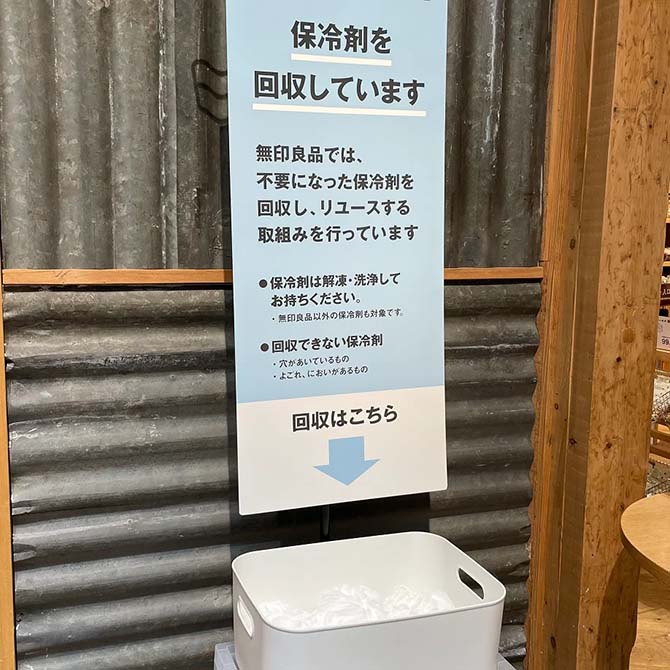 Recycling of Refrigerant Packs (Gel Ice Pack)
Since September 2021, we have been collecting and reusing used refrigerant packs at 126 MUJI stores across Japan. The collected refrigerant packs are washed and sterilized for reuse in frozen food to-go.
【Target Products】
All refrigerant packs regardless of origin
Must be plastic packs, not textile packs or blocks
【Collection Points】

MUJI stores (not available at all stores)
For availability, please contact stores directly
1) Please wash and defrost the packs.
2) Packs with holes, odor, or stains cannot be collected.
Collecting and Reselling
We aim to realize a world where resources are circulated and not wasted. Under this idea, we have been collecting and reselling items that have finished its use, and passing them from one owner to the next. Oyuzuri Ryohin Chiba and MUJI Tokyo Ariake are examples of where we collect and recycle clothes.
In the age of mass production and mass consumption, we believe and act on utilizing the world's resources more effectively, and respond consciously to the issues unfolding on the planet and the society.