Top Executive Face-to-Face Talk
MUJI Design:

Revealing the Quality and Beauty in the Everyday
The guests: Ltd. HAKUHODO DESIGN President Kazufumi Nagai
Mr. Kazufumi Nagai, president of HAKUHODO DESIGN and Mr. Masaaki Kanai of Ryohin Keikaku came together to discuss the meaning of design at Ryohin Keikaku. HAKUHODO DESIGN is famous for promoting a new approach to and methodology behind the role of design in corporate management. Mr. Nagai and Mr. Kanai's discussion ranged from the relationship between MUJI and design to their thoughts about the role of design in business management.
The Winder Potencial of Design
Kanai:

Nagai-san, I understand that you served as Art Director at HAKUHODO before you went on to found HAKUHODO DESIGN about 10 years ago. I have always been interested in HAKUHODO DESIGN's work, and I would love to hear more about the history of your firm.

Nagai:

Thank you. I had been doing advertising at HAKUHODO for quite some time, but during the last half of the 1990s, the concept of branding became big in Japan.
At that time, I had the chance to work more on branding-related projects. Leading up to that time I had been interested what a designer could create through the combination of text and form. But, I always felt that design should be an essential part of a company's business. That design could communicate a company's values or philosophies.
That's when I launched HAKUHODO DESIGN as a firm that dealt specifically in branding through design.

Kanai:

How are things different when a designer takes the lead in brand building, as opposed to when a consultant takes the lead?

Nagai:

A designer always approaches his or her work from the viewpoint of the consumer. Designers characteristically begin with the necessities in the life of the typical consumer. That's why we can uncover the ideal relationship between what a company does and how it affects the life of the consumer.
That company-consumer relationship defines the brand. To this, you add the designer's ability as a specialist to put that relationship into a beautiful form. By finding the common elements between a company's business, the consumer, and the power of beauty, the designer can develop a very strong brand.

Kanai:

Recently, you have promoted the idea that the power of design can be an effective business management tool.

Nagai:

Yes. Today the market has matured to a point where the basics are all in place. It's becoming more difficult to do business by simply providing goods or services based solely on technological innovation. Consumers are looking at the activities of today's companies with a much more judgmental and discerning eye. Companies that aren't entirely focused on the consumer and how to make their better won't be in business for long.
But, design has the power to show consumers the future in a very tangible way. We believe that companies can use this power to communicate corporate vision, as well as to create new businesses and services that let consumers dream about future lifestyles while creating demand by society.
One more thing, while we're on the subject. Today, we live in a time where companies have to move beyond the question of process efficiency. Companies need to create new products and services over a shorter lifecycle. I think that the creativity of design can help companies make enormous leaps forward in developing new ideas.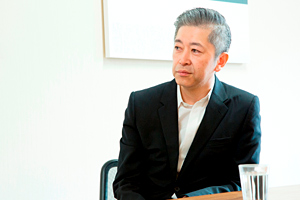 MUJI: Created by Designers in Search of the Best Consumers
Nagai:

Having said that, there aren't many business leaders in the world today who have embraced design as a way to create business. Ryohin Keikaku and MUJI immediately came to mind as a company and a brand that embraced and exemplified this idea from its earliest days.
The MUJI approach takes design beyond an approach to management, incorporating it into every business and product as an inseparable part of the whole. I think this is why MUJI has gained such acceptance and high regard in society.

Kanai:

Yes, I think we see management and design as two sides of the same coin. I mean, MUJI was essentially founded by designers, not businessmen with retailing backgrounds.
Our founder, Seiji Tsutsumi, embodied those interests and talents. He brought Ikko Tanaka and a number of other designers and creators to create MUJI in a single generation. Ikko Tanaka was the first MUJI art director, and he was famous for saying that they created MUJI as a way to find the best consumers in Japan.

Nagai:

Normally, a business says that they want to offer the best products to the consumer, right? MUJI's approach was the opposite, which I think was very refreshing.

Kanai:

Retail companies will normally sell anything that the consumer will buy. But, MUJI refuses to sell anything that won't lead to better living on the part of the consumer. We're looking for the best consumers to offer them a more fulfilled lifestyle. We call it the conscientious lifestyle. Our goal is to make products that inspire customers to live better lifestyles.
Products today are subject to too much competition. These products lose their essential quality, and in turn, the consumer loses their freedom. Competition among companies in our society is, in the end, competition within the structure of commercialism.
Companies using price as a competitive weapon are caught in a continuous cycle of style changes driven by superficial design and TV commercials. We have seen a polarization in how companies go about building demand for their products and services.
MUJI began with the idea that basic household products should be more than decoration. These products must offer intrinsic value. At the same time, you could say that MUJI design reflects a rejection of design. At the time, people considered design to be whatever form was necessary to get the consumer to buy. MUJI started by focusing a critical eye on the essence and true role of design.

Nagai:

Speaking of Ikko Tanaka, he is famous for having a unique approach to the use of color. It's interesting that Tanaka-san was the designer--of all designers--responsible for developing MUJI as a brand identified with muted, natural colors.

Kanai:

Our advisory board members kept a close eye on the colors, tone, and manner of the products. I think over the years, we have been successful in communicating this awareness and perspective to our employees.
But, yes, Ikko Tanaka is famous for his genius in the use of color. He created many amazing looks. I think everyone has some contradiction in them. Tanaka-san experienced a time in his life where he must been having some internal conflict.
While he had thoroughly mastered the use of color, he also believed in expressing the beauty of neutral and natural colors of materials.
When MUJI was first starting, they held new product exhibits for the store staff. At the time, a buyer in charge of soy sauces and spices brought in new national brand products. MUJI had its own soy sauce, so there were two brands on display next to each other.
At some point, there was something like 200 products all together, which led management to the idea of having one area just for MUJI products. When Tanaka-san saw the MUJI-only display, his mind must have lit up with all kinds of possibilities. He said that the instant he saw the display, it was like discovering a new world without color--a new continent of neutrals and naturals of the materials. From that time on, we have used display areas featuring only MUJI products.
Later on, in 1983, a plan came up to create a stand-alone store in Aoyama that only carried MUJI products. We asked Takashi Sugimoto from Super Potato to design the interior space of the store. It was his idea to construct everything based on wood, metal, and earth materials. Wood, metal, earth and rock as the basic building materials.
Even more, everything used was very old, infused with the patina and the effects of many years. In this rustic, earthy space we added products featuring natural colors and tones based on natural materials.
Later, we added more products to the mix, including home appliances, which of course had to be made from plastics. But even then, I remember that we paid careful attention to the use of color, the color of plastic as gray, for example, that would best reflect our natural, our basic color.

Nagai:

Ikko Tanaka oversaw the direction of the design for each individual product, making sure each had a specific reason and function. Whether it was to simplify some task or the reason behind the use of recycled paper. Do you think Tanaka-san rediscovered the value of neutral colors after seeing all of these products for the first time?
I believe he mentioned an interesting experience where he defined this as an afterthought, rather than actually intending to create a beautiful collection of neutral-colored products from the outset.

Kanai:

At first, everything was about the state of the product. The main concern was creating something to sell, using the help of design that is something more to do with commercialism rather than the essential nature of the product itself.
MUJI was born as the antithesis of the idea that companies should change design in order to sell as many products as possible. We tried to simplify the product packaging too. Most companies approach packaging to pull the customer's eye away from competitors on the retail shelf.
I believe that generally the product package is designed more outstanding than other competitor's products on the shelf, but that garishly designed package finds its way into the home of the consumer, the design serves no further purpose. We decided from the start that our packaging would avoid excessive design and processing. We wanted it to be as simple as possible, using neutral color schemes, which have become eventually our products with such neutral colors.

Nagai:

For someone of Ikko Tanaka's stature, it isn't far fetched to think that he planned the idea of creating a universe of neutral colors from the start. I think his strength was in making the discovery after going through the process of creating products to compete with the other products that were currently flooding the market.
The fact that so much is invested into the design of every aspect of every product at MUJI means that they present very strongly when arranged together.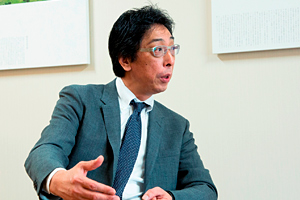 MUJI as the Antithesis of Consumer Society
Nagai:

I come from the generation that was directly influenced by the Saison Brand Culture. As students, we'd go to the [Saison] events at the Seibu Department store.
We'd see how Shibuya Park avenue was completely taken over by Saison Culture, and I remember how much I was impressed by it all. As a matter of fact, one of my first assignments at HAKUHODO was working for Takuya Ohnuki on the Seibu Department Store ad campaigns during that time.

Kanai:

Is that so? Tsutsumi-san noted the change in consumer society during the height of the Saison Culture.
He defined the consumer society as viewing all products solely from the potential for its consumption. Anything that didn't have the potential for consumption was something that was of no value to society.
Anything, no matter how beautiful or well designed, no matter how much time and effort went into its creation, was of no value if it wasn't created for consumption. That was his take on consumer society. And, when supply outstripped demand, you had the consumer society phenomenon.
MUJI was founded in 1980, after the post-war period and after the Oil Shock, when consumers were ready and able to buy all of the great variety of products that had been produced. What happened, however, was that the overseas fashion brands came in force into Aoyama Road and other high-end shopping areas, attracting consumers interested in luxury-brand clothing.
Meanwhile, these same consumers were purchasing low-quality household goods, leading to a gap between what they wore and how they actually lived at home.
Automation in Japan's manufacturing industry, factories in Asia, and other factors led to an enormous increase in production capacity, with supply far outpacing demand. When you only want 100 of something and they send you 500, you have to figure out how to get rid of the 400 extras. The result is Rhizom-ification (confusing the consumer as to whether the item offered has practical value) and Fashion-ization (fear of not having an item, even if it offers no practical value).
This led to consumers spending more money on services instead of physical goods. Features like design and added value started to have less meaning.
That's why Ikko Tanaka and a number of other creators came on board. They believed that in a post-industrial world, design would be able to elevate the lifestyles of Japan's regular citizens, rather than be something just for Japan's noble or feudal class. They refused to accept the form and ornamentation of Japan's traditional authoritarianism.
Tsutsumi-san's ideas naturally attracted Japan's creators, leading to what we now know as MUJI.

Nagai:

I remember having the impression that MUJI was the antithesis of times, as you just described. Tsutsumi-san clearly intended for MUJI to be a counter-brand from the start, didn't he?

Kanai:

There's a story about Tsutsumi-san when he paid a visit once to crab canning factory. After they put crab meat into the can, they always added two crab legs. When Tsutsumi-san asked why they did that, they said that they wanted to prove to the consumer that it was real crab they were putting into the cans.
There were probably a lot of companies both before and after the war that were using fake crab, even though they advertised it as real. It seems that this company felt if they were advertising their product on the cans as canned crab, then it was worth going to the trouble to prove it to the customer. That's why they added in the crab legs.
MUJI didn't add two crab legs to its canned crab product to earn the trust of its customers. But, we offered canned crab at as reasonable a price as possible. We also listed where the crab was caught, as well as what parts of the crab are contained in the can. All these practices were decided from the very start.
Thinking about it, it's actually pretty incredible that Seiji Tsutsumi had such foresight in the 1980s.

Nagai:

It seems that Tsutsumi-san was well aware of the consumer perspective, as well as how to create new value from existing products.

Kanai:

After the end of the war, the perspective of the seller--or the owners of capital--was that consumers wanted products because there was such a shortage of them.
This is why consumers purchased their televisions and washing machines. The act of consumption was the end objective. And, at that time, that's what people considered to be abundant living.
From the perspective of the owners of capital, all they need do was make something and it would sell. As a matter of fact, the desire for consumption was so strong that there were regular shortages. Corporate earnings enjoyed continued high growth throughout that period.
But, in the 1980s, families had mostly made their major purchases. Combined with the effects of the Oil Shock, manufacturers found it more difficult to sell their goods. At that point, we essentially experienced the end of the monopoly of the owners of capital.
Since companies had more difficulty selling their products, they devised other means to accomplish the same goal. We saw a growing polarization with one end being the consumer's willingness to accept a lower level of quality in exchange for cheaper prices.
At the other end was the concept of branding, where companies introduced new designs and trends to add appeal to their products, selling them through TV commercials and other media. This polarization of the consumer brought about big changes in the world.
However, MUJI never fell into the trap that the owners of capital did. Tsutsumi-san focused on the perspective of the human being in all things.

Nagai:

Tsutsumi-san and MUJI chose to pioneer a completely new path during a time when the markets were controlled by short-term popular trends.
Obsession with Japanese Aesthetics to Improve Consumer Lifestyles
Kanai:

Actually, MUJI has never once resorted to using the term "ecology." From the very start, we used recycled paper or the small and broken parts of mushrooms in our soups. We just made sure the consumer knew our reasons.
But, we never expressed those reasons in terms of ecology. This is something that is very much a reflection of the Japanese culture. The MUJI sense of aesthetics isn't about calling attention to us.
But, the world of consumption society or capitalism isn't like that at all. Years ago, Japanese households had already made their basic major purchases. So, at a time when every company was trying to sell this year's color or the newest design, MUJI held the opposite stance.
Our message was that we took the characteristics or the uniqueness out of the product, leaving it to the customer to infuse the product with their style. We made the products, but we didn't push them on the consumer.
We simplified and cut out the unnecessary to pursue beauty in a minimalist approach and this concept is not found in people of Europe and USA.

Nagai:

Good design considers the individual parts in the context of the whole. I can understand what you mean when you say it's inelegant to cut something away and then claim to have done so for the sake of ecology.
Do you think Ikko Tanaka, as a designer, presented this Japanese aesthetic in contrast to what he saw in the consumption society?

Kanai:

Yes, that's probably correct. At the end of the Meiji Restoration, many Japanese believed that their culture was barbaric in comparison to the more advanced cultures of Europe and the United States.
They were embarrassed, and they tried to hide the more traditional aspects of what it meant to be Japanese. After Japan lost World War II, many Japanese embraced the culture of America, becoming enthralled with American movies and pop culture. But, there were others who looked back to the roots of Japanese culture.
I think that Ikko Tanaka's greatest achievement may have been in bringing Japanese tradition into the modern context, including the influences of the Rimpa era.

Nagai:

The MUJI ideal from the start was to improve the lifestyle of the Japanese people, rather than to merely sell products.

Kanai:

To go even further, MUJI communicated the message that living well and enjoying a quality lifestyle didn't mean buying the expensive brands and luxury items that were so popular.
This is where the designers took a birds-eye view back to the so-called anonymous designs from before the advent of the consumption society. Whether you were talking jeans or baseballs, or even axes for cutting down trees, no one knew the name of the person who designed these items.
The axe, for example, evolved into an efficient tool over the course of hundreds of years. Sohri Yanagi wrote "The MUJI Book," and in that book he stated that older products have a more robust beauty than the recent products that have been made for commercialism.

Nagai:

In the end, the forms created by history and practical use are the ones that become the most beautiful.

Kanai:

Yes, that's right. These forms have been modified and improved over many generations for efficiency and ease of use. That philosophy, or that form, is the ultimate pursuit at MUJI.

Nagai:

As Tanaka-san said in the book, "Found MUJI," simplicity is not inferior to gorgeousness. Rather, the intellect and emotion required to create simplicity is something to be proud of.
This idea of plainness or simplicity or natural materials is fine when applied to products, but I think these words can't fully express the result of Japanese traditional technologies and culture that have been modernized for today's world. What words would you use to characterize MUJI?

Kanai:

How about "conscientious living?"
We started using this expression right after the disaster in northeastern Japan in 2011. The after effects of the disaster meant that Japan had to go into electricity-conservation mode. At our company, we shut down all three of the elevators in our headquarters building. We also unplugged about half of all the equipment that relied on electricity.
Normally, if you implemented the same measures for the sake of cost cutting, employees would be rather upset. But, we saw that most of our employees accepted these measures to save electricity after the disaster. I don't recall any of our staff complaining.
We learned that people are ready and willing to come together to conserve electricity in support of those who were having such terrible times in the disaster zone. And, although there were inconveniences, people were happy to sacrifice a bit for the good of society. Actually, I think many felt a sense of pride in their contribution.
This is how we came up with the concept of conscientious living. This idea encompasses not only the consumer, but also includes the makers of the product and concern for the global environment.

Nagai:

Not excessive. Just right. Never too much.

Kanai:

Under this concept of conscientious living we introduced "Mono fitness 80" Initiatives. We took a fresh look at our products. From the beginning, we do our best to eliminate the unnecessary from our products, but we felt that this was a good chance to take a closer look to see if we could find any parts, processes, or materials that we could take out.
We aren't using this initiative as a negative motivator, but rather as a positive, uplifting approach to our products. We looked beyond our products and came up with ideas to reduce in other areas.
For example, we reduced the width of the tape labels placed on purchased items in the store by 20%. We even looked at ways to reduce our equipment and supplies.
Leading the Maturing Market by not Selling
Nagai:

I believe that any corporate activity must incorporate three factors: economic, cultural, and societal.
While most companies only concern themselves with the economic factor, by expanding our vision to include the more high-minded social aspects, or cultural aspects that support living life to a higher level, we offer more significant value to the world, attract more like-minded people, and as result sell more products to more consumers.

Kanai:

What do you think culture and society mean to MUJI?

Nagai:

I think MUJI offers value from a cultural perspective for the pure purpose of helping people live better lifestyle, rather than using it as some symbolic gesture.
I also think that probably MUJI's sense of society is reflected in using recycled paper and other materials that support sustainability. You try to do away with the excessive and reduce lifestyle to more simple level.
I think this is what the MUJI founders embraced when they first started the brand.

Kanai:

Sure. I'm not sure if it was that explicit, but if you ask me what was different about MUJI, I'd say that it was the fact that we didn't try to sell products.
Ikko Tanaka was neither a manager nor a merchant. I'm sure he must have approached MUJI from the perspective of what products he would like to have in his own life. For example, he probably didn't feel the need for high-quality paper or excessive design in a notebook. Recycled paper fit the bill just fine.
That confidence meant that they didn't have to focus on going out and selling products. The instant you focus on selling, you start to resort to flattery.

Nagai:

Pursuing the economic aspect of business alone isn't good enough. In fact, de-emphasizing economics is perhaps the largest difference between MUJI and other businesses.
I think this is an extremely important point for managers to understand. You have to be totally committed the perspective of the customer, rather than that of the seller.

Kanai:

Yes. When I worked with designers to create products, I always asked myself, "Would Ikko Tanaka use this product?" At the same time I also asked myself whether a 20-year-old university student there would buy this product.

Nagai:

That's very interesting. I get the feeling that the attitudes you discussed have become more prevalent in the 2010s. There's more of an attitude that we don't need what corporations are trying to sell or set up as a symbol.

Kanai:

I think you can call it a new degree of maturity. In that sense, I do think that the world is becoming more mature. And, this growth is what has naturally led to these new values.
But at the same time, we also see a new sense of urgency about the global environment. I think the world has come together to put its support behind protecting nature. Things would be rather grave if the world had continued to ignore the situation.
In economic terms, now that the world's population has grown past the seven billion mark, do we have enough food and water to sustain us? If everyone consumed food like America, we could only sustain about 2.3 billion people at today's levels.
Naturally, we can do our best to improve food production efficiencies, but we can't control nature. If the climate changes, world wheat production could be reduced by half.
I think one of the greatest strengths of this company is that we embrace the best values of the times.

Nagai:

The world is just discovering now what you have been proclaiming for the past 30 years.

Kanai:

Sure. Certainly we face tougher times than we did 30 years ago. Not only Japan, but also the entire world faces great challenges.
From an economic viewpoint, you worry about what will happen after Japan's population declines by half. But, there are good aspects about the world, too.
They say that there's still a chance to fix things before the population grows to 10 billion people. Of course Japan has almost the exact opposite situation. In the future, we'll have much more space and greenery per person in our country, which would lead to a more relaxed way of living. I think we'll even lead the world by those measures.
But, today, economics are still the main goal for most. You have to focus on economic tools to a certain degree to create a happy and conscientious lifestyle. But, when economics becomes the primary focus, you'll always find the antithesis to those values and social structures.

Nagai:

MUJI has made an impact all around the world, creating a comparatively strong identity. I also think that many people have a fairly detailed understanding of what MUJI represents.

Kanai:

MUJI wasn't created based on some predetermined business model; our activities were based on grander themes involving universal values.
However, as a business manager I understand that you have to create business models appropriate to the changing times. Even so, most businesses seem to be focused on creating a business model and then trying to make it succeed.
For companies that have a challenge in clearly communicating the differences with their competition, well I suppose they compete based on the particulars of their business models.
But, in the retail industry, at least, you see a lot of companies that will announce some newly evolved business model, only to quickly flip it upside down like some strange game of Othello. Looking at those circumstances, I think we can safely say that MUJI has embraced a much larger concept.

Nagai:

Furthermore, the MUJI values are the ones that are part of Japan's DNA, deeply ingrained in Japan's culture in an unbroken line that leads back through history. That's a very strong value proposition for a company.

Kanai:

Yes. And, I really feel that the MUJI concept remains valid even as we expand globally. There's a Japanese culture, spirit, and way of thinking that are inseparably connected with the MUJI philosophy.
This philosophy has proven its strength as we grow beyond Japan and enter new markets around the world.

Nagai:

With business competition more intense than ever, companies tend to focus on creating a business model to generate profits.
But, when you add the cultural and social aspects as MUJI does, as well as what some would consider universal philosophies and approaches, then MUJI stands head and shoulders above.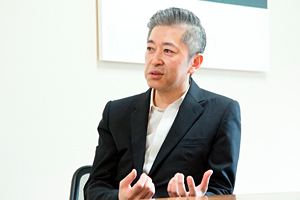 MUJI: Design that isn't Designed
Nagai:

Even with respect design forms, MUJI isn't aggressive about selling the design or the name of the designer. Rather, you let the superb design quality speak for itself.
What does MUJI normally look at in the relationship between this philosophy and the form of design?

Kanai:

We have a lot of sayings like, "design that isn't designed," or "deliberately random." We focus and focus and focus on design, until we cycle back to the original form.
Here's something else that Ikko Tanaka said: Imagine running a marathon inside a stadium. After a certain number of laps, there's a point where the leader of the race overtakes the person in last place.
At that point, you don't know who's first or who's last. He said that MUJI is like that person who is leading that marathon.

Nagai:

It's not a situation in which the leader is ten meters out in front of everyone else. It's more of a situation in which the leader is so far ahead that they look like they are in step with the rest of the world, right?
That's a pretty difficult concept to wrap one's mind around.

Kanai:

Very difficult, indeed.
When Takashi Sugimoto designed our Aoyama store, he used wood, metal, and earth materials for the interior. The wood was scrap from an old private residence in Shinshu--very worn and warped. The metal was sheet metal that had started to rust.
He used bricks as the earth material, but these bricks were broken and worn-down castoffs from the Yahata Steel Works in Kyushu.
Even Sugimoto-san couldn't make improvements on the changes that these materials had undergone. You can't control the degree or direction of rust and only time can wear down brick.
The MUJI space was created using only these materials. One way to describe it would be deliberate randomness. There was no intentional design in the state of the materials, but a very deliberate approach to the entire space.

Nagai:

It is really only recently that the younger generation has become interested in renovation and the value of aged materials.
What MUJI introduced was very much ahead of the curve in concept. At a time where anything can be produced through artificial means, people come to prefer the feeling produced by effort and time and natural materials.

Kanai:

The products that MUJI developed by rejecting "brand," the space that Sugimoto-san created in the store, and the information in the copy writing from Koike-san all came from the same philosophy of design.
Making a product doesn't necessarily result in a brand, but the convergence of product, space, and information can naturally lead to a brand identified by consumers.

Nagai:

MUJI became so strong because of superb professionals who shared the same values.

Kanai:

At the time, Ikko Tanaka took it upon himself to oversee the finest details, but there were associates and teams who discussed the products and had specific assignments. But, I also think, no matter what course the discussions took, Tanaka-san had a specific vision.
He knew the discussion would come back around to his way of thinking eventually. That's because he knew the nature and temperament of his team.
One result is the deep red MUJI corporate color, which hasn't changed one iota in more than 30 years. That was Tanaka-san's contribution as well.
Hiroshi Kojitani was in charge of the product tag layout and the wake (reason) text descriptions. At the time, Kojitani-san was designing French wine labels, and he spoke about how these labels customarily featured detailed information about the grapes and where the wine was made.
Those wine labels inspired our MUJI product tags. At the time, there weren't any daily use products that featured labels discussing the materials, pricing, development process, etc.
In other words, there weren't any household items for which the manufacturer offered the true story about cost structure, the purpose behind the design, or the design philosophy.

Nagai:

Do you mean that MUJI labels weren't a part of package design, but were more part of a system like the requirements for wine bottle labeling?
The original concept was based on wine labeling, with the history, specifications, and pricing rationale, instead of just stating the name of the product. That kind of a clear approach would be unique, even if it were introduced today.

Kanai:

MUJI wasn't made by people looking at things from the standpoint of the seller. It was made by designers who approached design from the standpoint of the consumer.
That's why MUJI had no issue with providing information that another retailer might have felt was disadvantageous to selling. But MUJI's way earned the trust of the customer. We did away with anything that didn't reflect the true nature of the product.

Nagai:

Putting yourself in the shoes of the consumer, you'd want to know and understand everything about the product you were going to buy. But, most companies treat product information as an internal issue, never making it public. Their biggest concern is how to create packaging that is as attractive to as many consumers as possible.
Of course, MUJI has a completely different perspective.

Kanai:

It was unusual for a company to go to such lengths for common everyday household items. No one really thought that kind of information was necessary or even important for household products, but MUJI believed in communicating their commitment to quality and aesthetics.
Today, we see a small but growing awareness of the effort taken in the design and packaging of common products. I think maybe people are beginning to notice how little everyday things and small, thoughtful details behind common products can lead to a more enjoyable life.
But, consumers in the 1980s weren't very interested in the effort put into the smallest details of their common household goods.
Creating a Unique Company with Japanese Values and Aesthetics
Nagai:

I truly feel that MUJI has developed the ability to use design to conceptualize and put into form a future that engages the imagination of the consumer.
Of course, the products are tied closely to the founding concepts of the company, which is why we feel so confident in purchasing MUJI products. Consumers recognize not only the outward design, but also the underlying philosophies.

Kanai:

You still have to consider revenues and profits, so finding the balance between the concept and the actual product is always going to be difficult.
And yet, that is the type of effort that we have continued to make over the past 30 years. This effort is extremely important, and we believe that if we can stay true to our values, we will be able to find buyers for our products anywhere in the world.
What inspires us to go to these lengths is our daily discussions and dreaming about how to improve human society.
The Japanese people are deeply influenced by the principles of Shinto, Buddhism, and Confucianism. Our unique geographical characteristics--a tiny island country on the far eastern edge of the world--and our climate are also responsible in a great way for our unique spirit and aesthetics as a people.
Ikko Tanaka said that he wanted to make the Japanese tea ceremony and MUJI parts of the global vocabulary. For example, the Japanese haiku and its underlying intelligence and emotion is in no way inferior to the epic poems of other cultures. We Japanese should be proud to hold this art form up for the world to see.
I believe that if we can communicate the Japanese system of values to the world, we will be able to communicate a deep and rich aesthetic while using fewer resources.
Furthermore, I hope that we will be able to share our reverence for nature, our consciousness as agricultural community, and our sense of minimalist beauty.

Nagai:

I believe that all Japanese companies have this underlying set of values and aesthetics, but from an actual business standpoint, do you think companies consciously think about these things to the extent that MUJI does?

Kanai:

You know, Japan has an amazing number of old companies compared to the rest of the world. We have about 3,100 companies that are at least 200 years old. If you ask me, I think there are two reasons why Japan has so many long-lived companies.
The first is flexibility. Times and business climates change continuously; companies must be able to respond to those environmental changes. And, what a company needs to do to respond to those changes is actually very simple. All they need do is continue to ask two questions: "What brings happiness?" and "What will a fulfilled lifestyle look like for people in the future?"
The second is the degree to which Japan values the principles of gratitude and service. We don't believe in enriching ourselves at the expense of others. I think we can call this value our "conscience."
Flexibility and conscience. If these two principles are truly the keys to longevity for a company, then I think Japan will continue to have many, many long-lived companies.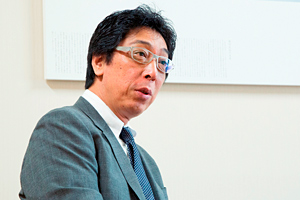 Find a Market to Serve; Seek Profits, not Revenues
Nagai:

In the wake of World War II, when Japan was essentially a burnt-out wasteland, a great number of companies grew very quickly by addressing the fundamental issues of life and death and human happiness.
Unfortunately, the larger you grow the more you tend to focus on growth for its own sake. Companies should never forget their basic mission is to play a part--no matter how small--in supporting societal and cultural values.

Kanai:

But, of course, profits are important. Personally, I don't think top-line revenue growth is all that interesting as a corporate focus. Actually, that kind of focus entails potential risks. The larger the organization is, the more difficult it is to control. Just like the dinosaurs that couldn't adapt to the changes in their environment. I think we can learn a lot from the smaller species, like mice, that have been able to evolve and survive.
I think focusing on profits is more important than focusing on top-line revenues. Of course, even before the question of profits, a company has to address their mission and how it will contribute to society. Then they can create a strategy for generating profits based on the answer to that question.
In the Japanese language, the kanji characters for strategy translate as "ending the battle quickly." In other words, how to avoid a protracted war. The first thing you have to do is consider the field in which you think you can contribute the most. You don't even have to capture the entire market. Just find a pond where you can cast your line.
Unfortunately, too many companies spend their time looking for the biggest pond. When you do that, you wind up with an incredibly large number of competitors. Everything is reduced to price competition at that point.
That's why, even when a company gets big, it should still find its own pond to fish in. That's where you'll find sustainable business.

Nagai:

It's important for company to be able to claim something unique, as globalization makes the world more homogenized.

Kanai:

We are in the middle of an initiative we call Found MUJI. Today, everyone has an iPhone; everywhere you go, the buildings look alike--Bangkok, Paris, London, Tokyo, New York--it's all the same. Everyone wears the same clothes. This is exactly the time when you need to focus on the unique cultural characteristics of each region.
Our strategy is to find those unique characteristics--what we call Found characteristics--and then reintroduce them to the world. We are committed to putting that sense of design into practice.
There are so many regional cultural characteristics and products that were created before today's assumptions about commercialism, and they fall very much in line with the MUJI perspective. Soon, we are going to see a major expansion in the number of people traveling all over the globe.
At some MUJI stores, as many as 30 percent of the customers are visitors from overseas. I'm sure that the number will reach 50 percent or even more in the future.
When people visit Japan from other countries, where do they go? They don't go to places that they could see at home. Anymore, we talk about finding a particularly famous dish to eat in Akita or something special to eat on the way back from visiting the Ise Shrine. There's no fun in eating the same dishes that you can find nearby in Tokyo.
I think it's very important to consider that same principle in our approach to design. The more things become homogenized, the more important it is to seek out regional characteristics. At MUJI, we want to do work that contributes to promoting locally influenced design.
Collaborating with Like-Minded Designers
Nagai:

I know that MUJI has an advisory board and collaborates with other designers. What is the thought process behind that?

Kanai:

When Ikko Tanaka was in his prime, he really didn't engage designers for product or fashion work. As the manufacturing infrastructure improved, we saw the emergence of specialty-stores and retailers offering private label apparel.
This meant an increasing number of brands in the market, making it more difficult for MUJI to conduct business as usual. MUJI responded by incorporating the type of extremely detailed design you see in our stores today.
Now, although we don't advertise individual names, we work with a number of talented designers from around the world in product and fashion design. I am extremely grateful that there are so many designers who share the MUJI philosophy and who want to work with us.

Nagai:

So, as long as the designer shares the same philosophy, then you're confident that the end product will reflect MUJI design?

Kanai:

Sure. For example, we worked with the Italian design master Enzo Mari. He told us that he was MUJI 50 years before there even was a MUJI! He had been fighting for this design philosophy throughout his entire career.
We worked with Konstantin Grcic of Germany on a project to modernize Bauhaus style. We are very fortunate that so many people understand and appreciate the MUJI way of design.

Nagai:

I look forward to seeing how MUJI expands around the world. I think MUJI will be a global ambassador for Japanese values and design, just as the world has come to accept Japanese food and health culture.
In Conclusion
Nagai:

Our conversation today provided many interesting insights into MUJI's unique set of values and the universal principles embodied by MUJI that tie so closely to the Japanese heart and lifestyle. We also learned how MUJI has embraced Japan to a degree you don't see in other companies.
I was reminded how special it was when I first discovered MUJI's unique approach and philosophy. I grew up with the Saison Culture, and I remember watching the impressive development of MUJI as a brand.
Thinking back to the brands of the time, it's amazing that MUJI was one of the few that evolved and grew without changing any of its founding principles.
I really enjoyed talking about MUJI in such detail. As a person involved in design for living, this was a valuable learning experience for me.

Kanai:

I don't usually have an opportunity like this to talk about the origins of MUJI. Moving MUJI forward as a brand and a business is our main occupation, so most of our activities are involved in retail planning and manufacturing.
However, I believe our concept is too large to be contained solely in the retail field. While the core of our business is retail planning and manufacturing, we are exploring and expanding in peripheral areas, too. Examples include our domestic and international food and beverage business, campground management in Japan, and even projects to remodel apartment complexes.
Of course, we base every business on the MUJI philosophy and concept, but I'm coming to the realization that MUJI is gradually evolving beyond a lifestyle company. We are becoming a social force as well.
Look for us to grow beyond the framework of retail as our business moves in directions that lead from conscientious living to conscientious society.
*Job title, etc. is a thing of the time talk